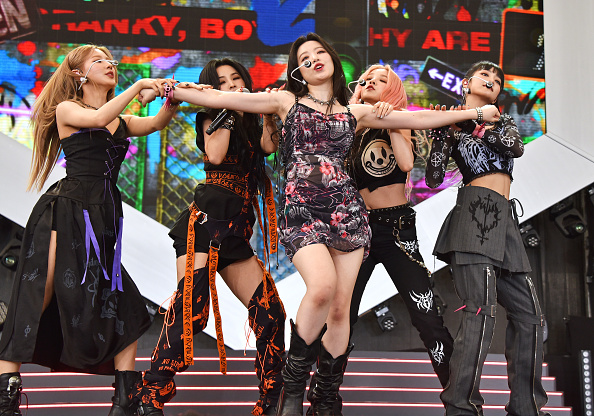 NEVERLANDs enter the Queendom because (G)I-DLE is back with their sixth EP, "I feel." 2022 was a monstrous year for the Cube Entertainment girl group. The genre-defining "Tomboy" topped the charts and "Nxde" took the group's artistic prowess to the next level.
Now, for the first time in 2023, Minnie, Miyeon, Yuqi, Shuhua, and their captain Soyeon are ready to dazzle once again with I feel, and their carrier single "Queencard." The album dropped on May 15th of this year, and we want to provide insight into the lead single and a B-Side that caught our attention.
Without further ado, here's a LIFE K-Pop review of (G)I-DLE's newest outing.
"Queencard"
Inspired heavily by the return of the Y2K aesthetic, "Queencard" is a track that radiates absolute confidence, and doesn't fall short in providing it too. It's hectic, bursty, and catchy and very much in line with the signature (G)I-DLE sound. However, at the same time, it tackles a serious problem that this current generation is facing.
Don't be fooled by the upbeat melody of I feel's carrier single, If you listen close enough and read between the lines, it tackles taboo subjects about unrealistic beauty standards, and the body image that some unhealthily strive for just to fit into this perceived mold of aesthetic perfection.
(G)I-DLE has never been afraid to talk about matters that make most people uncomfortable, and Queencard is no different. While the themes highlighted in the first half of the song are what you'll expect from most pop songs nowadays, the group turns the song on its head with its last few lines. It states that no matter the size, look, or identity of a person, you are perfect. You are the Queencard.
"Allergy"
The pre-release single was released back on May 10th and we want to begin by saying it's absolutely one of the rawest K-Pop songs we've ever heard. It chronicles an emotional tale of a person who wants to change herself, be like everybody else to feel loved.
On the surface, "Allergy" is an upbeat tune. However, when you take the time to really listen to what it is trying to tell you, it hides a very real message. We feel the song will resonate with many individuals, especially those who feel like they need to be somebody other than themselves to be enough.
With this track, leader Soyeon proves once again that she is a master lyricist and producer, and the rest of the group can pull off pretty much any concept, whether it's being their strongest selves or at their most vulnerable.
Assuming the Throne
(G)I-DLE is famous for walking to the beat of their own drum, and that trend continues with I feel. These K-Pop queens proved once again that they can change their spots and adapt. While maintaining the angsty rawness that made them unique and beloved by NEVEREVERs and the K-Pop industry as a whole.
What's your opinion regarding "I feel" by (G)I-DLE?
More From LWOS Life
Make sure to stay tuned to LWOS Life for more on this and other stories from around the world of entertainment, culture, and more, as they develop. You can always count on LWOS Life to be on top of the major news in the world of entertainment; whilst also providing you with editorials on everything from beer to movie reviews.
Featured Image Credit:
Embed from Getty Images