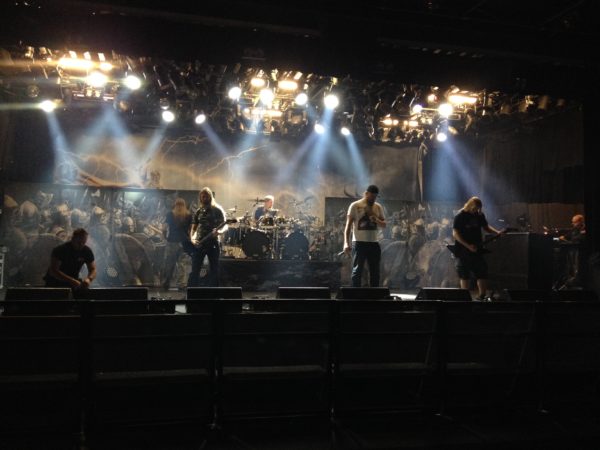 Amon Amarth is on tour again. The tour bus is parked close to the venue, the crew grabs some food. There are Skype calls to home, stage set-up, sound checks, meet and greets. Sometimes there's time for some downtime, shopping, gaming, laundry, a visit with friends and family members who live locally. Every so often, a fan asks for an autograph, or someone throws up the devil horns and yells, "Amon Amarth!" from across the street. Johan Hegg, the band's vocalist, grins and shrugs. "Crazy fuckers!" It's interesting how a band the size of Amon Amarth, that's has been a main stay on the Billboard top 20 for decades, is mostly left alone when they're off stage. The lack of intrusions and screaming fan girl squees, well, that's metal. Otherwise known as respect.
Amon Amarth Forging Death Metal History
Frost Giants on Stage
At some point, an all familiar routine takes place back stage. Street clothes comes off, and stage clothes come on. For Hegg, it's black boots, black sleeveless T, black jeans with leather loop for drinking horn attached, and leather bracers. Someone starts to warm up, whether it be Jocke Wallgren warming up on drums, or Hegg "yyyyyeepping" away to warm up his voice. By then, the opening bands have done their thing. The audience chanting can be heard all the way back stage, but as the intro starts playing, there's a hush. That's when the magic happens. Five dudes from the Stockholm suburbs turn into beasts of metal. As Hegg steps onto the stage there is a light in his eyes that wasn't there before. Olavi Mikkonen sports a look like he's king of the world and he knows it. And right there and right then, he probably is.
Marching to the Beat of a New Drummer
With the arrival of Amon Amarth, the landscape of the Swedish metal scene changed. There wasn't another band out there quite like them. Formed out of the remains from disbanded death metal band Scum, the line-line up has remained remarkably unchanged since signing with Metal Blade in 1998. The latest album, Jomsviking (2016), the band's first concept album, debuted at No. 19 on The Billboard 200.
Amon Amarth consists of Mikkonen and Johan Söderberg on guitar, Wallgren on drums, Hegg on vocals and Ted Lundström on bass. Wallgren, who joined in 2015, is the newest addition to the band. Not everyone can step into a slot among band members who have been gelling for 20+ years, and Wallgren's predecessor, Fredrik Andersson left some big shoes to fill. Wallgren has somehow managed to slide in literally without missing a beat.
The Amon Amarth Trademark Sound
Although the band has evolved over the years, maturing like a good mead (I was going to say wine, but it is Amon Amarth), the subject matter of their lyrics has remained unchanged. They write about the most personal of things, but through a Viking Aged filter. The result is an echo of their ancestors' voices that seems to come from someplace deep in the Nordic soul. The wordsmithing then has to come together with the music. Two guitars, a bass, drums and vocals come together with ancient lore, like vines twisted together to a strong branch. The result is true metal that hits the eardrum like a blacksmith's hammer hits an anvil, hard and heavy. And just like when a blacksmith works, there is rhythm, and the metal sings. That is the Amon Amarth trademark sound, and Viking or not, the trademark sound resonates with audiences world wide.
Home at Last
So what's next for the lads from Sweden? Well, they'll be done touring for a while now. Some years, tours last nine months of 12. Now, the guys will go back home to their families, catch up on some sleep, and perhaps some normalcy. You're likely to find Mr. Hegg contorted like a pretzel at times. His wife, Maria, is a yoga instructor. He fell in love with her, and the yoga followed. The end result is that he's not only even taller now than he was before, but more centred, more focused. Their home is where peace lives, quiet mornings with a cup of coffee replacing the constant noise on a tour bus. If, and only if, the rest of the band can drag him out from under the pile of cats that rule the household, then the band can begin work on their next album.