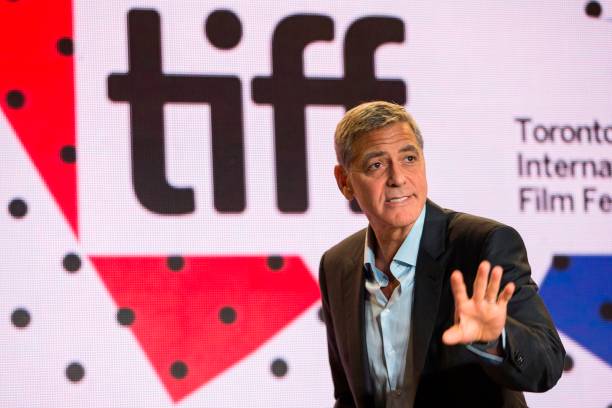 Every year, the Toronto International Film Festival showcases some of the best and most anticipated films of the coming months. It is one of the most largely attended and most influential film festivals in the world. Audiences won't find big summer blockbusters here, but rather quality awards contenders. This year, there are 255 feature length film being shown over the eleven day period. Here are the best of those 255 films that you will want to watch for yourself.
Toronto International Film Festival 2017: Films To Look Out For
Three Films That You May Recognize
Director: George Clooney
Writers: Joel Coen, Ethan Coen, George Clooney, and Grant Heslov
Starring: Matt Damon, Oscar Isaac, Julianne Moore
What it's about: Matt Damon stars as Gardner Lodge, a husband and father who lives in a perfect, idyllic community in the year 1959. However, after a violent home invasion, Lodge realizes that this peaceful town may be harboring a dark secret.
Why you should be excited: First and foremost, a Coen brothers script alone should be enough to get movie lovers excited for this film. However, frequent collaborator George Clooney is in the director's chair for this one. While he has been a mixed bag when it comes to his directorial features, this is his first time directing a Coen brothers script. Given the amount of Coen brothers vehicles he has starred in, it's safe to assume that Clooney has a grasp of that signature, quirky style of theirs and should be able to make the script jump off the pages. Add to that the star power of Matt Damon and audiences could be in for a quality film.
Director: Alexander Payne
Writers: Alexander Payne and Jim Taylor
Starring: Matt Damon, Kristen Wiig, Christoph Waltz, Laura Dern, Jason Sudeikis, and Neil Patrick Harris
What it's about: Scientists have discovered a way to combat over–population by shrinking humans down to five inches tall. Matt Damon and Kristen Wiig play a couple who decide to undergo the groundbreaking procedure in this satirical comedy.
Why you should be excited: Alexander Payne has a knack for directing award winning films, having directed films like Nebraska, The Descendants, and Sideways. Not only does this film boast a top notch director, it has a star studded cast to boot. The premise is interesting and there is a lot of potential here for some thought provoking social commentary as well as some creative and funny gags.
Director: James Franco
Writers: Scott Neustadter and Michael H. Weber
Starring: James Franco, Dave Franco, Zoey Deutch, Alison Brie, Zac Efron, Seth Rogen, Adam Scott, Sharon Stone, Kelly Oxford, Josh Hutcherson, Paul Scheer, and Eliza Coupe
What it's about: This movie tells the story of the making of what is widely considered to be the worst movie ever made, The Room. James Franco stars as Tommy Wiseau, the director, writer, producer, and star of the infamous film.
Why you should be excited: For one, any time James Franco and Seth Rogen are in a movie together, it's gold. Add to that the likes of Dave Franco and Zac Efron, and you have the makings of a fantastic movie. The story is something that many film fans will connect with due to how infamous the film it explores is. The humor should be top notch when considering the talent involved. Perhaps the biggest standout from the trailer is James Franco's Tommy Wiseau impression. That accent is on point and the rest of the movie should be as well.
Three Films That You May Not Recognize
Director: S. Craig Zahler
Writer: S. Craig Zahler
Starring: Vince Vaughn, Jennifer Carpenter, Udo Kier, and Don Johnson
What it's about: Vince Vaughn plays a former boxer who lands himself in jail after a drug deal gone awry. Trapped in a maximum security prison, he finds himself in a situation where he is in a fight for his life.
Why you should be excited: Bone Tomahawk, which was Zahler's directorial debut, was an underrated and brutal western. Expect this film to be just as brutal. Vince Vaughn goes against type in a completely serious and seemingly badass role. However, at 6'5", Vaughn has the stature to play a character like this. This has the potential to be an edge of seat thriller with some fantastically violent action sequences, as well as a vehicle for Vaughn to show his range as an actor.
Director: Joseph Kahn
Writers: Joseph Kahn and Alex Larsen
Starring: Anthony Michael Hall, Calum Worthy, and Debra Wilson
What it's about: Calum Worthy stars as Adam, a white student who decides he wants to tackle battle rap as his thesis. Eventually, his thesis becomes a competitive obsession and becomes the focus of widespread outrage.
Why you should be excited: Eminem. Does that name catch your interest? Well, the one and only Marshall Mathers is producing this project and I dare anyone to say that it isn't a match made in heaven. Much like the previously discussed Downsizing, I see potential for a significant amount of social commentary in this film. No matter what the overall purpose of this film is, expect it to be about more than just battle rap. This is one of the more unique offering at the Toronto International Film Festival and could end up being one of the best.
Director: Scott Cooper
Writers: Scott Cooper and Donald Stewart
Cast: Christian Bale, Rosamund Pike, Q'orianka Kilcher, Adam Beach, Ben Foster, Jesse Plemons, Scott Lang, and Timothee Chalamet
What it's about: Hostiles takes place in 1892 and follows an Army captain, played by Christian Bale, who is tasked with escorting a Cheyenne chief and his family through hostile territory.
Why you should be excited: New westerns don't come around often nowadays so, when a quality one like this comes around, it deserves some attention. Add to that a star studded cast and a good director and you have the makings of a great genre film. Cooper's last film, Black Mass, was a severely underrated gangster movie and one of my favorite films of 2015, so expectations are high here.
Honorable Mentions
Director: Guillermo Del Toro
Writers: Guillermo Del Toro and Vanessa Taylor
Starring: Sally Hawkins, Octavia Spencer, Doug Jones, Richard Jenkins, Michael Stuhlbarg, and Michael Shannon
What it's about: It's a unique, adult fairy tale that takes place in Cold War era America. Sally Hawkins plays a mute government lab worker who stumbles upon and eventually falls in love with a merman.
Why you should be excited: It's Guillermo Del Toro, that's why. This is first time venturing back into adult fairy-tales since Pan's Labyrinth in 2006, which was arguably his best film to date. With Del Toro back in that territory and the heavy hitting cast that he brings with him, this is bound to be a crowd favorite. The Shape of Water is probably the most unique offering at the Toronto International Film Festival and could very well be one of the best.
Director: Yorgos Lanthimos
Writers: Yorgos Lanthimos and Efthymis Filippou
Starring: Colin Farrell, Nicole Kidman, Barry Keoghan, Raffey Cassidy, Bill Camp, and Alicia Silverstone
What it's about: Colin Farrell plays Steven, a surgeon who, when the behavior of a teenage boy that he is caring for turns sinister, is forced to make an unthinkable sacrifice.
Why you should be excited: The last time Colin Farrell and Yorgos Lanthimos teamed up, audiences were treated to a pleasant surprise in The Lobster. Now, audiences are in for a very different type of film. One that seems to be a terrifying psychological thriller. While horror/thrillers are not often well received, the acting chops of both Farrell and Kidman should do nothing but elevate this film. It has already generated some highly positive buzz out of Cannes and is shaping up to be a film to look out for.
Main Image: