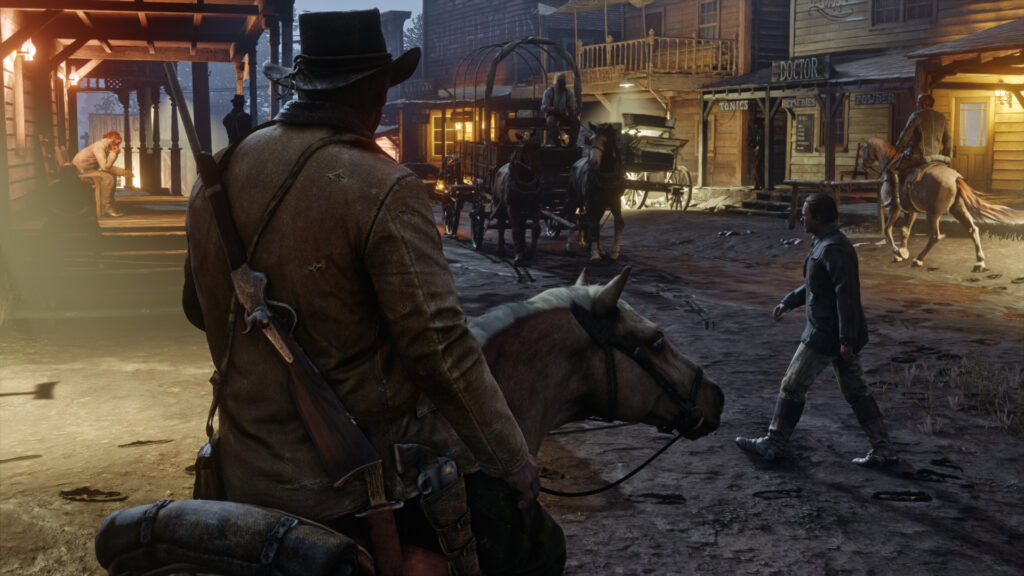 Hey, remember when Red Dead Redemption came out in 2010 and proceeded to blow everyone's minds? Yeah, well now there's a sequel, Red Dead Redemption II, and it looks absolutely amazing. That's right folks, the great people at Rockstar Games finally decided to give us another trailer. Before we get started, if you haven't seen the trailer yet, you can find it here. So really, what's so special about this follow-up to the 2010 classic? Let's take a proper look, and see just why gamers should really be looking forward to this one.
Games to Watch For: Red Dead Redemption II
The Game
According to the Rockstar Games website, Red Dead Redemption II "is an epic tale of life in America's unforgiving heartland." Additionally, the trailer gave off a very gangster-like vibe throughout the whole thing. Maybe a little bit of that Grand Theft Auto V vibe snuck its way into this one. Or maybe I'm wrong, and Rockstar just really likes to put all their dark, gritty, and snarky themes into every one of their games.
In terms of gameplay, we don't know much. However, we do know that it will probably be a lot more of the same from the original Red Dead Redemption. While that might seem a bit uninspired in certain areas, it is by no means a bad thing. The original game was a blast to play, and was nearly flawless in terms of gameplay. We usually know what we're getting from Rockstar, and that's solid gameplay with a huge open world and a ton of things to do.
The Story
Red Dead Redemption II isn't coming to store shelves until at least April 2018. Therefore, we really don't know a lot about the story. What we do know is the following. First off, the main character will likely be a man named Arthur Morgan. Morgan is a member of a group of outlaws called the Van der Linde Gang. Of course, the gang has done something to get themselves into some deep, deep s***. Oh yeah, and perhaps the most interesting thing about this game is that it's a prequel to its predecessor.
We don't have any of the exact details yet, but we know that Red Dead Redemption II takes place before the events of the original. Old friend John Marston is still in the game, but again, he is nowhere near the limelight this time. Bill Williamson, the main that Marston is after in the first game, is also part of the prequel. It'll be interesting to see how Rockstar handles such a charismatic character like Marston taking a backseat for an entire title. Hopefully it works out for them, but as of right now, we really don't have the details.
That Special Something: Successor to a Legend
Let's not forget; the previous Red Dead Redemption title was a gaming masterpiece. From the gameplay, to the story, to the graphics that even hold up today, the title was perfect. But what happens when you jump a generation, give a developer seven years, and let them come out with a sequel? Something magical, probably.
Red Dead Redemption II has this aura of greatness already around it that I'm not sure any other game is creating right now. The trailer is captivating, and outside of Super Mario Odyssey and the Nintendo Switch as a whole, it's garnering all the eyes in the industry. Gamers have been waiting seemingly forever for this one, and we're finally getting it in just a few short months. This title is massive, and the hype surrounding it is just as huge. As the successor to a legend, this game has got some enormous shoes to fill. But we know Rockstar already, and they always deliver.
Why You Should Be Looking Forward To It
If you played the first title in 2010 and you aren't looking forward to this one, I really am not sure what to tell you. Red Dead Redemption II is looking to be one of the best games of this decade, right up there with the title that came before it. Again, if you haven't watched the trailer yet, you should absolutely be doing that. No exceptions.