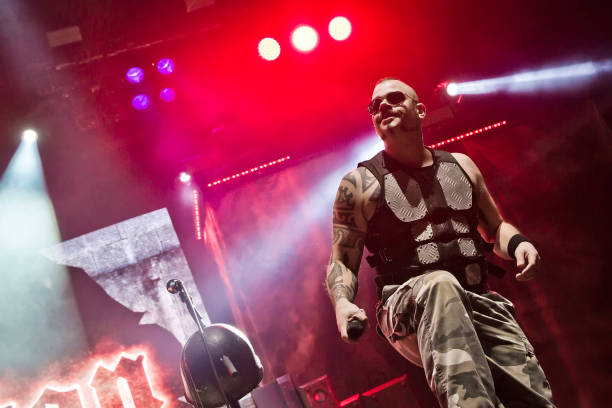 What is it about Sweden that it breeds so many great metal bands? Well, it seems that when short hairstyles are popular in the US, they're even shorter in Sweden. When they're long in the US, they're even longer in Sweden. If short skirts are in style on the continent, they're mini-skirts in Sweden. There is just nothing half bore about anything Swedish, even when it comes to metal: when metal is "heavy" elsewhere, it's "death" metal in Sweden. Historically, metal bands like Iron Maiden and Judas Priest have been very successful in Scandinavia, but there's always been a homegrown crop of bands. Generally, these bands have been on "the heavier side of heavy" from the get go. Yes, hair metal and true "heavy metal" existed for 20 seconds. After that, Swedish metal morphed into some kind of sonic assault on the brains of innocent headbangers worldwide.
Top Three Swedish Metal Bands You're Not Listening To
Swedish metal grows up
In 1986, the rest of the world got the first taste of Swedish "metal" via hair metal band Europe. Swedes, on the other hand, were introduced to Heavy Load in 1978. Despite the lack of commercial success, Heavy Load's debut album, Full Speed at High Level, shaped the Swedish metal scene. Metal fans have enjoyed their spawns ever since, and again, there really was no half bore. It's heavier than heavy. Perhaps it's because metal is the only acceptable expression of rage in this otherwise peace-loving country. American metalheads have soaked up everything bands like Opeth, Meshuggah, Amon Amarth and Candlemass have thrown at them. Newer crops, like Sonic Syndicate, tour North America regularly. So what are some Swedish metal bands worth listening to that are not getting their fair share of play here? Let's take a look at some of the bands who really deserve more attention.
Tiamat
In Swedish, heavy metal isn't called "heavy metal". It was called "hard rock", hard rock. Tiamat were pioneers in their genre, and shaped the Swedish metal scene and it its hard-as-diamonds core. You could score flint with their buzz saw sound. If you're into Swedish metal, you should have been listening to these guys a long time ago. Although Tiamat have not been heard from for some years now, they really deserve to be on this list. The band was forever evolving, their sound floating between black metal and death metal, doom metal and gothic metal. The band's latest release was The Scarred People (2013), from the 2012 album with the same name. They set the tone under their original name, Treblinka. The original line-up was formed in the late 80s, but for The Scarred People, only founder, vocalist and guitarist Johan Edlund remained from the original line-up.
Sabaton
Here's a band you should be listening to. They've won just about every metal award imaginable, including the German Metal Hammer Awards, the British Metal Hammer Golden Gods Awards and the Swedish Bandit Rock Awards. Their 2012 album, Carolus Rex, made them the first Swedish metal band to reach platinum sales.  While four of Sabaton's members left to form another band, Civil War, that same year, the remaining band members marched on with lyrics inspired by themes of historic wars and epic battles. They released their latest album, Last Stand, in 2016. Sabaton's stage show does not disappoint. That's a promise. It brings the band's power metal style right into your central nervous system. And, fortunately, even if you can't catch them on the radio, you can catch these boys on tour. In other words, no excuses are valid; If you're into Swedish metal, you should be listening to Sabaton.
Watain
Here's another Swedish metal band that's not new, but new to North America, perhaps. They have a new single due to be released on Halloween, a new album next year. Watain has been treating headbanging fiends to pure black metal since 1998. And yes, these boys scare the hell out of the establishment. Band members claim to be "devil worshipers", fling animal carcasses and animal blood around on stage. Rebellion is what metal was all about right from the onset. This band actually aims to disrupt, disturb, and generally scare the bejesus out of the world. That's why it sometimes comes as a shock when hellions like Watain win relatively mainstream awards. But they did. They actually won a Grammy for Lawless Darkness in 2010. While their religious practices and creepout-worthy stage show may not be your cup of tea, you should still be listening to Watain.
Main Image: