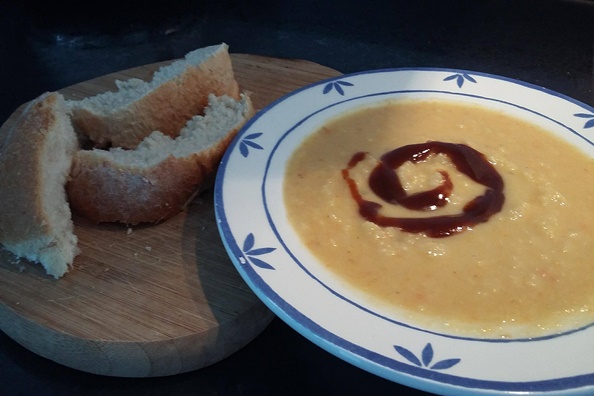 As winter is fast approaching, our need for filling and warm comforting foods is increased. This recipe uses seasonal, cheap and readily available ingredients which fuse together to make a belly-filling tasty dish. The spicy roasted pumpkin soup recipe adds warmth to any winter day and takes those blustery blues away!
Spicy Roasted Pumpkin Soup Recipe
Ingredients
1 medium pumpkin
1 tbsp. rapeseed oil (or similar)
1 onion
3 carrots
1/2 pt vegetable stock
1/2 pt water
2 cloves of garlic
1 tsp of red chilli
1 tsp mixed herbs
1/2 tsp salt
1/4 tsp black pepper
Worcestershire sauce (optional)
Method
Pre-heat the oven at 200c.
Chop the pumpkin across the centre, to form two equal halves. Using a spoon, scoop out the seeds and place them onto a roasting tray and drizzle over a small amount of oil.
Place the two pumpkin halves onto a baking tray and place them into the oven, along with the tray of seeds, and bake for 30 minutes.
Scoop the flesh from the pumpkin and place it into a large saucepan. Peel and chop the onion and carrots, and place them into the pan with the pumpkin.
Pour over the stock and water, place onto the stove and bring to the boil. Reduce the heat, add the garlic, chili, herbs and seasoning and leave it to simmer for approximately 30 minutes.
Allow to cool a little. Blend the contents until smooth.
Return to the pan, and re-heat just prior to serving.
When dished up, add a swirl of Worcestershire sauce to the soup and a sprinkling of pumpkin seeds.
Best served with warm, crusty bread.
Main Image: Angela Dack