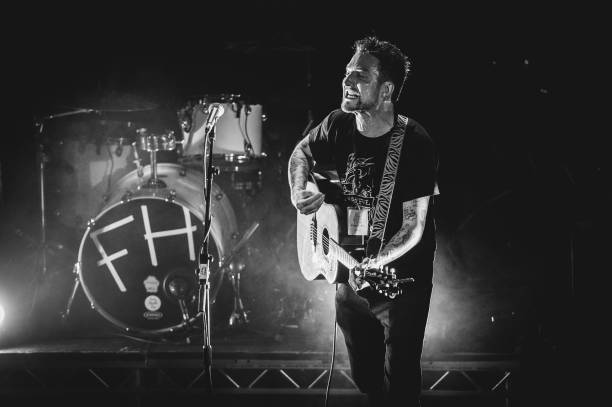 10 years have passed since British singer-songwriter Frank Turner released his first studio album. While recording his seventh studio album, Turner has released Songbook, a compilation looking back on the last decade. Songbook is an impressive entry in an already stellar discography, with something for fans new and old.
Frank Turner's Songbook: Old Songs, New Sound
The History of Songbook
Following the breakup of the post-hardcore band Million Dead in 2005, Frank Turner made a change. He moved away from the noise rock he cut his teeth on and began focusing on acoustic folk-punk. In the Age of Billie Joe Armstrong, a punk rocker showing a softer side and an acoustic bent isn't much of a shock, but it's rare to see someone pull off the transition as well as Turner has.
The initial shift culminated in the release of his first solo studio album, Sleep is for the Week, in 2007. Since then, he's released another five studio albums, five compilation albums, a memoir, and several DVDs of his live shows. Backed by the Sleeping Souls, he's cultivated dedicated fans worldwide, and Turner, 35, shows no signs of slowing down.
To celebrate the ten-year anniversary of Sleep is for the Week, Turner has released his sixth compilation album, Songbook. It includes some of his favorite tracks from previously-released studio albums, a new song, and ten new covers of older material. The result is an impressive album that showcases Turner's range and the talent that's won him fans across the globe. Songbook includes love letters to the music that Turner has devoted his life to ("Four Simple Words"/"I Still Believe"), energetic barroom anthems about self-improvement and lost love ("Get Better"/"Recovery"), and songs covering celebrity, friendship, and Turner's origins ("I Knew Prufrock Before He Got Famous"/"Wessex Boy")—and those are just tracks he's pulled from his existing albums, which make up the first two-thirds of Songbook.
Songbook Review
The first part of the album is a solid look back over Turner's work this past decade. Where Songbook shines, however, is in its last 11 tracks. The back end of the album is devoted to new covers of old songs, and provides a sneak peek into where Turner is taking his music next.
This begins with "There She Is," a love song pulled from Turner's upcoming seventh studio album. This is the only track in Songbook that hasn't been seen before, and it is a treat. The song ebbs and flows as Turner croons about his newest romantic partner, painting a picture of himself as a someone fallen from grace and redeemed by her love. As love songs go, lyrically it's a competent entry in a crowded field, with Turner promising he'll never leave her in the song's bridge and saying to himself in the chorus, "Isn't she everything?"
What makes the song stand out, though, is the way the singer-songwriter pushes himself to explore new sounds. Turner adds and removes instruments as the song rises and falls. He picks at his guitar throughout and brings in some brassier instruments as "There She Is" draws to a close. The result is something that feels like it'd be at home in an '80s romance. It's a little more pop than a lot of Turner's other music, but with compelling and honest emotion behind it.
The last ten tracks on the album are the reworked songs Turner has pulled from his existing discography. These have been around for a while, and several have already been covered on Turner's previous albums. Still, it's fun to sit back and listen to him take them in new directions or, at the very least, apply a fresh coat of paint to a beloved classic.
"The Ballad of Me and My Friends" is a fan favorite from Sleep is for the Week. Since its debut, several iterations of the song have made their way onto Turner's compilation and live albums. The biggest change here is that Turner swaps the guitar prevalent in the original recording for a piano, something he already did on The Third Three Years (2015). However, that version was recorded live while Songbook features a mint-condition studio recording. This will surely delight those who were a fan of the instrument change but wanted a cleaner version to listen to.
"Photosynthesis" is another example of vintage Frank Turner and has been tinkered with time and again since its debut. Turner doesn't try to reinvent the wheel, merely taking this opportunity to make some minor adjustments to the song. He plays with the vocals, adds some electric guitar work to the bridge, but doesn't fundamentally change what the song was to begin with. There's nothing wrong with that in this case, and Turner's "f*** you" to adulthood benefits from the relatively minor changes, coming across as refreshed and rejuvenated, still fast and fun, but with a little more party and play behind it.
Other songs have undergone more dramatic changes. "The Way I Tend to Be," for one, has been stripped down to acoustics with powerful vocal harmonies threaded throughout. iTunes aptly describes another song, "Glorious You," as having been transformed "from a fuzzy rocker into a tender ballad."
These songs represent a sense of atmosphere that Turner has added to several of these revamped tracks. He's done this by restraining his more bombastic tendencies and experimenting with echoes, background noises, and vocal harmonies. It pays off and listeners get to experience Turner pushing himself in exciting new ways. These aren't just new versions of old songs, they show Turner growing as a musician and playing with new sounds.
The song that has benefited the most from the Songbook treatment doesn't choose between "classic" Turner and "atmospheric" Turner, though. "I Am Disappeared" opens operatic and atmospheric, transitioning into a faster, more typically-Frank-Turner tune as it progresses. It's a wonderful addition here, showing how well Turner balances his traditional sound with the calm on display in Songbook.
All-in-all, the opportunity to revisit this vast collection of songs from Turner's existing discography makes this album worth listening to. If that were all Turner delivered here, it would be a wonderful stroll down memory lane, but not much more. However, when you factor in all the new renditions he's delivered alongside the old, Songbook becomes a must-have for longtime fans of his music and a perfect jumping-on point for those new to Turner's folk-punk style. On top of that, the last 11 tracks should have everyone ready for his next studio album in 2018. While some fans may be wary of the new direction Turner appears to be taking, he'll stick the landing if Songbook is any indication, and continue making music for his legions of fans for decades to come.
Songbook is currently available for purchase on iTunes and Amazon, with a Deluxe Edition due out December 15. The deluxe edition will feature a documentary, a DVD of Turner's 2000th live show, and previously unreleased photos.
Main Image: