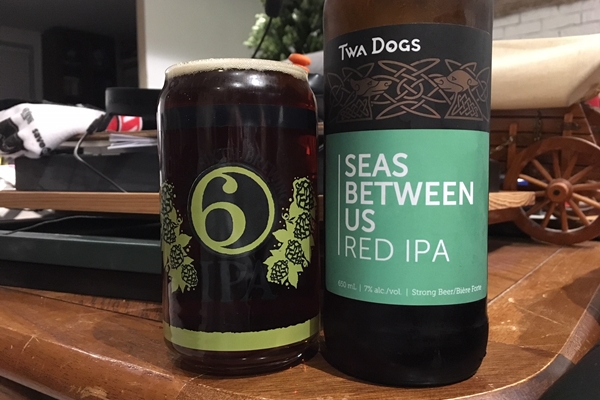 B.C. Beer Reviews is back to take a look at the Seas Between Us Red IPA from Twa Dogs Brewery. Twa Dogs Brewery is also known as Victoria Caledonian Brewery & Distillery. They have this name because they do not just focus on beer, but also make spirits.
Despite not specializing in just craft beer, they certainly know how to make a tasty beer.
B.C. Beer Reviews with Nic Hendrickson: Twa Dogs – Seas Between Us Red IPA
To explain who Twa Dogs is, there is really no better way than to take directly from their website:
"Hailing from Scotland, Australia and across Canada, we at TWA Dogs have chosen Victoria as our home. The west coast draws us in and connects us—to the land, the sea and to one another. It nurtures a sense of belonging. The Twa Dogs are beers brewed for those that love this part of the world and share this connection."
Let's take a dive into the Victoria-based brewery and see how their Red IPA turned out.
Colour
This one pours a deep amber colour with a very slight reddish tint to it. Once the glass is filled it is a deep amber-red colour. This matches up perfectly with the style.
Nose/Aroma
Just cracking open the bottle will smack your smeller with the malt character. Pouring it into the glass does not tone it down either. If you enjoy malt-forward beers, this one is truly one worth trying.
At the base of the malt is a sweet scent. It is very reminiscent of a caramel-like nose/aroma. It is a very sweet, yet not overpowering, malt characteristic in the nose/aroma.
Behind the predominantly malty nose/aroma is a bit of spicy characteristics that are very likely imparted by the hops used in this brew. It adds a totally different finish to the nose/aroma that is the polar opposite of how it starts out.
This is truly a nose/aroma split in two. They do not really mesh, but rather they coexist nicely.
Tasting Notes
The tasting notes follow suit with the nose/aroma. You get a very strong roasted malt and caramel taste on the front end of this beer. This isn't necessarily a bad thing, but you really need to appreciate malt-forward beers for this one to be for you.
The hops are very subtle at first. They impart a slight spicy characteristic on the palate that counteracts the malt sweetness quite well. You certainly get this on the back end of your palate.
The bitterness of the hops is very noticeably present in this one, but it is not overpowering. It is a very clean bitter back end that sticks to your palate well after each sip.
This is an overall very tasty beer. It would be nice if the hop characteristics to shine through, but it is still a very good rendition of this style.
Other Notes
The branding/labeling is rather simple on the bottom half of the bottle and has a nice Gaelic style logo of Twa Dogs on the top half. Overall a simple branding/label, but nice nonetheless.
There is a rather significant head to this beer. The retention of that head is also extremely impressive. This is maintained well after the initial pour, and only disappears when you take your first few drinks.
There is a thick layer of lacing on the glass from this beer. The entirety of the glass is coated in rather thick rings of lacing.
It is very lightly carbonated. There is just enough carbonation to this one to give it a very subtle crispness to the finish.
The one thing that this beer truly stands out for is the mouthfeel. It has the thick, almost creamy, mouthfeel that you would come to expect from such a malt-forward beer. It is truly fantastic and adds a nice note to this one.
Final Grade
Very malt-forward. The hoppy finish is nice, and so is the nice clean bittering charge in this one.
The smooth and almost creamy mouthfeel is very appealing to this one. And when you add the crispness of the hops to a very light level of carbonation, it makes for a very nice finish to this one.
Grade: 7.9/10
Want to see a beer featured in B.C. Beer Reviews? Comment below with your suggestion.
Want to see all of the photos featured in B.C. Beer Reviews, and even some that don't make the cut? Follow me on Instagram: nhendy5. You can also see much more concise reviews of all the beers featured up to 24 hours in advance by adding me on Untappd: RedArmyNic.
Main photo by Nic Hendrickson, Lastword Inc., all rights reserved