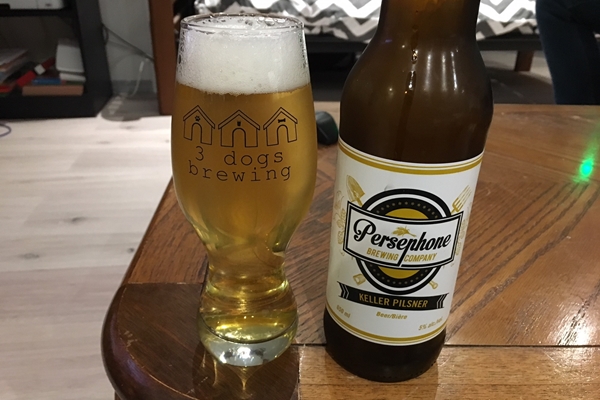 B.C. Beer Reviews is back to take a look at the Keller Pilsner from Persephone Brewing. This is Persephone's take on a German-style pilsner and a rather good one at that. They featured this beer at the Vancouver Christmas Market.
B.C. Beer Reviews with Nic Hendrickson: Persephone Brewing – Keller Pilsner
Persephone Brewing of Gibsons, British Columbia not only has solid takes on beer, but also sustainability in the industry. They operate on what they call a "beer farm". This is basically the 11-acre plot of land where the brewery is. They grow their own hops, as well as other agricultural goods.
They are all about making good beer and making it in a sustainable way. This has landed them multiple awards for their beers since opening their doors. And while the Keller Pilsner is not one of them, it is still a good beer worth taking a look at.
Colour
This one pours an almost entirely clear colour with a slightly golden hue. There is a nice light golden yellow colour in the glass that you would expect from a German-style pilsner. The clarity of this beer is impressive.
Nose/Aroma
The predominant note is a bready smell, very likely a byproduct of the yeast used. There is a very sweet front end to this nose/aroma. Spot on with the style.
There is also another level of sweetness that comes through from the malts/grains used. It is not, however, significant. It definitely plays second fiddle to the bread, yeasty scent.
There is also a little bit of a hop aroma in the background of the nose/aroma. The Czech Saaz hops used in this one impart a floral spicy note that is rather subdued. It does add another layer of complexity to the nose/aroma that makes this a very inviting beer to try.
Tasting Notes
The bready characteristic follows right into the tasting notes. It is not, however, as powerful as it was in the nose/aroma.
The malt/grain bill is certainly very present in this one. A nice sweet malty character that you would come to expect from a German pilsner. It is spot on with the style and makes for a very easy-drinking beer.
The final, and strongest, note is that of the hops used in this one. There is a nice crisp and spicy bite at the back end of the taste. This is entirely due to the Czech Saaz hops used, a hop which they say is used in large amounts in the brewing process.
The bittering charge from these hops is not overpowering and sticks well within the realm of this style. It is not overpowering, but it adds a nice crispness to the finish and just enough hop character for hoppy beer fans to enjoy it.
Other Notes
The labeling/branding is distinctive to Persephone Brewing. They never stray from their style. They have their name and logo front and center on the bottle. This is complemented by some simple illustrations of a pitchfork, a shovel and some hops in the background.
This one pours a fairly significant head. However, the head retention is not nearly as impressive. This is not a necessity for this style, merely an observation.
This pilsner is very nicely carbonated. The carbonation level is quite high, but that is a good thing for the way this beer drinks. The crisp spicy notes of the Czech Saaz hops are accentuated nicely by the high carbonation level.
When you put those two notes together it makes for a very crisp finish for every drink.
There is a rather significant amount of lacing for this style. This is partially due to the large amount of hops, and possibly even the malt/grain bill. There is a good deal of lacing that is present throughout the entire glass.
Final Grade
The nose/aroma is spot on what you would expect from a German-style pilsner. The tasting notes follow suit with this. The hop addition at the level they use adds for a nice bitter backbone and crisp spicy finish.
Grade: 7.8/10
Want to see a beer featured in B.C. Beer Reviews? Comment below with your suggestion.
You can also see all the photos used in B.C. Beer Reviews, and even some that do not make it into the articles, by following me on Instagram: nhendy5. And you can see much more concise reviews of these beers up to 24 hours in advance by adding me on Untappd: RedArmyNic.
Main photo by Nic Hendrickson, Lastword Inc., all rights reserved