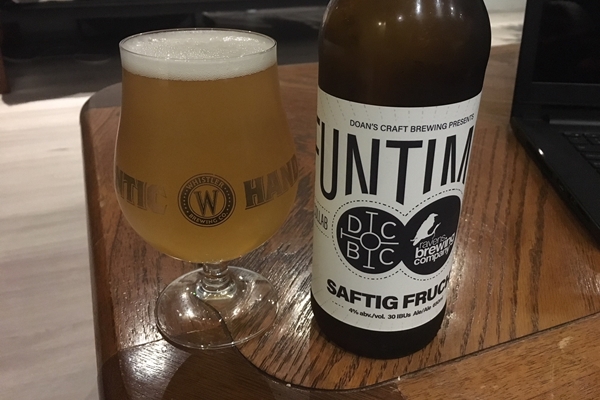 B.C. Beer Reviews is back to take a look at another collaboration beer. This is the Funtimes Saftig Frucht from Doan's Craft Brewing of Vancouver, British Columbia and Ravens Brewing of Abbotsford, British Columbia.
The Saftig Frucht in the name literally stands for "juicy fruit". We will see exactly why when reviewing this one.
B.C. Beer Reviews with Nic Hendrickson: Ravens Brewing – Funtimes Saftig Frucht
How these two came together is unknown to us, but it resulted in a truly interesting beer. The Saftig Frucht from the Funtimes series by Doan's has produced many of these interesting beers.
Doan's is known for their top-notch beer, including their well-known Kolsch. Ravens is one of the most impressively improved beers over the last two years, and they are certainly one to keep an eye on for the future.
Colour
This one pours a cloudy golden-yellow colour. In the glass, it is a nice golden colour that is reminiscent of the colour of straw. There is zero clarity to this beer. Very cloudy.
Nose/Aroma
There is a massive scent of fruit and citrus in the nose/aroma. There are hints of citrus fruits in the nose/aroma like mango, pear and possible even apple.
You get almost zero sweetness from the malt/grain bill in this one. You get only citrus and fruit notes. This makes it all the more clear why it is called Saftig Frucht, or "juicy fruit". Spot on nose/aroma with the name.
The sole background note is that of a light saltiness. It is very subtle, but it adds another layer to a fairly one-dimensional nose/aroma to this beer.
There are no hops used in this beer, so do not be fooled into thinking the fruity and citrus notes are from those. According to the bottle, they are one hundred percent from the fruit used in making this one.
Tasting Notes
You certainly get the fruity and citrus notes at first, just like in the nose/aroma. However, unlike the nose/aroma, you do not get them in as much potency in the taste.
The citrus notes are virtually washed away by the salty notes of the beer. This is not to say that these are overpowering or unpleasant, but it balances rather well with the fruity and citrus notes of this beer.
The beer finishes very clean and very dry. It is unclear on what type of yeast they used in this beer, but the fermentation profile is very clean and very nice. The dry finish makes it a very easy drinking beer, even despite the very present salty notes.
To draw a comparison for those of your out there still confused on what exactly this is, myself included, it is very similar to a traditional gose. There are somewhat tart citrus and fruit notes with a finish of salty and brine-like notes on the back end of your palate.
Other Notes
The branding/labeling is nothing exciting. It is a white label with some lines in the background accompanied by the logos of both Doan's Brewing and Raven's Brewing.
The beer pours with a decent head, but nothing overly significant. The head retention is also not very impressive, but it is not overly significant to this beer.
The carbonation level is rather light. There is enough to notice it, but not significant when poured from the bottle or when you drink it.
Final Grade
The nose/aroma and the initial tasting notes you get are spot on with the name translating to "juicy fruit". It is a very welcoming invitation to dip your nose into the glass or to talk your first drink.
The colour is an interesting one as well, with it being almost a cloudy version of a gose beer. It is nice, but it does not give you any real indication of where the beer is going.
The salty finish makes for a polar opposite to the nose/aroma and the first tasting notes you get. It is night and day from the first sip to the back of your palate. It is fairly refreshing. Finishes rather clean and dry, disappearing from your palate quickly.
Grade: 7.8/10
Want to see a beer featured in B.C. Beer Reviews? Comment below with your suggestion.
You can also see all of the photos used in B.C. Beer Reviews by following me on Instagram: nhendy5. And you can also see much more concise reviews of each beer up to 24 hours in advance by adding me on Untappd: RedArmyNic.
Main photo by Nic Hendrickson, Lastword Inc., all rights reserved