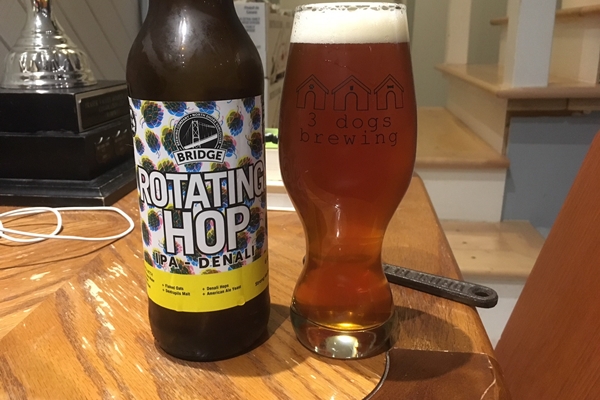 B.C. Beer Reviews is back to take a look at another beer from Bridge Brewing, the previous being their Wunderbar Kolsch. This is, however, a totally different style and take. Bridge Brewing has a 'rotating hop' series where they are using a single hop in beers that are SMaSH-ish.
B.C. Beer Reviews with Nic Hendrickson: Bridge Brewing – Rotating Hop: Denali
The 'rotating hop' series from Bridge is their take on showcasing a single hop. While most breweries choose to do a single malt and single hop style to showcase this style, Bridge has opted for multiple malts/grains in this one.
While the malt/grain bill is much more complex than a SMaSH, this is certainly a good way to see the characteristics of an individual hop. Let's take a look at Bridge's showcase of the Denali hop.
Colour
There is a deep amber colour to this one. It pours the same colour that it is in the glass. The malts used in this one impart a very inviting colour for a traditional IPA.
Nose/Aroma
There is a significant scent of citrus in the nose/aroma. It is hard to put a finger on what exactly it is. It smells more of an indistinguishable citric acid type citrus note. This could be something like a lemon or lime.
Behind that powerful citrus note you get almost immediately there is a distinct pineapple scent. This is playing second fiddle to the citrus note, but it is still very noticeable and it makes for a very inviting nose/aroma in this beer.
The malt/grain bill used in this one very obviously give a nice, sweet character to the nose/aroma. It certainly sits well behind the hop aromas, but it plays nicely with what you get from the Denali hop character.
Tasting Notes
The first thing that should be stated is that there is a very solid bitterness to this one. This is what you would expect from an IPA suited for "hop heads". The high alpha acid percentage of the Denali hop imparts a fairly strong bitter backbone to this beer.
While it is strong, the bittering profile is quite nice. There is a piney and slightly resinous bittering profile to the beer. If you categorize yourself as a "hop head", then this is a beer you should definitely give a try.
The indistinguishable citrus notes certainly come through. However, this is really the only fruity and citrus notes that you get in the nose/aroma that follow into the tasting notes. The pineapple notes are found exclusively in the nose/aroma.
The malts/grains in this one are certainly a supporting note. They are in the background to the piney, resinous bitterness of the beer and have it leaning slightly towards a very traditional IPA, bar the nose being more of a 'West Coast' style bitter beer.
Other Notes
The branding/labeling on this one strays from what you would come to expect of Bridge Brewing. It is flashy and has hops floating around with colourful borders behind each hop throughout the glass. This is laid onto a white background. Very bright and noticeable.
The cool thing about this one is that Bridge Brewing lists all ingredients used in their beers, although not the percentages of the malt/grain bill. They state that they used flaked oats, and they are definitely noticeable. They impart a smooth and almost creamy mouthfeel in this one.
Even with an almost hard pour, this one had very little head to it. The head retention was virtually nonexistent in this one. This may be different off tap but certainly was not the case when poured out of the bottle.
There is a decent amount of lacing in this one. It does not cover the glass, but there are noticeable patches from the top to the bottom of the glass.
Final Grade
The bittering profile in this one is piney and resinous, making it a very good beer for "hop heads". The tasting profile doesn't have a ton to it after this, with slight citrus notes and a supporting malt/grain profile to it.
The nose/aroma is the best part of this beer. The citrus and pineapple notes make for a very inviting smell.
Grade: 8.3/10
Want to see a beer featured in B.C. Beer Reviews? Comment below with your suggestion.
You can also see all the photos used in B.C. Beer Reviews, and others that do not make it in, by adding me on Instagram: nhendy5. And you can also see much more concise reviews of all the beers featured up to 24 hours in advance by adding me on Untappd: RedArmyNic.
Main photo by Nic Hendrickson, Lastword Inc., all rights reserved