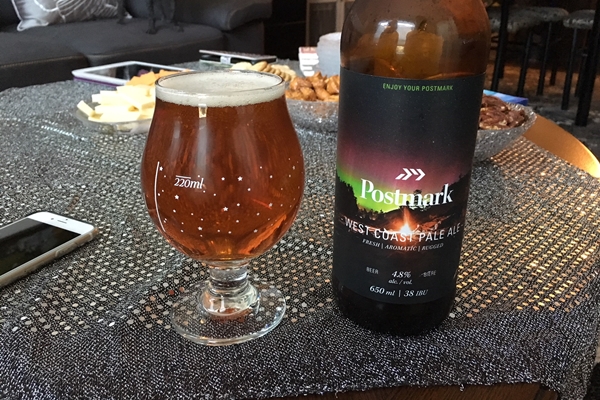 B.C. Beer Reviews is back to take a look at a Vancouver brewery by the name of Postmark Brewing. They fit the West Coast style, but does there West Coast Pale Ale match up? Let's take a look at how this one comes out.
B.C. Beer Reviews with Nic Hendrickson: Postmark Brewing – West Coast Pale Ale
Postmark Brewing is exactly what you would expect from a Vancouver brewery. They have a borderline hipster, new age skater vibe to them. Their beers tend to trend towards the West Coast style, and their West Coast pale ale is no exception to that statement.
For those of you who are not familiar with a West Coast pale ale, it is generally a very hop-forward beer. Where it differentiates itself from other hoppy brews is that it focuses on the North American hops that bring out citrus and fruity aromas and tastes.
So, with that in mind, let's take a look at how Postmark did with this one.
Colour
This one pours a golden copper colour from the bottle. It is a nice, deep copper colour when poured into the glass. This is pretty well spot on with the style.
Nose/Aroma
Despite the bottle saying that it is in the background, the predominant scent in this one at first is the malt/grain bill. There is the sweetness that is generally a characteristic of the malts and grains used. And with the bottle stating there was Maris Otter used, this is not at all surprising.
The hop aromas certainly are very noticeable and present throughout. There is a citrus note right off the bat. This is complimented by a finish of a piney and almost resinous characteristic hop aroma at the back end.
While this beer does not explode with citrus and fruity scents, it does change as the beer gets a bit warmer. As it starts to warm up, the nose/aroma becomes more of what you would come to expect from a West Coast pale ale: citrus and fruits.
The two hops that are used in this are Magnum and Centennial. Magnum is, more often than not, used for a bittering hop. This means it would be very unlikely to impart anything on the nose/aroma.
However, Centennial is used in this one, and they are popular in this style. They are reported to impart scents of lemon and floral notes. When taking this into account, you can certainly understand where the lemon notes come into play.
Overall a decent nose/aroma to this one.
Tasting Notes
As is the case with the nose/aroma, there is a definite malty character to this one. It makes for a good body and a smooth mouthfeel in this beer. The malts playing a big part makes this a pale ale that will appeal both to "hop heads" and those of you who do not enjoy pungent hop tastes in your beers.
There is a significant citrus note to this beer. As is the case with Centennial, this is a lemon-like citrus taste. It is very pleasant and it compliments the malt/grain bill well. It is not powerful, but rather a nice complimentary note.
The citrus notes in this one fit well with the West Coast style, but it is certainly less hop-forward than some other West Coast beers out there. This could be a bad thing for "hop heads", but it also makes it a much more approachable beer for a wider audience.
The bitterness, despite the IBU being listed at 38, is fairly present in this one. It does not hit you in the face, but it certainly has a strong bitter backbone to each drink.
The American Ale yeast used in this one makes for a very clean-drinking fermentation profile and an overall easy-drinking beer. With the ABV being below 5.0%, this is a nice beer to sit back in warm weather and have a few of by the fire.
Other Notes
The branding/labeling is appealing on this one, as it is with all Postmark Brewing bombers. It is a black label with a picture of tents and people sitting around a campfire with the night sky, full of stars, above them. Appealing labeling overall, and spot on with the distinct Postmark style.
This one pours a relatively small head for the style. This is accompanied with very little retention to that head. As soon as it is there, it is gone again.
The carbonation level is rather light. It is enough to have a subtle crispness at the end. This is not, however, necessary as the hops make for a nice and approachable bite at the back end of your palate.
There is a very light layer of lacing throughout. There are small patches of it, but it does not cover the glass.
Final Grade
The colour is spot on with the style, being a nice copper colour. The nose/aroma is citrusy with a strong presence of the malts used. Both of these hit the style nicely.
The best part of this beer is that it hits the West Coast mark with the citrus, but the bitterness is approachable for those who are looking to try and come to accept hop-forward beers.
Overall an approachable and easy-drinking West Coast beer.
Grade: 7.7/10
Want to see a beer featured in B.C. Beer Reviews? Comment below with your suggestion.
You can also see all of the photos used in B.C. Beer Reviews, and some that do not make it in, by following me on Instagram: nhendy5. And you can see more concise reviews of all these beers up to 24 hours in advance by adding me on Untappd: RedArmyNic.
Main photo by Nic Hendrickson, Lastword Inc., all rights reserved