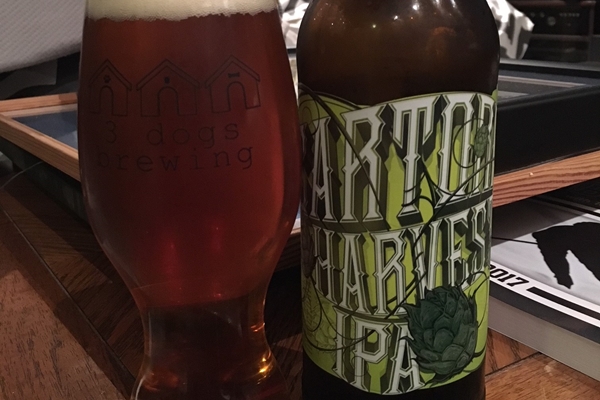 B.C. Beer Reviews is back again today to take another look at a beer from Driftwood Brewery. This time around we will be taking a look at the much-anticipated Sartori Harvest IPA in its 2017 incarnation. For a beer that gets a good deal of hype, it will be interesting to see how it holds up to the reviews.
B.C. Beer Reviews with Nic Hendrickson: Driftwood Brewery – Sartori Harvest IPA (2017)
The fresh hop season brings with it a lot of hype and a lot of good beers. Driftwood Brewery is no exception to this with their Sartori Harvest IPA. Each year it has been getting rave reviews, and the 2017 edition is no exception to that statement.
Let's take a look.
Colour
The first thing that popped out was the clarity of this beer. While it should be said that this one sat on the rack for over two months, the clarity is exquisite.
The colour is a deep golden brown hue. It is a very nice first look at this beer.
Nose/Aroma
There is one thing that can be said about this beer; it is a pungent smack in the face of that delicious fresh hop scent. The Sartori Hop Farm is known for their quality, and this beer showcases that with its fantastic nose/aroma.
As is the case with most fresh hop beers, you get a vegetal, almost earthy and grassy, aroma to this beer. It is not overpowering, but it is certainly present and noticeable.
There are notes of fresh citrus fruits, but it is hard to truly tell what they are. It has the tart bite in the nose/aroma that you might expect from lemon or possibly even tangerine.
This is quite possibly one of the best nose/aromas I have experienced from a fresh hop beer.
Tasting Notes
Much like the nose/aroma, there is a pungent hoppy taste to this one. It is mouth coating and resinous in all the right ways. It truly sticks on your palate well after each sip.
While the beer is certainly bitter, it is not to the point of no return. It is a well-balanced beer, which is fairly difficult to do when you have fresh hops. It toes the line perfectly.
Also following suit with the nose/aroma, there is a very present earthy and vegetal taste to this one. There is a distinct taste of fresh cut grass on the back end of your palate, but it is not necessarily powerful, just noticeable. These are all common characteristics of fresh/wet hop beers, and this beer is certainly not outside them.
The wet hop notes are mouth coating and linger long after each drink. This is not a bad thing at all. Very tasty beer, and it lived up to the high expectations that both the hype and its fantastic nose/aroma set.
Other Notes
The branding is, as always with Driftwood Brewery, beautifully done. It is a nice lime green label that has hop plants cascading at different depths across it. Fantastic labeling/branding, which is less than surprising from them.
If you are lucky enough to still have one of these around the house, pour with care. It certainly won't explode out of your glass like some beers that used Brettanomyces, but it certainly is not shy. Pour meticulously to avoid a massive head.
The head is very, very present. The beer was poured quite slowly and meticulously, and it still poured a rather significant head. The retention of that head was equally as impressive.
Another thing of note for this beer is the very distinct lacing. The glass is practically coated long after this beer is gone.
Final Grade
This one lives up to the hype. The nose/aroma, tasting notes and just about everything in this beer is top notch. If you like fresh/wet hop beers, this is truly one worth getting your hands on if you are lucky enough to find it.
Grade: 9.8/10
Want to see a beer featured in B.C. Beer Reviews? Comment below with your suggestion.
You can also see all of the photos featured in B.C. Beer Reviews, and even some that do not make it into the articles, by following me on Instagram: nhendy5. And you can see much more concise reviews of all these beers up to 24 hours in advance by adding me on Untappd: RedArmyNic
Main photo by Nic Hendrickson, Lastword Inc., all rights reserved