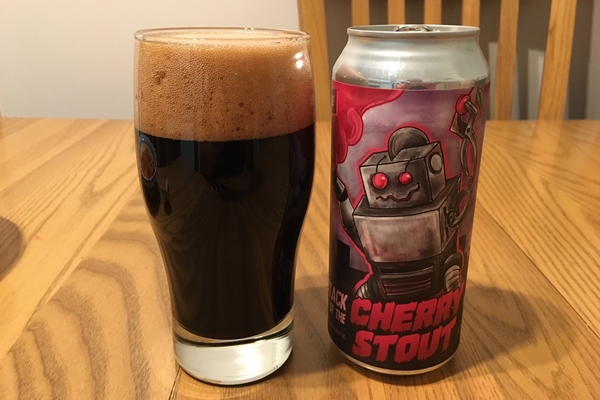 B.C. Beer Reviews comes to you today to take a look at the first entry from Port Moody's Parkside Brewery, their Attack of the Cherry Stout. This Imperial Cherry Stout has been garnering some interest, and rightly so. It is an interesting take on a great style for the cold months, and will definitely warm you up.
B.C. Beer Reviews with Nic Hendrickson: Parkside Brewery – Attack of the Cherry Stout
Parkside Brewery is lucky enough to claim their fame as a member of the illustrious Brewers Row in Port Moody. A single street is lined by Twin Sails Brewing, Yellow Dog Brewing, Coalesce Brewing (the newest member), and Moody Ales.
Other than Coalesce, all of these breweries have helped to make a name for this single street of great beer. And this is nothing against Coalesce, they are just the newest member.
But aside from the obviously great lineup Port Moody has to offer, let's take a look at this beer.
Colour
The beer is as dark as night both in the pour and when it is in the glass. When held up to the light you start to notice a very subtle reddish hue to both the beer and the head on top of it.
Nose/Aroma
This beer gives off exactly the notes you would expect from an Imperial Stout. There is a boozy and "warm" aroma coming right off the first sniff of this beer. It definitely smells the part of a beer that comes in at 8.3% ABV.
The malt/grain bill is also a big role player here. You get some subtle chocolate notes combined with a bit of a roasted note in there as well. Both are very subtle behind the boozy scent.
The other note that comes through, but much more lightly than the boozy aroma, is the cherry. You certainly get a good deal of it, but it is not at all powerful. It is a very nice background note to the boozy and "warm" aromas you get.
Tasting Notes
Just like in the nose/aroma, there is a boozy taste to this beer. It hits you right off the bat, but it does not overpower everything else. That is certainly a good thing here. As quick as it catches your attention it starts to dissipate, with only a small hint of it after the beer is out of your mouth.
The chocolate and roasted notes you get in the nose/aroma do not come through nearly as strong here, and they weren't even strong in the nose/aroma in the first place. The chocolate certainly comes through much more than the roasted notes, but they are definitely both categorized as background notes. Both are rather subdued in comparison to the other flavours at play here.
As for the cherries, the centrepiece of this beer, you definitely get them in the taste. They add a nice sweetness to the beer that is outside the realm of the malt/grain bill as well as a very subtle and subdued tartness. Much like in the nose/aroma they are not overpowering, but rather noticeably present throughout.
Other Notes
The branding/labeling, for lack of a better word, is fantastic. A cartoon robot monster with cherries for eyes and cherries in his pincers is attacking a broken down city in the background. The lettering fits the bill of a classic horror film. The label plays off the name of the beer fantastically. Great stuff here.
This beer pours a rather significant head. The retention of that head is average. It is around long enough to notice it, but once it starts to dissipate it goes quickly.
The carbonation level in this one is low, which is fine for this style. Nothing of significance in this department.
Unsurprisingly, there is zero lacing in the glass from this beer.
Final Grade
This beer is a nice take on a heavy style. It is surprisingly drinkable for a beer clocking in at 8.3% ABV, and the cherries play their role in it. The boozy taste is indicative of the style, and it is not at all overpowering like some Imperial Stouts can tend to be.
Overall, a very tasty beer.
Grade: 8.3/10
Want to see a beer featured in B.C. Beer Reviews? Comment below with your suggestion.
You can also see all of the photos featured in B.C. Beer Reviews, and some that do not make it in, by following me on Instagram: nhendy5. And if you want to see more concise reviews up to 24 hours in advance, add me on Untappd: RedArmyNic.
Main photo by Nic Hendrickson, Lastword Inc., all rights reserved