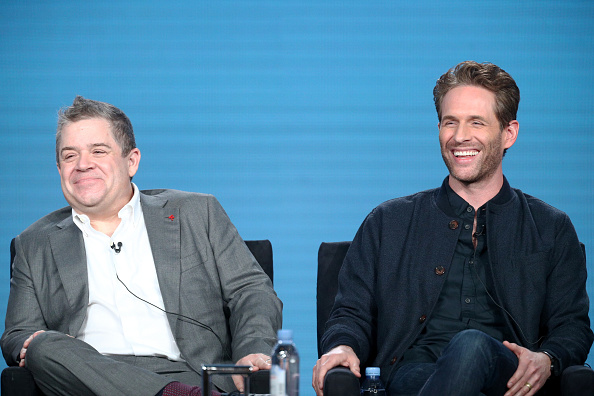 NBC's A.P. Bio makes its official premiere in its permanent time slot tomorrow, March 1, at 9:30/8:30c. The season's freshest comedy features Jack Griffin, a renowned philosophy scholar relegated to teaching Advanced Placement Biology at Whitlock High School after his aspirations to teach at Stanford are foiled. The show previewed on February 1, and the first three episodes of the pilot season are available for streaming on NBC's website.
School's In Session: NBC's A.P. Bio Review
The show's central theme revolves around Griffin, portrayed by It's Always Sunny in Philadelphia's Glenn Howerton, as he adjusts to his transition from high academia to the drudgeries of high school, all the while plotting the demise of Miles Leonard, the man who wound up with his dream job at Stanford. There is no shortage of big names tied to the project. Patton Oswalt appears on the show as Principal Ralph Durbin, the embattled leader of Whitlock High School. The show's creator, Mike O'Brien, spent seven seasons as a writer for Saturday Night Live, and he brought on SNL powerhouses Seth Meyers and Lorne Michaels as executive producers.
Despite the wealth of talent attached to A.P. Bio, reactions have been slightly above average. Metacritic posted a score of 61 based on 15 reviews. Professional opinions range from AV Club's 83 to Margaret Lyons' scathing 30. Lyons referred to the show as "an abrasive sitcom that isn't merely unfunny, it's also deeply unpleasant."
The Plot…Doesn't Quite Thicken
It is immediately clear to viewers that O'Brien is trying to subvert the traditional students-become-the-teachers trope that has been beaten to death by movies and television over the last few decades. The pilot episode begins with a meta-rant from Howerton's Griffin that demolishes this notion right off the bat. The following two episodes further confirm the idea that Griffin will teach these students no Advanced Placement Biology.
In the first three episodes, the audience is going to expect an establishment of what this series will look like. A.P. Bio fails to achieve that so far. Are we supposed to be focusing on Griffin's relationship with the students as suggested by episode one? Are we supposed to care about Griffin's impact on the school as suggested by episodes two and three? Is the Miles Leonard storyline going to be an underlying thread as suggested in episode two or a focal point as in episode one? Is Principal Durbin a major character or a supporting cast member meant to spur Griffin's neurosis along? Is the B-storyline of the bullied student going to ever present itself in a meaningful way? Will Sarika's conflict with Griffin's approach to teaching the class ever manifest in anything more than brief, snippy banter? I understand that the show will take most of its first season to identify its direction, but the audience should have a better idea of where things are headed almost halfway into season one.
The Diminishing Returns of Glenn Howerton
My primary concern for A.P. Bio is Howerton. After 153 episodes of It's Always Sunny under his belt, it seems that Howerton might be doomed to be typecast as the arrogant and neurotic alpha male he made famous with Dennis Reynolds. There is little to distinguish A.P. Bio's Griffin from It's Always Sunny's Reynolds. While the neuroticism and narcissism are (were?) what made Dennis Reynolds such a popular character, the backdrop to the performance is what made the performance a success. On It's Always Sunny, Howerton portrays a horrible, wretched person amongst other wretched people in wretched situations. When Dennis Reynolds is given a name change and dropped into a high school with well-meaning students and a bumbling, but lovable principal to rail against, the comedic value of Howerton's characters dips in value.
It's Somewhat Sunny on A.P. Bio
This all is not to say that A.P. Bio is a failure. The show certainly has its funny moments. Howerton and Oswalt do their due diligence with regard to their comedic chops. Audience members can expect GIFs of Griffin's trademark "start to shut up now" entrance to start cropping up in their social media feeds any day now. It would be borderline criminal to pan the show after only three episodes, and expectations for A.P. Bio should remain conservative but hopeful. It has the potential to become a major player in NBC's comedy lineup; however, unless this show establishes a clear direction quickly, I would be shocked if reviews paint it as anything but a slightly-above-average network comedy.
Main image credit: