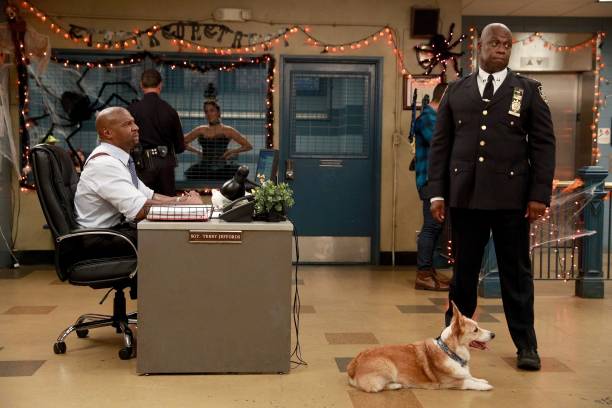 March has arrived in full swing. For a solid chunk of the country, this means spending the next three or so weeks attached to television screens watching the nation's top college basketball programs tussle in The Big Dance. For the rest of the country, there has to be something else on TV, right? Here's our guide to avoiding March Madness and staying entertained this month.
Avoiding March Madness: Television Edition
The Binging Power of Brooklyn Nine-Nine
Fox recently announced that Brooklyn Nine-Nine would be making its return to air for the second half of its season on March 18. As Spring Breaks around the country approach, consider Brooklyn Nine-Nine as a prime option for your binging needs this month.
Brooklyn Nine-Nine, the brainchild of Dan Goor and Michael Shur, is a half-hour comedy series that tracks the lives and careers of detectives in Brooklyn's 99th Police District. On March 18, the show will air its 102nd episode, meaning that there are 101 episodes of Brooklyn Nine-Nine currently available for binge-watching bliss. That's more than 50 consecutive hours of watching for us math-challenged viewers.
The show features an ensemble cast, putting several heavy hitters front and center in the lineup. The show's main character is delightful man-child, Jake Peralta, played by SNL alum Andy Samberg. The infectious energy and elastic expressions that made him an SNL favorite are on full display in every episode. Samberg's star power is augmented by such main cast members as Joe Lo Truglio, Terry Crews, Andre Braugher, and Chelsea Peretti. Craig Robinson, Jason Mantzoukas, and Dean Winters also lend their star power as recurring characters.
Brooklyn Nine-Nine is available to stream on Hulu. –Steve McGuire
Jumping Back Into Jessica Jones
The hard-drinking, street-savvy, door-damaging lead (Krysten Ritter) of Jessica Jones quickly developed a dedicated fandom when the show premiered in 2015. It didn't hurt that, in addition to Ritter's pitch-perfect lead performance, the series successfully managed to infuse noir sensibilities into its superhero narrative, giving it a unique identity in Marvel's ever-expanding portfolio of film and television projects. On top of that, the first season also gave viewers the best villain of any Marvel/Netflix collaboration in the form of David Tennant's Kilgrave, a man obsessed with Jones and capable of controlling others by issuing oral commands.
Over two years after the show's premiere, its highly anticipated second season dropped on March 8. While the new episodes don't quite measure up to the standard Jessica Jones set for itself back in 2015, they do improve as they go along. There's something of a David Tennant-sized hole in the show's appeal this time around with no charming-but-menacing British character actor to fill it, which most reviewers have noted and lamented, but Ritter is still compulsively watchable in the leading role. The new season doubles down on the mythology of its protagonist, diving deep into the mystery of how Jessica Jones got her super-strength, while maintaining the noir atmosphere that made the first season such a unique experience.
There are currently 26 episodes of Jessica Jones available (13 per season), which means you can devote an entire day to keeping the curtains drawn, sipping Capri Suns, and pounding bags of puffy Cheetos as you watch Jones and her crew investigate shadowy medical-science experiments and run-of-the-mill schmuckery in New York. And if you've already seen the first season, you can still devote half a day to doing those things while binging the new episodes.
Jessica Jones is available to stream on Netflix. –Austin Zook
The Siren Song of Silicon Valley
In the same vein as Brooklyn Nine-Nine, HBO's Silicon Valley returns to television this month. The show's fifth season will premiere on March 25. The show has aired 38 half-hour episodes as of the writing of this article.
While both are designated as comedies, Silicon Valley and Brooklyn 99 are very tonally different. Silicon Valley is the kind of show where the audience is never really sure whether or not to root for the main character. Richard Hendricks, played by Thomas Middleditch from those insufferable Verizon commercials, is a talented programmer trying to stay afloat in the cutthroat technology-obsessed landscape of Silicon Valley. Questionable decision-making, poor relationship maintenance, and a general awkwardness all make Hendricks inherently relatable, but not necessarily likable.
Silicon Valley maintains the dramatic edge for which HBO has become famous. The show follows Hendricks as he tries to grow a company, Pied Piper, from a flimsy app idea into a tech giant. As he does so, he and his fellow programmers are incessantly beaten down by the titans of industry and their own insecurities. If you are comfortable laughing from the edge of your couch cushions, consider Silicon Valley to keep you entertained this month.
Silicon Valley is available to stream on HBO Go. -Steve McGuire
Losing Yourself in The Looming Tower
Based on Lawrence Wright's book of the same name, The Looming Tower is a miniseries which premiered its first three episodes on Hulu on February 28, with new episodes following weekly. Four hour-long episodes have aired as of the writing of this article.
The show "traces the rising threat of Osama bin Laden and Al-Qaeda in the late 1990s and how the rivalry between the FBI and CIA during that time may have inadvertently set the path for the tragedy of 9/11." It's the kind of "based on actual events" fare that'll leave you with your head in your hands as you bear witness to the bickering, wheeling, and dealing that took place between the FBI and CIA during that time, as both organizations fought for access to information and command of delicate situations, the outcomes of which had global ramifications. If watching these political machinations sounds more frustrating than entertaining, rest assured that The Looming Tower never once fails to be an enthralling dramatization of the events leading up to one of the most significant national tragedies in American history. That it's willing to show the government agencies and individuals involved in these events warts and all is commendable and tends to add to, rather than take away from, its appeal.
The ensemble cast is a dream-team of veteran character actors who elevate every scene with their presence, including Jeff Daniels (The Newsroom, Godless), Bill Camp (The Night Of), Michael Stuhlbarg (Boardwalk Empire, The Shape of Water), and Peter Sarsgaard (The Killing). Tahar Rahim also stars as Ali Soufan, an FBI counterterrorism agent who was involved in several of the investigations depicted on the show. A 2006 New Yorker article about the real-life Soufan (who serves as a producer for the miniseries) described him as having been "America's best chance to stop the attacks of September 11th," making his rise—and ultimate inability to avert the tragedy—one of the show's most fascinating arcs.
All this to say that if you like historically-based, morally-complex characters and stories, you could do much worse than The Looming Tower this March, but you can't do much better.
The Looming Tower is available to stream on Hulu. -Austin Zook
Main image credit: