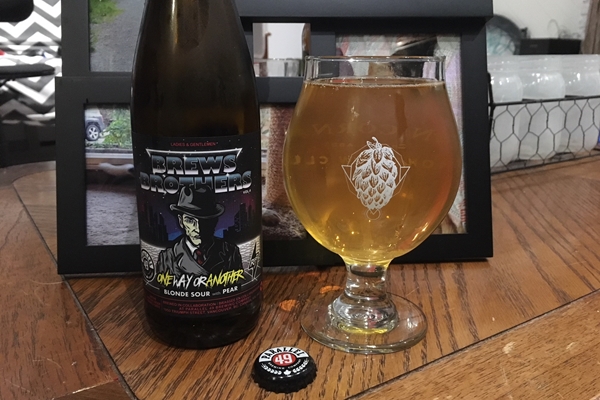 For the final edition of this weeks B.C. Beer Reviews focusing on the Brews Brothers collaboration series we will be taking a look at a very tasty sounding beer. Parallel 49 has teamed up with Riot Brewing in this one to make a blonde sour with pear. This sounds like a very nice summertime beer.
B.C. Beer Reviews: Riot Brewing – One Way or Another
What more could you want from an easy-drinking summertime beer than to be both sour and paired with a relatively mild fruit? This blonde sour pairs pear with a light tartness to make for a very refreshing twist on the Brews Brothers series.
Let's take a look at this one.
Colour
Pours a very clear and very bright golden colour from the bottle. The clarity is much the same in the glass as you can see right through this one.
Nose/Aroma
An aroma of slight tartness comes at you immediately. This is not powerful, but rather a very subtle amount that is very pleasant. You can tell this brew is going to be tart, but certainly not mouth puckering.
The base of this beer is a blonde ale, and you can tell that from the aroma. There is a very subtle note that you would come to expect of a beer using flaked maize, which is common in both blonde ales and cream ales. It is not corny, nor does it come off as DMS, but there is a light and pleasant note of it in there.
The pear that is in this beer is also noticeable. It is very noticeable in the aroma, and it compliments the light tartness very nicely. It makes for a very pleasant nose/aroma overall.
Tasting Notes
Much like in the nose/aroma, there is a very noticeable but light tartness to this beer that you get immediately. It is not anywhere near face puckering but rather a tart and smooth level of sour. This is very pleasant and compliments the pear notes fantastically.
The base beer does not contribute a ton to this beer in the way of flavour. It is a light bodied and easy drinking beer, which is exactly what you want from a well done blonde ale. Very nice porch drinking beer.
Like in the nose/aroma the pear note is very noticeable. It is not the dominant note here, but the malt/grain bill is very much in the background allows the pear notes to come through more than they would in a beer of a different style.
Other Notes
Much like the rest of the series, the branding/labeling of this one is sharp, cartoonish, and very distinct. As always, this is distinctly Parallel 49. Well done, just like the rest of the Brews Brothers collaborations.
The head this beer pours is virtually nonexistent. On top of that, the retention is nonexistent as well. It fizzes up upon pouring into the glass and is gone as quickly as it appears.
Much like you would expect from both a blonde ale and a sour, there is zero lacing on the glass from this one. The glass is basically clean after finishing this one.
The clarity is fantastic in this one. There is lettering on one side of the glass and a picture of a hop on the other and both are very clear when looking from the opposite side.
Final Grade
The tartness is noticeable both in the nose/aroma and on your palate. It is present, but not overpowering, making for a very easy drinking beer. The pear notes are a nice touch to this beer as well, keeping it from becoming one-dimensional, something that can easily happen to sours. It was a smart idea to use a blonde ale as the base to this one as the malt/grain bill has a very light presence in the nose/aroma, but backs off on your palate to let the light tartness and pear take over.
Grade: 8.3/10
Want to see a beer featured in B.C. Beer Reviews? Comment below with your suggestion.
And if you want to see all of the photos featured in B.C. Beer Reviews, and other awesome beer-related photography, you can follow me on Instagram: nhendy5. And you can also get much more concise versions of these reviews up to 24 hours in advance by adding me on Untappd: RedArmyNic.
Main photo by Nic Hendrickson, Lastword Inc., all rights reserved