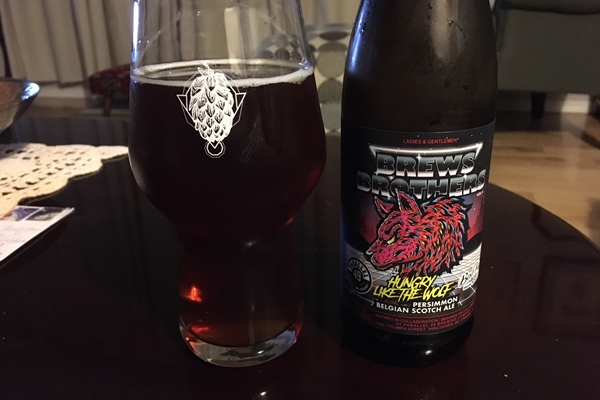 As part of the Brews Brothers Series Parallel 49 Brewing teamed up with Bad Tattoo Brewing to take on an age-old style. They decided to go for making a scotch ale, adding in persimmon to try and make things a bit more interesting. B.C. Beer Reviews is here to see if their adventurous streak paid off.
B.C. Beer Reviews: Bad Tattoo Brewing – Hungry Like the Wolf
The scotch ale is not an overly popular style in mainstream craft brewing these days. Despite that, it is a style that has stood the tests of time and is still around to be experimented with.
Let's see if Parallel 49 and Bad Tattoo Brewing hit this one on the nose.
Colour
Pours a fairly clear, but deep, brown colour from the bottle. In the glass it is exactly the brown hue you would come to expect of a scotch ale. It is deep in colour, but it still has a nice clarity when held to the light.
Nose/Aroma
The first thing you get from this one is what you would normally expect from a scotch ale, and that is a strong caramel and malt presence. It is sweet and subtle, but it definitely the most prevalent note throughout.
There is a very light herbal note to the nose/aroma of this beer. It is hard to put a finger on what exactly this is, but it could be a note from the hops used or possibly the persimmon, albeit an unlikely note from that.
On top of all those is a light smoke aroma that is common to this style of beer. It is light enough to not be overpowering, which any bit of smokiness can do so quite easily. It is noticeable off the bat and hangs with you throughout each sniff.
Overall, this beer is pretty well spot on with the style. The malt/grain bill has a strong presence with caramel being the predominant characteristic, there is a light smokiness and there is also a light and indistinguishable herbal note.
Tasting Notes
The malt/grain bill plays a big role on your palate, and rightly so. The caramel note you get in the nose/aroma is quite strong in this one. This is definitely a common note to catch in a scotch ale, and this one has it at an above average level.
The other note that you get in the nose/aroma that comes through here is the smoke. It is much more subtle on your palate than it was in the nose/aroma, but it is still a very noticeable characteristic of this particular brew.
The one negative to this one is that the smoke tends to linger, and not in an overly pleasant way. It sticks in your mouth long after each drink, coming off as slightly ashy and acrid.
Other Notes
The bottle has the Brews Brothers name across the top of an 80's background. There is a deep red wolf above the name and in between the logos of both Parallel 49 and Bad Tattoo Brewing.
The head this beer pours is moderate, at best. The retention of that head, however, is well below average. It is gone as quickly as it appears in the glass.
The carbonation level is above average in this one. It is noticeable and crisp throughout each drink and into the finish. This helps to fight off the sweetness of the malt/grain bill, but also amplified the smokiness of the beer.
Final Grade
This beer hits the colour and the nose/aroma of the style nicely. The smoke on your palate is not overpowering at first, but it lingers well after it wears out its welcome. Aside from that this is a pretty solid beer overall.
Grade: 7.1/10
Want to see a beer featured in B.C. Beer Reviews? Comment below with your suggestion.
You can also see all of the photos featured in B.C. Beer Reviews, and other awesome beer pictures, by following me on Instagram: nhendy5. And if you want to see much more concise versions of these reviews up to 24 hours in advance you can add me on Untappd: RedArmyNic.
Main photo by Nic Hendrickson, Lastword Inc., all rights reserved