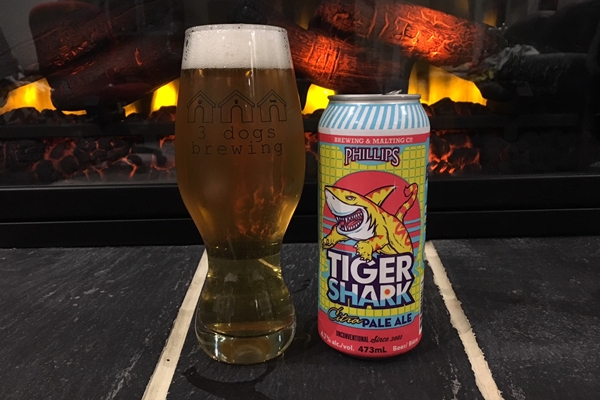 Much like the name and labeling of this beer, Phillips Brewing is known for its carnival-like and cartoonish style. The Tiger Shark Pale Ale showcases the ever-popular Citra hops without bringing too much bitterness to the beer. This allows hop haters to experience this awesome hop without being scared away.
B.C. Beer Reviews: Phillips Brewing – Tigershark Pale Ale
B.C. Beer Reviews is here today to take a look at this one from Phillips Brewing. Showcasing a hop like this without bringing any bitterness is a tall task. Let's see if this one turned out well.
Colour
This beer is a very clear and bright golden colour. Both in the pour and when the glass is full it is the same colour. The clarity is absolutely fantastic in this one. You can see straight through it.
Nose/Aroma
Just as the can states, you get a massive dose of passion fruit and citrus notes from this beer. It smells like a fruity and delicious brew. The Citra hops are undeniably noticeable in this one.
There is a very light presence of the malt/grain bill in this beer. It is light and sweet, and it helps to balance this brew out in its aroma with the power of the citrus and passion fruit notes you get from the hops.
This one has a very balanced nose/aroma overall. As stated above, you get the passion fruit and citrus fro the hops and a light sweetness from the malt/grain bill. Beautifully balanced, which makes for a very inviting nose/aroma.
Tasting Notes
The hops notes follow through here, but with very little bitterness. With the amount of hop aroma and taste you get, you would expect to have more of a bitter backbone. However, this one is only lightly bitter, allowing other notes at play to be more recognizable.
There is a smooth and sweet body to this beer from the malt/grain bill. It is balanced out nicely from the citrus notes of the hops and the lightly bitter note that it finishes off with.
Just like the nose/aroma, this is very well balanced overall. The hops and the malt/grain bill are equally as strong in this one. This is a very smooth drinking and tasty beverage.
Other Notes
The branding/labeling is the bright and circus-like branding you would expect of Phillips Brewing. Baby blue, bright yellow and hot pink are the base colours. A tiger with a fin and a shark head with a big grin on its face is smack dab in the middle of the can. Noticeable and sharp.
The carbonation level is above average in this one. Cascading bubbles go hand in hand with a sightly crisp finish to this one.
The lacing in this beer is also above average. There are noticeable patches of it throughout the glass.
The head this beer pours is moderate, and the retention of that head is quite impressive. It sticks around as long as you let it.
Final Grade
This is a very well balanced beer overall. The citrus and passion fruit notes in both the nose/aroma and the tasting notes makes for a very tasty beer. The light sweetness and smooth body from the malt/grain bill is a nice compliment to that as well.
Grade: 7.9/10
Want to see a beer featured in B.C. Beer Reviews? Comment below with your suggestion.
You can also see all of the photos featured in B.C. Beer Reviews, and other awesome beer photos, by following me on Instagram: nhendy5. And if you want to see much more concise versions of these reviews up to 24 hours in advance, add me on Untappd: RedArmyNic.
Main photo by Nic Hendrickson, Lastword Inc., all rights reserved