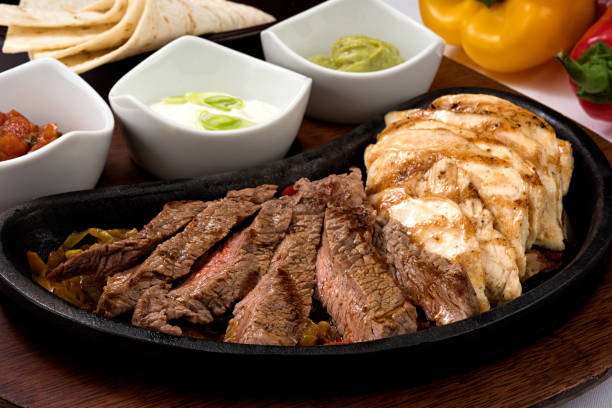 As the calendar hits May every year, it is time to start thinking about your Cinco de Mayo menu. For fans of cuisine from south of the border, that means grilled fajitas. Grilled fajitas are easy and offer a lot of options for your dinner. You can serve steak fajitas, chicken fajitas, pork fajitas, or veggie fajitas for those so inclined. Fajitas can be eaten on soft or hard shell tacos. For larger appetites, go for larger wraps and make burritos with your fajitas. For the "carb conscious" diners, you can even enjoy your fajitas without a shell or wrap. There is no wrong way to eat fajitas!
Cinco de Mayo Fajitas
Ingredients
Veggies
4-5 Red or Yellow peppers (green is ok too)
2-3 Jalapenos (or less)
2 Large Sweet Onions
Seasonings
Granulated Garlic
Cumin
Red Chili Powder
Cajun Spice
Black Pepper
Cayenne Pepper (if you like them spicy)
The Meat Options
4 Boneless/Skinless Chicken Breasts or Thighs
3-4 Sirloin Strip Steaks, Ribeye Steaks, or your favorite steak
4 Boneless Pork Chops
The Rest
Olive Oil
1 can or bottle of your favorite beer
1 Large Sturdy Foil Pan
Toppings
Your favorite shredded cheese, salsa, refried beans, and sour cream
Prep Time
Take your veggies and cut them into 1-inch wide strips, then set aside. Season your meat liberally with the spices an hour before you are ready to grill. Set up your grill for direct grilling using 25-30 coals in a pyramid in the center. You'll be cooking your meat with direct heat for 2-3 minutes per side, then using the grill to cook the veggies. Once the meat is grilled on both sides, set it aside to cool. Once the meat has cooled, cut it into ½ inch wide strips. Don't worry about "doneness" as the meat will finish cooking with the veggies.
Veggies
Place the veggie strips in the large foil pan and sprinkle them with an olive oil bath until coated. Season the veggies the same way as the meat and give them a good stir. Take the foil pan of veggies and place it over the coals. You will soon hear that familiar sound of the veggies sizzling away. Keep stirring the veggies until almost done, then add in the meat strips. Continue to stir the fajitas for another 5-10 minutes until you see the meat is completely cooked. Now add in your beer and stir the fajitas so they get some of that good flavor. Your fajitas are now done, but you should sample them to check for the seasoned flavor before you bring to the table. Add in spices if needed.
Serving Time
Serve your fajitas next to your toppings and wraps. You can promote this as a "build your own fajita bar" for your guests. They will appreciate the flexibility as you celebrate Cinco de Mayo!
For the best options on what beer to use for your fajitas, check out some recommendations from our own Nic Hendrickson, who is our resident beer expert. If you're craving a dessert, Angela Dack has some delicious options for you. 
Main image credit: