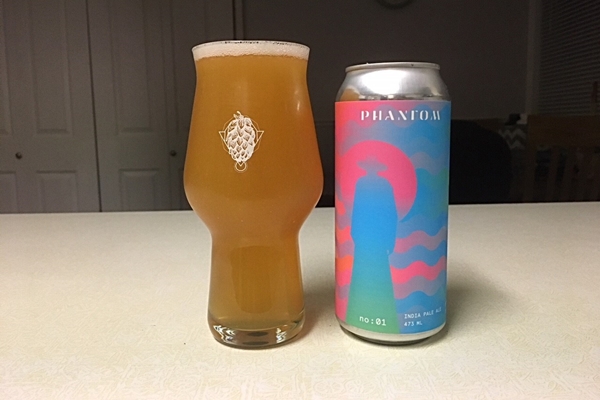 As unfortunate as it is this beer and Phantom Beer Company has created a bit of controversy in the B.C. beer scene. B.C. Beer Reviews is here to take a look at this hyped up beer. In a manner of being objective, all past reviews and opinion will be pushed aside to see how this beer measures up.
B.C. Beer Reviews: Phantom Beer Company – No. 1
It should not matter how much a beer is hyped up. What matter is what is inside the can. B.C. Beer Reviews is here today to test the quality of the contents of the first beer from Phantom Beer Company.
Let's see what Phantom offers in their first ever brew.
Colour
This beer pours a yellow-orange colour from the can. You can see a bit of clarity to it, but there is an indication that when the glass is full it will be hazy. When in the glass the clarity diminishes completely. This beer is a bright orange colour. Spot on with the hazy and juicy IPAs that are all the craze.
Nose/Aroma
There is a noticeable grapefruit characteristic to this beer. This is the most dominant note that you get from the hops, as there are slight traces of other indistinguishable citrus fruits throughout.
Aside from the grapefruit note, there is the yeast characteristic that you would come to expect from a hazy IPA. It cannot be considered an off aroma but is not exactly what you would expect from a beer that is produced at the commercial level. Regardless of expectations coming in, it is not unpleasant whatsoever.
There is no presence in the nose/aroma of the malt/grain bill in this beer. This one is undoubtedly dominated by the grapefruit and yeast notes.
Tasting Notes
The first thing you will catch from this is the yeast notes. Once again, these are not off flavours, but they are not what you would expect to be the predominant notes at play in what looks to be a hazy ipa.
In behind the yeast notes is a light taste of citrus fruit. Orange and grapefruit are present, but very much in the background. They keep this beer from being far too much in favour of the yeast.
There is a smooth finish to this beer, with virtually zero lingering or residual bitterness. There is also no boozy notes, which is slightly surprising to not catch at all with a beer coming in at 7.0% ABV. You would not expect a powerful boozy note, but to get none is quite nice in this one.
Other Notes
The best part about this beer from Phantom Beer Company is the branding/labeling. Pastel colours of light pink, hot pink, orange and light blue create a sunset behind what looks to be a phantom character. This will definitely catch the eye of craft beer buyers out there.
The carbonation level is below average. It is enough to not be considered flat, but not much else. This beer could certainly go for a bit more in the way of the bubbles. If anything, this could help to accentuate the aromatics of the hops.
There is a decent amount of lacing on the glass from this beer. Moderately thick patches of lacing coat the glass from top to bottom. It is certainly not to the level of a double IPA, but undeniably noticeable.
Final Grade
The yeast notes this beer presents in both the nose/aroma and the tasting notes are not unpleasant, but rather uncharacteristic of this style. The colour of the beer is a light and pleasant orange colour with a nice aroma of grapefruit and orange. Overall, this is a decent first beer, but hopefully, it is all uphill from here for Phantom Beer Company.
Grade: 6.1/10
Want to see a beer featured in B.C. Beer Reviews? Comment below with your suggestion.
And if you want to see all of the photos featured in B.C. Beer Reviews, and other awesome beer pictures, you can follow me on Instagram: nhendy5. You can also see much more concise versions of these reviews by adding me on Untappd: RedArmyNic.
Main photo by Nic Hendrickson, Lastword Inc., all rights reserved