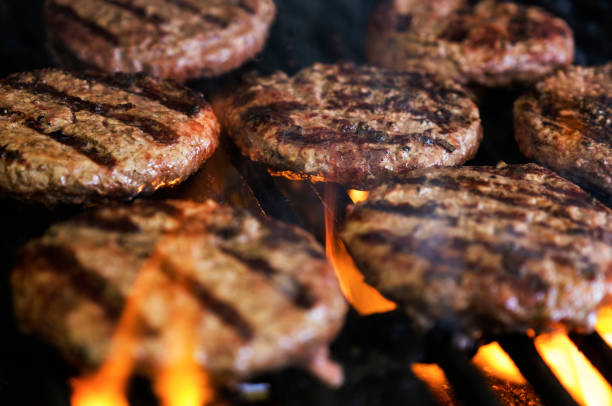 Memorial Day weekend provides grillers in the United States their first three-day weekend opportunity to wow their quests at a BBQ. The hardcore grillers will seize the chance provided by a three-day weekend and double down on grilling both Saturday and Sunday. Whether you are that serious or not doesn't matter, get your grills ready and pass out the invitations. We're going to give several options for your menu that will impress your guests.
Memorial Day Grilling Basics
Planning a barbecue requires selecting a menu that will both feed your guests and leave them wanting more of your great cooking. You want to also keep things simple for yourself so you can chill with your guests and enjoy an adult beverage or two.
Build Your Own Burger Bar
Providing a "build your own burger bar" gives you the chance to let your guests get involved in their meal. They get to choose their toppings and build their burger from the bottom up. You grill up the burgers and let them do the rest.
Burger Time
A good tasting burger is key to the barbecue. Here are the ingredients needed:
3 Pounds 80/20 Ground Chuck
1 Tablespoon Granulated Garlic
2 Tablespoons Lawry's Season Salt
1 Tablespoon Black Pepper
6 Ounces Of Your Favorite Barbecue Sauce
(The seasonings 

are meant

 as a guide and 

should be

 adapted to your taste)
Combine all the ingredients in a large bowl and mix them together gently. Three pounds of ground chuck should equal about twelve 1/3 pound burgers. Press out each 1/3 pound portion into a burger patty being careful not to stretch the meat too much. Less stretching means less burger shrinkage on the grill. 
The Burger Toppings
Ketchup, Mustard, Mayo, and BBQ Sauce
Your Favorite Sliced Cheese – Cheddar, American, Swiss, Pepper-Jack
Thinly Sliced Tomatoes, Onion, and Pickles.
Bacon

Sautéed Mushrooms 

Caramelized Onions

Kaiser Rolls, Onion Rolls, Brioche Rolls, or Regular Burger Buns
Whether you're using a gas grill or charcoal, grill the burgers up and serve them next to the toppings and watch your guests enjoy making their own masterpiece. 
Advanced Burgers
Here are a couple of adventurous options to try when grilling your burgers. Both involve an adaptation to the regular burger, but can be mastered by anyone. 
The Juicy Lucy
The Juicy Lucy is a burger not found at many barbecues. Your guests will definitely be impressed when you bring out the well-known, seldom seen burger of lore. Using the ingredients above, portion out 1/4 to 1/3 pound burgers. You'll need wax paper in the next step to create this burger classic. 
Take each 1/4 to 1/3 burger portion and place it between two pieces of wax paper. Carefully press out the burger meat into a thin patties making sure it's even all around. Between the two patties you are going to place a 1/2 inch thick slice of your favorite cheese cut from a cheese block. Cheddar, Swiss, or Jalapeno-Jack work the best. Once you have the cheese in place, take the edges of the two patties and press/crimp them completely all around the burger. This will prevent the cheese from leaking out while grilling. Serve the Juicy Lucy's along with the toppings, then sit back and watch your guests faces as they bite into your creation. 
Salsa Burger
The next advanced option is the Salsa burger. Using the ingredients above, add in a tablespoon of chili powder and cumin. Next, replace the barbecue sauce with your favorite salsa when mixing up your burger meat. You can use either regular salsa or chunky. The chunky salsa does give an interesting twist to the burger as your guests taste the bite size hunks of tomatoes and peppers. Grill up your salsa burgers and serve with your toppings along with sliced jalapeno-Jack cheese for a kick.
Burgers and Beyond
There you have it! Several options for burgers to create an incredible Memorial Day barbecue. In my next piece, we will be providing side dishes to go with your burgers. These will include classics like baked beans and grilled potato salad. And yes, I did say grilled potato salad. 
Main image credit: