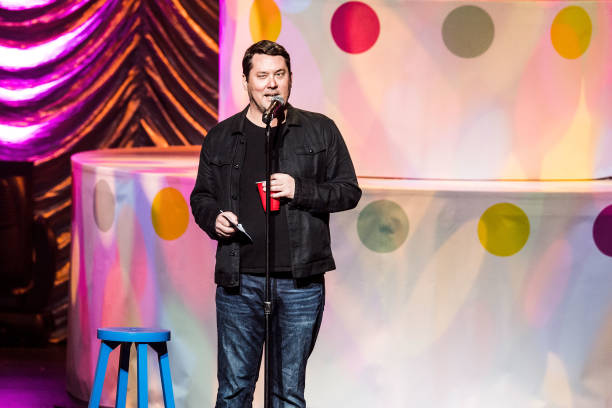 Doug Benson has been a chief member of the Los Angeles stand up comedy scene since the '90s. He is on the Mount Rushmore of weed comedians, which happens to be located in Encino, California in between a glow-in-the-dark bowling alley and an Orange Julius. Benson entered the national greenlight in 2007 with his documentary, Super High Me, a marijuana spoof of Morgan Spurlock's Supersize Me. The 53-year-old comic from San Diego has stayed relevant in the past decade through his many podcasts.
The Many Podcasts of Doug Benson
Doug Loves Movies
Benson's most popular current podcast was also his first one, beginning in September of 2006. In this typically 90-minute show, Doug asks his three to four guests movie-related trivia in the form of games. The final game of the night is the only one that matters, however, as the winner of this contest wins the prize bag for their audience contestant which consists of items brought by the show's panel. The audience contestant is matched with a panel member through a name tag selection process that takes place prior to the games being played. Along with the fun games, one of which is simply a contest to see who can repeat a movie title the fastest, the show offers an entertaining conversation of the most recent movie each of Doug's guests have seen.
This show is highly recommended for anyone who enjoys comedy and lively conversation about movies and pop culture. You don't necessarily have to enjoy movies to like this podcast, but it helps, as it is mainly movie-based and the majority of the show revolves around this subject. However you could listen to the podcast because you like hearing Doug's chemistry with his guests, many of whom are fellow comedians who tour the country doing standup in addition to having podcasts of their own.
Doug Loves Minis
This podcast is a delightful slice of Doug's home life, but also includes check-ins from hotel rooms he stays in. The show has live recordings from Benson's standup shows in which he will typically play a game from Doug Loves Movies with a fellow comedian who has been a guest on that podcast. The other part of this show is more relaxing as it offers the listener the chance to hear Doug read reviews from iTunes as well as talk about recent movies he has seen.
Dining with Doug and Karen
Perhaps Doug's least known podcast but certainly not his worst, Dining with Doug and Karen serves up a buffet of loveliness. Doug co-hosts the show that only comes out (roughly) once every month alongside comedian, writer and longtime friend Karen Anderson. The two worked with each other in writing rooms in the past and this is obvious through their tremendous chemistry. The premise of the show is that they bring on a successful chef, typically a restaurant or food truck owner, to serve a few meals that they prepare and cook on the spot. This is an entertaining and funny podcast but certainly not one to listen to on an empty stomach as it will have you playing bumper cars in the aisles of your local grocery store.
Getting Doug with High
This is my favorite of Doug's catalog of podcasts and is one of the rare shows on the internet that exhibits famous people smoking marijuana in front of a camera. The best episode to watch for a newcomer is without a doubt the Jack Black one, an infamous 45 minutes in which America's Roadie was melted into a ball of goofiness, stuck in an endless loop of spinning in his chair. The guys from Workaholics have been guests on the show as well, and if you have an above ground pool or enjoy shooting fireworks at people you might want to check out their episode. Adam Carolla has also smoked marijuana with Doug on his show, so America knows what it would be like to smoke with your uncle.
This might seem like a running theme, and perhaps it is true for any show, but again, you do not necessarily have to be into marijuana to enjoy Getting Doug with High. Doug is a fantastic host and he usually gets amazing guests on the program, many of which are comedians.
Last Word on Doug Benson
Whether it is movies, food, weed or just checking in with his fans, Doug Benson covers all the podcast bases. Check them out for yourself and see which one(s) you enjoy the most!
Main image credit: