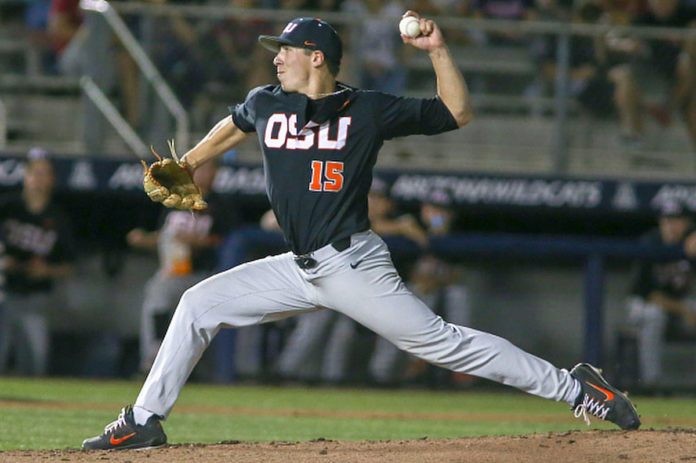 The 2018 MLB Draft was June 4th-June 6th of 2018. Through 40 rounds, 1,024 young men heard their names called by one of 30 different MLB teams for a chance to live the dream of playing professional baseball. Some of these players will become household names in the next 20-30 years, others will bust despite going in the first round, and of course, a few sleepers who were drafted late will break out with Hall of Fame-worthy careers. However, one of the biggest stories revolved around a left-handed pitcher from Oregon State University (OSU) named Luke Heimlich.
Heimlich is a starting LHP (left-handed pitcher) who was ranked 44th in the country by Fangraphs as a top college prospect and was projected to be drafted late in the first round of this year's draft. However, in 2012, Heimlich pleaded guilty to molesting his niece. He was 15 years old at the time of the plea, and she was 6. The abuse had started 2 years prior. The story first broke last year, days before the 2017 MLB Draft when Heimlich failed to renew his status as a child sex offender in the state of Washington. Heimlich was projected to go top ten in that draft before the story broke. He excused himself from OSU for the rest of the season to avoid creating problems as they traveled. Heimlich's situation is a moral and ethical quagmire for the MLB and their teams. But I think there is an even more interesting hypothetical situation here, one that involves Heimlich signing with an MLB team. Should Heimlich get his own baseball card and should his memorabilia be sold?
Luke Heimlich: A Predicament for the MLB and Collectors
Heimlich's Talent and Legal Troubles
Just how talented is Heimlich that MLB teams are even considering him despite being a convicted child molester? Over his last two seasons with OSU, Heimlich is 26-2 with a 1.57 ERA, 270 Ks, and K/BB ratio of 6:1 (he walks 1 batter for every 6 he strikes out) through 230 innings pitched. LHPs are one of the most desirable players in baseball and are especially valuable as starters. Had Heimlich been drafted, he probably would have been one of the first members of his draft class to be called up to the majors, if not the first. Nobody is questioning if he is talented.
Heimlich claims he took the plea deal due to "bad legal advice" and vehemently denies any wrongdoing or that he molested his niece. The deal also spared him from serving any jail time. He also claims that his parents, coaches, teammates, and immediate family (minus his sister who is the parent of his niece/victim) believe him that this never happened. Being a convicted child molester and having to register as a child sex offender is not a characteristic of Heimlich. It is a fact that he is both of those things. Those titles will follow him for the rest of his life, no matter how much MLB teams try to convince themselves otherwise.
MLB Draft Dilemmas
Three months after the 2017 MLB Draft (and the story first breaking), the Baltimore Orioles seemed to express interest in Heimlich. They opened the door to negotiations, but the club and Heimlich could not reach an agreement. It was rumored they would be the team to draft him in 2018 and that they are still looking to sign him after he went undrafted again.
I think Heimlich not being drafted was intentional by the Orioles or whatever team is considering him. There is far less publicity if they sign him outside of the draft. The MLB Draft is a huge event that has a lot of press and media coverage. Signing someone outside of it gets far less attention. This also saves the team a lot of money in signing bonuses. Casey Mize was the number 1 draft pick in the 2018 MLB Draft. The Detroit Tigers gave Mize an $8,096,300 signing bonus. Let's say Heimlich was the 44th pick (his previous national ranking), he would be looking at a signing bonus of about $1.6 million. No MLB team wants to be known as the club that gave a child molester a $1.6 million signing bonus plus a job.
Potential Outcomes of Signing Heimlich
Here is what I believe will happen if Heimlich is signed. He will be signed to a team with a small fan base and that has been struggling for the past 3-5 seasons (i.e. Orioles, Chicago White Sox, San Diego Padres). That team will get severe backlash and criticism from the internet for about 3-4 days. Then, the outrage will slow down and cool off. Fans will start trolling/mocking Heimlich with offensive signs and heckling at the games of whatever minor league team Heimlich ends up on. This trolling/mocking will be more severe on the road. Heimlich's story will resurface from time to time and usually around the time he makes a headline for either pitching a gem, getting called up, or hitting a batter and causing benches to clear.
Excluding the moral and ethical problems with signing a guy like Heimlich, it is understandable no MLB team wants this kind of sideshow to plague their organization and minor league clubs. However, if a team is willing to look past his conviction, they need to answer one of these questions: 1. Do they not believe the victim? Or 2. Why are they ok signing and employing a convicted child molester paying him potentially millions of dollars annually?
Does He Deserve to Be Collected?
Heimlich is not the first athlete to be accused or convicted of a crime or immoral behavior. Still, he is the first to be accused/convicted of molesting a child prior to even being in the pros. It is hard to see how card and memorabilia companies would handle such a situation since it has never really presented itself before.
Topps and Panini seem to have various opinions on how far they are willing to overlook certain indiscretions by players. Roger Clemens, Barry Bonds, and Mark McGwire, to name a few, have all been accused of or have admitted to using steroids during their playing careers. Clemens testified in front of Congress in 2008 that he did not use steroids during his career, a claim that Congress felt was false and warranted further investigation. Clemens was eventually found not guilty on all six counts of lying under oath to Congress regarding his claim. You could argue that taking steroids is a victimless crime and rarely do MLB teams face the backlash over an individual player's choice. Still, Topps and Panini have no problem making cards for these players long after their careers or convictions. Some even have autographed and game-used jersey cards of these players in current 2018 sets.
What about NFL players Michael Vick, Adrian Peterson, and Ray Rice? Vick pleaded guilty to dogfighting. Peterson, who was accused of beating his 4-year-old son with a wooden instrument to discipline the child, ultimately pleaded no contest in a plea bargain which helped him avoid jail time. Rice, who was caught on video beating his then-fiance in an elevator, was charged with third-degree aggravated assault. The charges were dropped after Rice agreed to court-ordered counseling. Of these players, Rice is the only one who never played after his legal troubles. Vick played until after the 2015 season (he was charged in 2007). Peterson and Rice were both charged in 2014 and Peterson played during the 2017 season.
Both Topps and Panini made cards of Vick after his guilty plea. However, Topps appears to have only included Vick in base sets and did not make any special inserts, autographs, or jersey cards aside from very low numbered autographed relic booklets in 2011. Panini appears to keep having Vick sign cards as of at least 2017.  The same appears true for Peterson. Topps included him in base sets with some variations/refractors but did not make jersey/autographed cards of him. Panini kept making them until at least 2017. As for Rice, it appears he chose not to sign cards after his rookie season in 2008. Neither Topps or Panini made cards of Rice after 2014. However, it remains to be seen if that was due to his domestic abuse allegation or if it is because he did not play football after that year.
Last Word on Collecting Luke Heimlich
If you do an eBay search for Luke Heimlich, 46 results pop up. 44 of those are Sports Illustrated magazines that feature him on the cover and discuss the dilemma around signing him. The other two are for autographed items. So, the collecting market has spoken: there is no demand for Heimlich and his autograph at this time. Would that change if he was drafted or signed to an MLB team? Perhaps.
Does he deserve his own baseball card, especially when most non-collecting people consider baseball cards a children's toy/item? I think at most he should get a base card for whatever season(s) he plays and that is it. I do not think they should try and make him collectible with inserts, refractors, autographs, and game-used cards, especially since they would have to pay him for his signature or his game-used gear. But if he does get his own cards, regardless of how well he does in the MLB (if he gets there), he will not be part of my personal collection. I can not imagine a parent having to explain to their child that Luke Heimlich, the professional baseball player, is the same Luke Heimlich, the convicted child molester/ registered sex offender.
Main Image Credit: