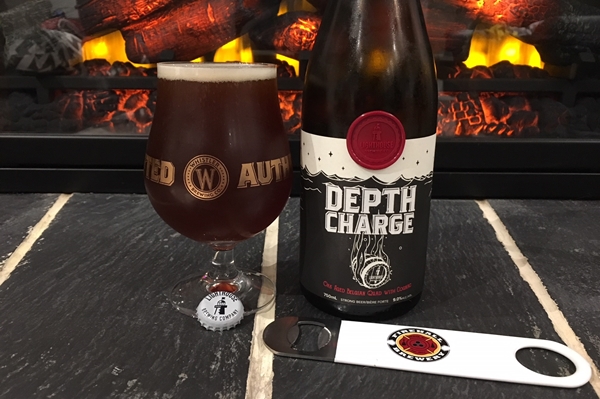 Lighthouse Brewing is a beacon of brewing on the island, and with the attention they draw there cones standards to live up to. They have done this with a very nice staple in their Shipwreck IPA, but that does not stop them from being more adventurous. Today's addition to B.C. Beer Reviews is nothing like Shipwreck, it is their 2017 Vintage of Depth Charge, an oak aged Belgian Quad with cognac.
B.C. Beer Reviews: Lighthouse Brewing – Depth Charge
A Belgian Quad is a beer that is sure to 'put some hair on your chest' alone, but being aged in oak with cognac is sure to amplify this beer into the upper echelon of being heavy. Let's crack this promising brew open and see what's inside.
Colour
Something that few breweries do is listing the SRM on the bottle, but Lighthouse Brewing has done just that. They list this beer at 15, which should be a dark brown and earthy colour. This beer is exactly that. It falls well within the stylistic notes of a Belgian Quad.
Nose/Aroma
One thing could be said for certain, and that is that Belgian yeast gives some serious aromatic qualities to any beer that uses it. They can range from general spices to clove or even to bubblegum. The bottle states that the yeast provides a spicy backbone. Upon the first sniff, you certainly can tell that. This is, as stated before, a more general spice note. There is very little to no clove aromatics in this one and certainly no bubblegum.
Aside from the aromatics from the yeast, there is a presence of malt/grain bill as well. There is a strong note of toasted bread, something the label says to watch out for.
There is also a definite oaky note to the aromatics. Along with that is a slight boozy note, which is less than surprising given the style of the beer and the addition of cognac.
Overall this is a sweet smelling beer with strong spice notes to kick it off. It finishes with a light oaky note and a definite presence of booze.
Tasting Notes
This is an extremely complex beer when it hits your palate. The yeast continues to throw very strong spice notes at you. This is added to toasted bread and a light caramel note from the malt/grain bill.
To further extend the complexity of this beer there are strong notes of oak and booze at the back end of your palate. Add this to an extremely dry finish and it makes for a beer that has your mind being pulled in multiple different directions. That is not to say it is a bad thing, but this is not a beer for the beginners in Belgian beers or barrel aged beers.
The label states two notes outside of what was written above. Dark fruits is one of them, and that is certainly something you get. Noticeable notes of dark plum come through from beginning to end. It is subtle in a good way. The other note is vanilla, which does not come through as much. This may very well be a product of having too much else to compete with in the way of strong flavours.
Other Notes
The label on this beer is fairly simple. Two colours, black and white, create a negative space picture of a barrel quickly sinking in the ocean. The wax pressed Lighthouse Brewing logo on it is a nice touch. Simple, but nice.
The carbonation of this beer is perfect for the style. Belgian beers generally have a high level of carbonation, and this one is not an exception to that statement. And along with the carbonation being high means that head retention should be good, which it is with this brew. Lighthouse Brewing hit the nail on the head in both of these regards.
Final Grade
The aromatics and colour are stylistically spot on. The complexity of the taste does not make this an overly approachable beer to a beginner, but it is still a very nice beer that would be good to share with some friends.
Grade: 8.5/10
Want to see a beer featured in B.C. Beer Reviews? Comment below with your suggestion.
And if you want to see all of the photos featured in these articles, and other awesome beer pictures, you can do so by following me on Instagram: nhendy5. You can also see much more concise versions of these reviews by adding me on Untappd: RedArmyNic.
Main photo by Nic Hendrickson, Lastword Inc., all rights reserved