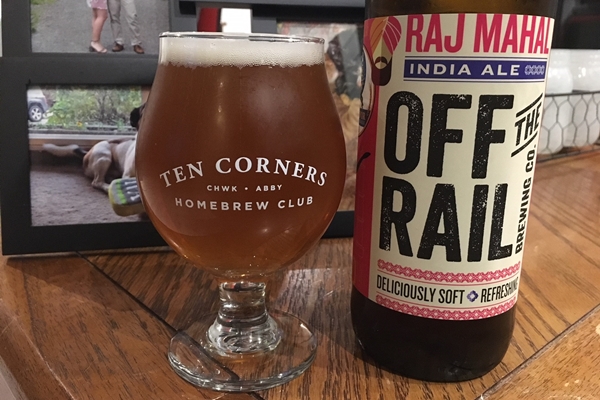 If there is one thing that B.C. beer fans can get behind it is an award-winning India Pale Ale. Today's B.C. Beer Reviews will be taking at one in the form of the Raj Mahal IPA from Off The Rail Brewing. The label states it is deliciously soft and refreshing. The best way to see if this is true is to crack it open and give it a try.
B.C. Beer Reviews: Off The Rail Brewing – Raj Mahal
If there is one area of Vancouver that is producing top-notch beer it has to be Yeast Van. And with all the breweries there, this really is not all that surprising. And when a beer wins a gold medal at the Canadian Brewing Awards it is certainly worth paying attention to.
Colour
This beer pours a very nice golden amber colour from the bottle. The clarity is also quite fantastic. This beer matches up stylistically in SRM perfectly. Spot on here.
Nose/Aroma
The aromatics of this beer are also stylistically perfect. There is a very noticeable note of pine at the beginning. This sticks with you throughout each sniff of this beer.
On top of the pine aroma is a powerful citrus aromatic. This is best categorized as a note of grapefruit. The hop aromatics are indicative of this being a very traditional take on an American IPA. Pine and grapefruit dominate the nose.
Aside from the hops aromatics, there is a nice sweetness to this beer. There are very light notes of honey in behind the pine and citrus notes that you get from the hops.
Tasting Notes
This beer throws you a bit of a curveball here based off what you would have expected from the aromatics. It is not a super bitter and pine-forward IPA. The malt/grain bill plays a very significant part in the tasting notes, giving off strong notes of honey and other light notes of caramel and bread.
The hops, while not at the forefront like in the aromatics, do play a big part here. There are notes of pine, grapefruit and lime to this beer. It has a very pleasant and approachable level of bitterness to it as well. It has a mild bitter bite on the finish, but it is not at all lingering.
Other Notes
The branding/labeling is fairly simple for this one. Lots of black bold letters going in different directions write out Off The Rail Brewing, the name of the beer, the descriptors and the style. This is accompanied by a small head of an Indian man with a turban, moustache and beard.
One of the most significant notes of this beer is the mouthfeel. It is a smooth and moderately heavy IPA in this regard. This is a very nice note to this beer.
The carbonation level is moderate in this brew. The head retention is equally as moderate.
There is a significant amount of lacing on the glass from this beer. The glass is coated top to bottom from this beer.
Final Grade
The aromatics are of pine and grapefruit, making for a possibly very old school approach on the style. However, the tasting notes give you a fantastically balanced beer. The colour of this brew are stylistically perfect. This is a very well done beer.
Grade: 7.7/10
Want to see a beer featured in B.C. Beer Reviews? Comment below with your suggestion.
And if you want to see all of the photos featured in these articles, and other awesome beer pictures, you can do so by following me on Instagram: nhendy5. You can also see much more concise versions of these reviews by adding me on Untappd: RedArmyNic.
Main photo by Nic Hendrickson, Lastword Inc., all rights reserved