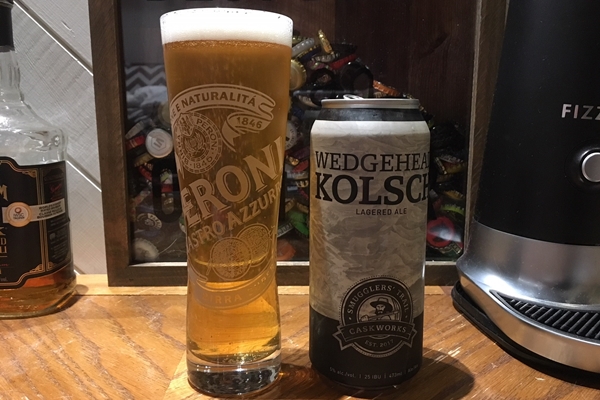 Smugglers Trail Caskworks is a relative newcomer on the scene in B.C. so having a Kölsch as one of their first beer releases is unsurprising with how approachable the style is. However, tackling a style steeped in tradition and one that easily shows flaws is hard to pull off properly. The difference here with the traditional take is that they decided to hop it in West Coast style. Let's take a look at a West Coast Kölsch (if that is even a thing).
B.C. Beer Reviews: Smugglers Trail Caskworks – Wedgehead Kölsch
Smugglers Trail Caskworks is one of the small breweries in B.C. without a brewery or tasting room of their own, choosing to be a part of the contract brewing scene out of Craft Collective Beerworks. While this may come with a bit of criticism, that is not something we will get into today. Let's focus on the beer on hand, or rather in hand.
Colour
As you would expect from this style, the clarity is fantastic to this beer. This is not necessarily something you get from a beer in this province, but with this style, it is as close to mandatory as you can get. This brew is a golden straw colour.
Nose/Aroma
The most prevalent note to this beer is a very West Coast hop aromatic. You get a citrus note that is easily categorized as grapefruit and lemon zest. It is light and pleasant in its presence.
Aside from the very West Coast hop aromatic notes you get the typical sweetness from the malt/grain bill of a Kölsch. It is hard to put a specific note other than just a sweet malt/grainy note.
Needless to say, this is not a traditional take on the aromatics of the Kölsch style.
Tasting Notes
Much as you would expect from the aromatics and the fact that this beer bills itself as a West Coast take on a traditional style, the hops are noticeable throughout. There is no grapefruit taste, but lemon and lime zest is the note you get here. It is a rather refreshing note in a light-bodied beer.
There is a nice level of sweetness from the malt/grain bill. It is reminiscent of white bread in its sweetness. It goes nicely with the citrus zest notes you get from the hops used.
Other Notes
The branding/labeling is pretty simplistic. There is a grey-brown label with mountains and trails in the background. Makes sense for the name Smugglers Trail Caskworks.
There is a high level of carbonation to this beer. This compliments the above average head this beer has and gives it an above average head retention.
Something that is also not a characteristic of a typical Kölsch is the amount of lacing this beer leaves behind. The glass has noticeable patches from top to bottom on it.
Final Grade
This beer hits some notes of a Kölsch. It has the sweet grainy notes on your palate and in the aromatics. The carbonation level being as high as it also matches up nicely stylistically. The lemon and lime zest you get in the aromatics and tasting notes is a nice West Coast twist on a traditional style.
Grade: 6.8/10
Want to see a beer featured in B.C. Beer Reviews? Comment below with your suggestion.
And if you want to see all of the photos featured in these articles, and other awesome beer pictures, you can do so by following me on Instagram: nhendy5. You can also see much more concise versions of these reviews by adding me on Untappd: RedArmyNic.
Main photo by Nic Hendrickson, Lastword Inc., all rights reserved