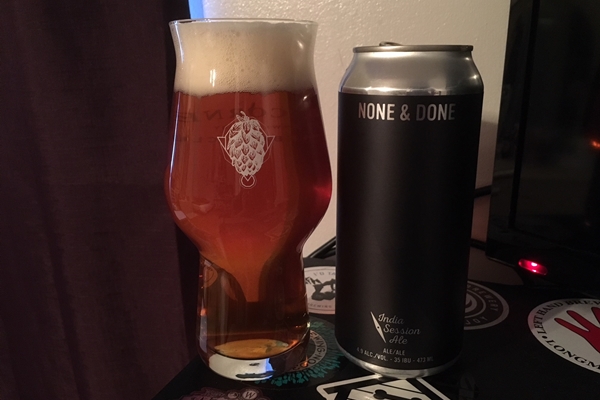 The month of July welcomed a newcomer to the scene in the form of Port Coquitlam's first ever craft brewery, Northpaw Brewing. They popped up on the scene via cans with simple and sharp branding and interesting takes on styles, their Jamaican Pale Ale being a good example. B.C. Beer Reviews popped into the tasting room to see what all the buzz was about and try a few beers and came home with a four-pack of None & Done, an India Session Ale.
B.C. Beer Reviews: Northpaw Brewing – None & Done ISA
Colour
This beer is a nice deep ruby-brown colour. Despite how deep in colouration it is, the clarity does not suffer. You can see right through this fantastically clear beer.
Nose/Aroma
There is a common aromatic between this one and the Jamaican Pale Ale from Northpaw Brewing. It is reminiscent of star anise, but whether or not that is it is unconfirmed. It is a subtle spicy aromatic that has a hint of black liquorice. It is, however, much more subtle in this one than in the aforementioned Jamaican Pale Ale.
Aside from that note, you can tell that is very much a malt-forward brew. You get subtle notes of bread along with a light touch of caramel sweetness. This is very much in the background to the spices used.
Tasting Notes
The spicy note that is reminiscent of star anise arises again on your palate, albeit much more smoothly this time around. It is present, but not at all overpowering. This allows this beer to present you with a multi-dimensional beer on your palate.
Something you do not get much of in the aromatics but you do in the taste is a subtle hop presence. There is a distinct floral finish to this beer that plays very well with the spicy note that this beer starts you off with. The beginning and finish to each sip of this beer is quite nice.
In between those two notes is a moderately light and smooth beer. Once again, this is a malt-forward beer. It is much more balanced than in the aromatics though. Notes of bread crust come through from the malt/grain bill.
Other Notes
This branding/labeling is simple and sharp. There is a matte black label with a dark compass needle that is the logo of Northpaw Brewing that you have to hold to the right light to see. Above and below that is small silver lettering of the name and style of the beer with another compass needle.
The head this beer pours is rather significant. The retention of that head is equally as impressive. It sticks around for as long as you allow it to.
Another impressive note to this beer is the lacing on the glass. This brew coats the glass from top to bottom with pillow-like patches of lacing.
Final Grade
This beer is a well-balanced and easy drinking one, especially given the fact that it clocks in at only 4.9% ABV. The spicy note is present throughout the aromatics and tasting notes while still allowing the malt/grain bill and hops to play a part on your palate.
Grade: 7.9/10
Want to see a beer featured in B.C. Beer Reviews? Comment below with your suggestion.
And if you want to see all of the photos featured in these articles, and other awesome beer pictures, you can do so by following me on Instagram: nhendy5. You can also see much more concise versions of these reviews by adding me on Untappd: RedArmyNic.
Main photo by Nic Hendrickson, Lastword Inc., all rights reserved