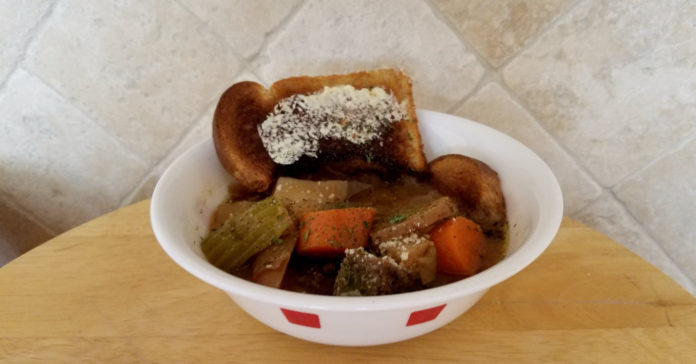 Spoon-Fed Facts is a weekly series that aims to share a few cooking tips alongside an enjoyable recipe to hone your cooking skills. It reviews the flavors, techniques, and equipment used in the culinary arts.
Spoon-Fed Facts: Rosemary Beef Stew
Rosemary Beef Stew is a hearty recipe that frequently accompanies many different sides and flavors due to its simplicity and mellow flavors. What's more, it's an easy way to familiarize oneself with the herbal taste of rosemary, which (surprise surprise) is a core component for establishing the flavor profile of this stew. If you'd like to read more recipes and cooking tips using particular herbs, check out the previous edition of Spoon-Fed Facts on thyme.
Rosemary itself has an extremely strong aroma, and as such it is best paired with distinctive flavors of meat, like lamb and roasted beef. Of course, it must be used in moderation, as too much rosemary will not only overpower the other tastes of a recipe, but also cause them to become bitter due to the plant's potent oil content.
It is this same oil content that also causes a drastic difference between fresh and dried rosemary's cooking properties. Fresh rosemary is perfect for long cook times, like in a Dutch oven or crock-pot, while the dried version is better suited for relatively short cook times. This is due to dried rosemary having a more concentrated flavor and less heat resistance preventing it from releasing both flavor and oil into a dish.
Finally, when cooking with fresh rosemary, it is important that the herb is prepared properly. Despite its sweet flavor, the plant is keen on not getting eaten, as its leaves and stem are particularly tough. To avoid unpleasant texture, the leaves should be finely processed before being incorporated into any aspect of a recipe. As for the stem, it can be included whole, but would need to be removed before serving, as it is an actual choking hazard. With the unpleasantries out of the way, let's go ahead and try our hands at making this humble, filling dish.
Ingredient List:
3 carrots, chopped
3 celery stalks, chopped
1 medium onion, diced
4 red potatoes, finely chopped
4 cloves of garlic, minced
1lb of stew meat, or cubed beef round
2 sprigs of thyme
1 sprig of rosemary
2 cups of beef broth
2 tbs. of extra-virgin olive oil
2 tbs. Dijon mustard
1 tbs. Soy sauce
1 tbs. Worcestershire sauce
¼ cup of all-purpose flour
½ tbs. brown sugar
Salt and pepper to taste
Serving Size:
Serves up to ten cups
Recommendations:
Cooking with Crocks
Crock-pots are a wonderful and convenient tool to have in the kitchen, as nothing is more delicate than a slow cooked piece of meat. However, if abused they'll produce sub-par flavors. When using a crock-pot, avoid the shorter cook times at higher settings, as this merely prevents the taste of the ingredients from being able to meld together. It may be more convenient, but these settings ultimately result in bland stews and tough bits of meat.
Selecting the Meat
You might have seen butchered stew meat at your local grocery store; it's packaged in chunks and ambiguously labeled. Typically, this is broken down from a cut of round or chuck roast. But depending on the quality of the butcher, it may just be the trimmings and scraps from a selection of different cuts. To ensure the meat of your stew is from the same muscle group and consistently sized, you should avoid these processed packages and simply buy a roast of your choice. This way, you maintain control of the quality and characteristics of your ingredients.
Garnishing the Dish
Beef stew is generally dark brown, but it also contains a few splashes of vibrant color depending on the vegetables chosen. Since this is the case, faint garnishes like creams, oils, or sauces would serve as a unique visual. Crème Fraiche and olive oil function as complementary and unobtrusive tastes, while something like horseradish would bring a dollop of heat to the dish. Alternatively, look at the type of grain you're pairing with the stew. A crust of a bread or a spoonful of rice can add a subtle look to the stew.
Instructions:
Step 1)
Mix the onion, celery, carrots, garlic, and potatoes together then place in a slow cooker.
Step 2)
Season the flour with salt and pepper, then use it to dredge the beef pieces.
Step 3)
Grease a pan with the olive oil and place it on medium-high heat. Brown the floured beef pieces once the oil is aromatic, cooking in batches if you need to avoid crowding your cookware. Once all sides have been seared, transfer the meat to the slow cooker and mix with the vegetables.
Step 4)
Turn the heat to low and add the thyme, rosemary, beef broth, mustard, soy sauce, Worcestershire sauce, and brown sugar to the pan. Stir the mixture until it is combined and the fond has been scraped off the bottom of your pan. Sprinkle any remaining dredging flour over the sauce and continue to mix.
Step 5)
Pour sauce over the slow cooker content and cover, cooking on the low setting for eight hours. After this, taste and use salt and pepper accordingly. Serve with a grain.
Last Word on Rosemary Beef Stew
The secret to making this dish incredible doesn't rest as much with the recipe itself, but rather the elements surrounding it. That's usually the case with stews in general. They can be cooked up in big batches, then parceled out for a week or two, so long as they're stored appropriately. What's more, they're versatile; this particular dish can be paired with most breads, function on its own in a bowl, or be poured over rice. If you want a simple meal that can merge with whatever you've got on hand at the moment, this is stew for you.
Main Image Credit: