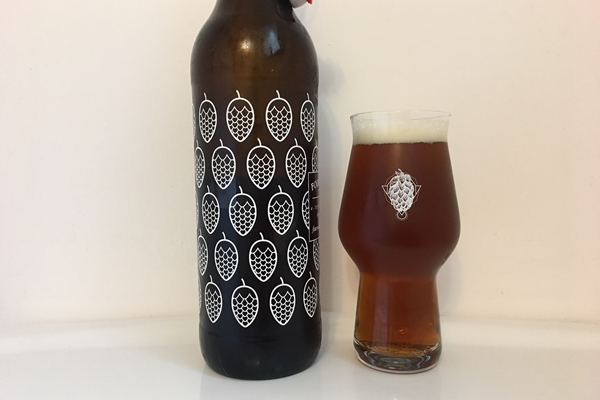 There is a strong chance that if you are up to date with the B.C. beer scene that you have heard of Forbidden Brewing, but most likely not due to the beer they are making. The (almost) nanobrewery made news last year for having a dispute with their landlord that resulted in them being locked out of their own brewery. Despite this rather large roadblock, Forbidden Brewing is running again and churning out brews for the people of Courtenay. B.C. Beer Reviews recently came into contact with their Pale Ale, so let's crack open this growler and see what this tiny brewery is up to.
B.C. Beer Reviews: Forbidden Brewing – Pale Ale
Colour
This Pale Ale pours a fairly clear golden-brown colour from the growler. In the glass, it is a deep, earthy, ruby brown in colour. The clarity is also still fantastic. You can see straight through this beer, especially when held up to the light.
Nose/Aroma
This beer is undeniably a malt-forward Pale Ale in the aromatics. There are strong notes of bread and caramel from the malt/grain bill. This is the predominant aromatic of this beer, and it is at a very pleasant level overall.
Aside from those notes, there is woody and somewhat floral aromatic to this beer. It is very much hidden in behind the bread and caramel notes of the malt/grain bill but can be detected after the beer starts to warm up in the glass.
Overall, this is a pretty straightforward and malt-driven Pale Ale. It smells like a very approachable brew for those trying to make their way into the world of pale ales and IPAs.
Tasting Notes
Surprisingly enough, the malt/grain bill does not dominate your palate. It is still very much present with the notes of bread and caramel, but this is a very nicely balanced beer overall.
After you get the initial sweetness from the malt/grain bill you get a very noticeable note from the hops used. There is a light floral taste presented by the hops accompanied by a fairly decent bitter backbone to this beer. It finishes clean and has a strong, yet not unpleasant, bittering charge that will please all of the hopheads out there.
Overall, a very nicely balanced beer between the malt/grain bill and the hops.
Other Notes
This beer poured an above average head that had a slightly below average retention. If this is something you look for, then this beer slightly underperforms in this aspect.
There is a solid amount of lacing on the glass from this beer. It does not cost the glass, but there are noticeable rings around the glass to show you where you finished each drink.
There is a nice level of carbonation to this beer that helps to accentuate the bitter backbone that this brew finishes off with. It is a nice crisp and clean finish.
Final Grade
While the malt/grain bill pretty well dominates the aromatics, this is a fantastically balanced beer on your palate. This is a nice representation of how the malt/grain bill and hops used in the style can make a very approachable and easy-drinking beer. If you are in the area of Forbidden Brewing, try this one.
Grade: 8.1/10
Want to see a beer featured in B.C. Beer Reviews? Comment below with your suggestion.
And if you want to see all of the photos featured in these articles, and other awesome beer pictures, you can do so by following me on Instagram: nhendy5. You can also see much more concise versions of these reviews by adding me on Untappd: RedArmyNic.
Main photo by Nic Hendrickson, Lastword Inc., all rights reserved