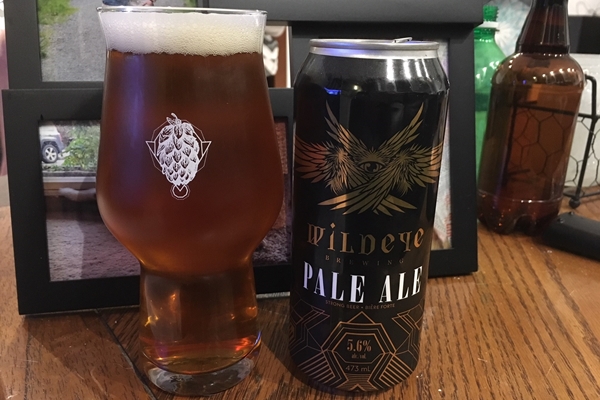 There is another brewery coming to the scene in Vancouver, and one that has yet to open their tasting room but is packaging and distributing beforehand. This brewery is that of Wildeye Brewing, and they have put out an American Pale Ale that is hopped with Cascade, Citra and Amarillo. This is truly a beer that catches the attention of B.C. Beer Reviews, so let's see what is inside the can.
B.C. Beer Reviews: Wildeye Brewing – Pale Ale
Colour
This beer pours a golden-copper colour from the can. In the glass, it retains that deep copper hue. Despite being deep in colour it has a fantastic clarity to it.
Nose/Aroma
The can states that this beer explodes with citrus and tropical fruit notes from the hops used, which are Cascade, Citra and Amarillo. These are three very popular hops that impart these characteristics and are commonly used in Pale Ales and IPAs.
To say the least, this beer most definitely has a citrus aromatic to it. This could best be characterized as lemon zest and grapefruit. The latter note is less than surprising given the fact that Cascade hops are used in this brew.
Aside from the powerful hop aromatics, there is not a ton to this beer. You get a bit of a bready sweetness from the malt/grain bill, but not much else to that end.
Tasting Notes
Much like in the aromatics, you most definitely get lemon zest and grapefruit here. There is a bitter citrus note that is almost like the pith of the fruit rather than the fleshy sweet part.
You do, however, get a sweetness that helps to balance this beer out from the malt/grain bill. There is a noticeable sweetness that is reminiscent of white bread. As said before, this helps to somewhat balance out the powerful hops notes at play in this brew.
Other Notes
The labeling/branding is simple, yet eye-catching. There are golden line designs all over a black can centred around a very interesting logo and the name of the beer and Wildeye Brewing in what looks to be Olde English font. As said before, this is simple yet gets the point across.
There is a noticeable head to this beer upon pouring it. Despite that, the retention of the head is less than stellar.
There is a nice level of carbonation that helps to accentuate the taste and aromatics of the hops as well as giving this beer a clean and crisp finish.
There is a solid amount of lacing on the glass from this beer. It is not coated, but this is undeniably the work of a well-done Pale Ale.
Final Grade
This is a common Pale Ale in B.C., with strong citrus and tropical fruit notes in both the aromatics and the taste. There is a fairly strong bitter backbone, but that is balanced out nicely by a sweet maltiness. The carbonation level adds a nice clean and crisp finish to this brew.
Grade: 7.8/10
Want to see a beer featured in B.C. Beer Reviews? Comment below with your suggestion.
And if you want to see all of the photos featured in these articles, and other awesome beer pictures, you can do so by following me on Instagram: nhendy5. You can also see much more concise versions of these reviews by adding me on Untappd: RedArmyNic.
Main photo by Nic Hendrickson, Lastword Inc., all rights reserved