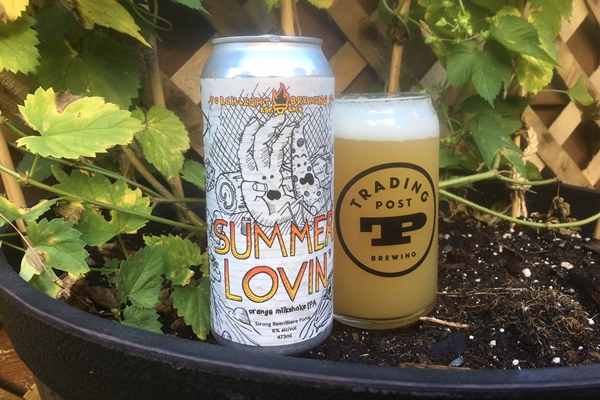 Torchlight Brewing of Nelson, B.C. may have been around for a while, but they have gained attention recently outside of their region for the interesting and sometimes hilarious artwork on their cans. On top of this, they have put out an orange Milkshake IPA by the name of Summer Lovin', and you would be hard pressed to find anyone who would pass that up. Let's take a look at this interesting brew.
B.C. Beer Reviews: Torchlight Brewing – Summer Lovin' Orange Milkshake IPA
Colour
This beer pours an opaque and milky orange-yellow colour from the can. In the glass it is completely cloudy and is reminiscent of a light coloured orange juice. Given the fact that it is labeled as an orange milkshake IPA, Torchlight Brewing hit the nail on the head in this department.
Nose/Aroma
There is undeniably a very strong orange aromatic to this beer. It smells strongly of orange zest rather than the flesh of an orange. It is a very fresh aromatic and is a very nice way to start off the aromatics of this beer.
There is a lightly sweet aromatic in behind the orange zest that is likely a combination of both the lactose and the malt/grain bill used. It helps to balance out the citrus aromatic that is extremely strong to start this brew off.
Much like in the colour of this beer, this beer hits the nail on the head with it being labeled as an orange milkshake IPA.
Tasting Notes
There is a creamy note to this beer that is both sweet and adds to a moderately creamy mouthfeel. This is something that fits well with the style. Once again, this is very likely a combination of both the malt/grain bill and the lactose used.
Unlike the aromatics, the orange characteristic is in the background here. You get a note of it on your palate, but it is primarily in the finish. Once again, this is more of a citric acid character rather than a sweet orange note. It helps to balance out the sweetness that this beer starts with.
Other Notes
The branding/labeling on this can from Torchlight Brewing is fantastic. There are doodles that look like they were drawn on paper with pencil of a hand and piece of hanging out with a beer can in between tons of other hilarious and interesting doodles. Fantastic job here to make an interesting and eye-catching logo.
The head on this beer is moderate, but the retention of the head is well below average for the style. It dissipates rather quickly after pouring this beer.
There is very little to no lacing on the glass from this beer as well. While this is not a major note, it is something to take notice of with an IPA of any sort.
There is an extremely light level of carbonation. This is not something out of the ordinary for the style as it is one that relies heavily on hop flavour and aroma and the use of lactose.
Final Grade
The sweetness can be noticed throughout the aromatics and the tasting notes, something that suits a Milkshake IPA. The orange notes come off stronger in the aromatics, and it comes off more as orange zest rather than sweetness. All in all, this is a fairly good try at the style and is a nice rendition of the style for the summer months.
Grade: 7.2/10
Want to see a beer featured in B.C. Beer Reviews? Comment below with your suggestion.
And if you want to see all of the photos featured in these articles, and other awesome beer pictures, you can do so by following me on Instagram: nhendy5. You can also see much more concise versions of these reviews by adding me on Untappd: RedArmyNic.
Main photo by Nic Hendrickson, Lastword Inc., all rights reserved