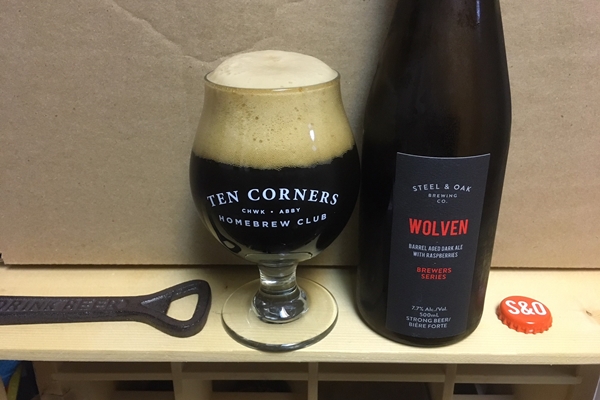 If there was a list of almost universally respected breweries in B.C., Steel & Oak Brewing would undoubtedly be on that list. They have started a series of beers that are adventurous and technically sound called the Brewers Series. B.C. Beer Reviews is here to take a look at part of that series, Wolven. Wolven is a dark ale aged in white wine barrels and then conditioned on raspberries. Let's crack this bottle open and see what their brewers have conjured up.
B.C. Beer Reviews: Steel & Oak Brewing – Wolven
Colour
This beer pours a deep ruby brown colour from the bottle with an almost reddish hue to it. In the glass, it is extremely dark and nearly impossible to see any light through it. The head this beer pours is a light tan hue as well.
Nose/Aroma
It needs to be said in the first sentence of this section that this is a fantastically complex beer in its aroma. While having layers that helps to develop that complexity, it finds the happy middle ground that can showcase the elements that it says it has on the label.
The white wine aspect to this beer is noticeable at the forefront of the aromatics. It is hard to explain specifically, but that sweet and somewhat tart aromatic that white wine can have is immediately noticeable.
Behind that, but not by much, is a tart raspberry note. Seeing as this beer was conditioned on raspberries means that this is a note that should be smelt, but that is not always the case in brewing. However, this beer showcases the raspberries very nicely.
One of the other notes that is still very noticeable, yet very much in behind the two notes mentioned above is a dark chocolate aromatic. This could be categorized as dark chocolate because it does not have a sweetness to it, rather it is the dry and somewhat bitter cocoa note that you get with dark chocolate.
Tasting Notes
Once again, the white wine and raspberry notes shine through on your palate. This is also complimented by the dark chocolate note that is not overly sweet.
There is a lightly tart note that you get from the raspberries that is followed up by a somewhat dry and slightly bitter dark chocolate note that helps to make this a complex and balanced beer on your palate.
To put it concisely, if you melted down dark chocolate, dipped raspberries in it and then ate them with a nice oaked white wine, you would come somewhat close to what this beer has to offer.
Other Notes
The bottle is shaped like a mini wine bottle, which seems fitting given the fact that this beer was aged in white wine barrels. The label from Steel & Oak Brewing is a small rectangular black label with grey writing and the name of the beer in dark red.
This beer pours a massive head to it, even with the most meticulous pours. When you know that this is bottle conditioned it becomes entirely unsurprising. The retention of the head is fantastic, to say the least.
There is a light and noticeable level of carbonation to this beer. It is not enough to call this beer crisp in its finish, but it is certainly enough to accentuate the fantastic aromatics this beer has to offer.
Final Grade
This beer showcases the white wine, raspberry and bittersweet dark chocolate notes both in the aromatics and on your palate. There is a light tartness on your palate that you expect with raspberries that helps to add another level of fantastic complexity.
Grade: 9.2/10
Want to see a beer featured in B.C. Beer Reviews? Comment below with your suggestion. And if you want to support B.C. Beer Reviews, you can do so at Patreon.
And if you want to see all of the photos featured in these articles, and other awesome beer pictures, you can do so by following me on Instagram: nhendy5. You can also see much more concise versions of these reviews by adding me on Untappd: RedArmyNic.
Main photo by Nic Hendrickson, Lastword Inc., all rights reserved