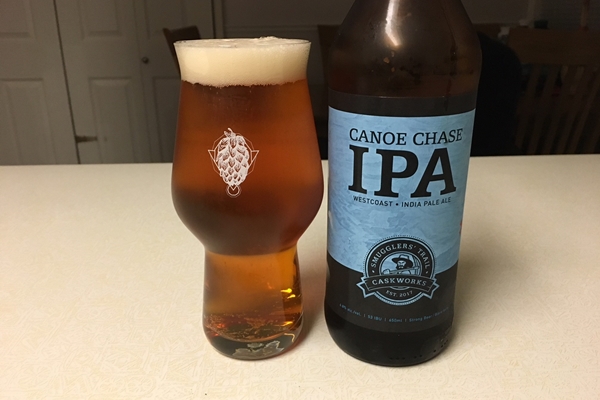 Smugglers Trail Caskworks is one of the many breweries in North America taking a different approach to getting into the industry. Instead of jumping directly a facility, and expensive venture in this area of the worlds, they are contract brewing out of Craft Collective Beerworks (formerly Factory Brewing). One of the three beers they are producing is their Canoe Chase IPA. Let's take a look at this one.
B.C. Beer Reviews: Smugglers Trail Caskworks – Canoe Chase IPA
Colour
Pours a very clear golden-copper colour from the bottle. When the glass is full it is a fantastically clear copper colour. This beer is a very nice colour and has a fantastic clarity to it.
Nose/Aroma
This is a traditional take on an American IPA. The aromatics are balanced and have a strong presence of the malt/grain bill. There are notes of bread crust and very light notes of caramel and honey to this beer.
Alongside the malt/grain bill aromatics are light citrus and floral aromatics. These are undeniably present, but somewhat in behind the notes presented by the malt/grain bill.
Overall, this is a balanced beer in its aromatics. While the malt/grain bill is slightly stronger, it is not nearly enough to say that it is out of balance or not to the style.
Tasting Notes
Once again, the malt/grain bill is at the forefront. You get the bread crust note yet again, and the honey note follows through, albeit not as much as in the aromatics.
The difference here is that the finish of this beer has a slight hope note that presents indistinguishable citrus notes. There is a light floral taste in behind that, but it becomes the sidekick to the citrus aspect here.
This is a rather malt-forward take on a West Coast IPA. There is nothing wrong with that, as the hops still play a significant enough role to make this a fairly balanced brew on your palate.
Other Notes
This beer has a nice light blue logo with the Smugglers Trail Caskworks logo front and centre. The name and style of the beer are right in the middle of the label. It is pretty straightforward overall.
This beer pours a moderate head to it. The retention is average, with it sticking around just long enough to be noticeable.
There is a fair amount of lacing on the glass from this beer. Thick rings are noticeable on the glass, marking off where you finished each drink.
Something that is not common of this style, but is more necessarily a negative note, is that there is a fairly thick body to this beer. West Coast IPAs are characterized by a light and crisp body, and this one is at the upper end of that spectrum of body.
Final Grade
The hops are at the forefront of this style, but this is a balanced beer. It comes off more as a nice, clean American IPA right off the bat. The malt/grain bill presents you with multiple notes that compliment this beer nicely and make it a very easy-drinking brew.
Grade: 7.6/10
Want to see a beer featured in B.C. Beer Reviews? Comment below with your suggestion. You can also support B.C. Beer Reviews on Patreon.
And if you want to see all of the photos featured in these articles, and other awesome beer pictures, you can do so by following me on Instagram: nhendy5. You can also see much more concise versions of these reviews by adding me on Untappd: RedArmyNic.
Main photo by Nic Hendrickson, Lastword Inc., all rights reserved