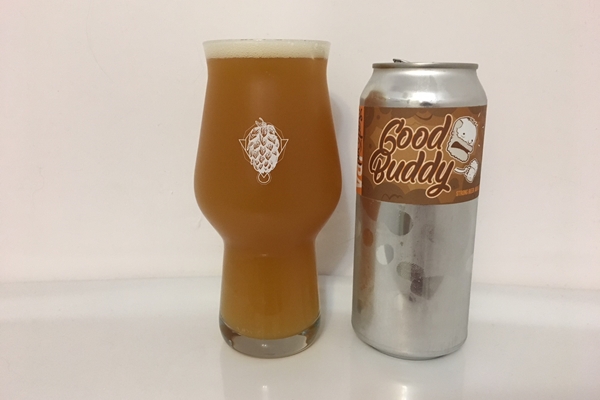 Good Buddy Brewing is part of the collective of contract breweries currently in Callister Brewing. They are somewhat new, and they are producing beers primarily of the hoppy nature. The Sad Dad IPA, the beer we will try out today, is a Northeast IPA with tons of citrus notes. Let's check this one out.
Colour
This beer pours an opaque deep orange colour from the can. In the glass, you cannot see through it in any light. The colour is reminiscent of an overripe orange or a light-colour grapefruit skin. It is exactly what people look for in their hazy beers.
Nose/Aroma
The first note you get from the aromatics is that of grapefruit. It is not exactly the bitter pith part of the fruit, but the bittersweet fleshy part of the fruit. It comes at you with the characteristic juicy notes of a hazy IPA.
You also get notes of sweet orange from this brew. It compliments the bittersweet grapefruit notes quite nicely. This is the type of note that makes for a very enticing Northeast IPA.
You get the typically sweet notes from the malt/grain bill used in this style. This is stylistically to point and a nice note to finish off with.
Tasting Notes
This beer hits you with the yeasty notes immediately. It is slightly drying on the palate, but not quite to the point of being unpleasant. This is common with this style, and it points to there being a good amount of yeast still in solution, a characteristic common to the yeasts used in this style.
You get the grapefruit and orange notes yet again here. They are almost identical to what you get in the aromatics of this beer. Bittersweet grapefruit is complimented by semi-sweet orange notes.
There is a slightly bitter kick initially to this beer. Despite that, it does not last long and dissipates almost immediately. It finishes off with a smooth and sweet note that shows off the body this beer presents itself with.
Other Notes
The branding/labeling is small and slightly artistic. There is a thin label on a plain silver can. On the label, there are notes of brown, orange and white with what looks to be a sad dad holding a beer mug. Good Buddy keeps it simple in this respect.
The beer pours an average head from the can. The retention of that head is below average.
There is a noticeable body and sweetness to this beer that is common to this style. It is a nice note overall, and it is well within the realms of the style.
There is a moderate amount of lacing on the glass from this beer. Thin patches coat the glass from top to bottom.
Final Grade
This beer presents you with pleasant notes of bittersweet grapefruit and semi-sweet orange. There is a noticeable yeast taste on the palate, but it is by no means offensive. It also has a nice body to it and a smooth and sweet finish.
Grade: 7.2/10
Want to see a beer featured in B.C. Beer Reviews? Comment below with your suggestion. You can also support B.C. Beer Reviews on Patreon.
And if you want to see all of the photos featured in these articles, and other awesome beer pictures, you can do so by following me on Instagram: nhendy5. You can also see much more concise versions of these reviews by adding me on Untappd: RedArmyNic.
Main photo by Nic Hendrickson, Lastword Inc., all rights reserved