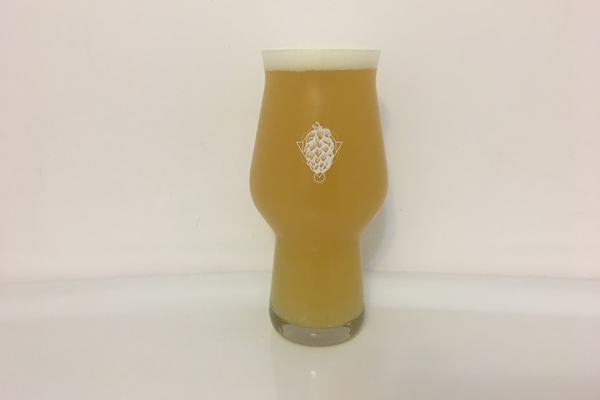 Taylight Brewing is the 'new kid on the black' and they are operating in Port Coquitlam. Despite being new to the game they are coming out of the gates with a nice variance of styles including approachable styles like a lager, a blonde and a Czech Pilsner all the way to the Hazy Pale Ale and a  Root Beer Milk Porter. Today B.C. Beer Reviews will be taking a look at their Slack Tide Hazy Pale Ale.
B.C. Beer Reviews: Taylight Brewing – Slack Tide Hazy Pale Ale
Colour
This beer pours a semi-opaque and bright orange-yellow colour from the growler. In the glass it is impossible to see through and retains the same bright colour to it. It hits the nail on the head with the hazy aspect.
Nose/Aroma
This one hits you in the nostrils immediately after cracking the growler with pineapple and tropical melon. It has the sweet and juicy aspect of the fruit rather than the citric tartness. It smells extremely sweet and smooth.
As mentioned above, there is a noticeable sweetness to this beers aromatics. This is common for a beer that is hazy/ is of the New England variety. Sometimes it can be quite overpowering, but this one keeps it within a reasonable amount to keep this beer within balance with the strong hop aromatics at play here.
Tasting Notes
Once again, the hops dominate this beer on your palate. There are strong notes of pineapple and melon here. As much as it may be a buzzword for this style, this beer has a juicy characteristic to it that makes it extremely drinkable.
There is a noticeable sweetness to the body of this beer, much like in the aromatics. It finishes off sweet and silky smooth on your palate after each sip. This is once again a characteristic of the style, but it is not at all overwhelming in any way.
There is a bit of a crisp bite at the beginning, but it comes off as more of a bitter bite rather than the dry bite of a good amount of yeast still being in suspension. If this is the case, it can also point to the fact that this beer would have much better shelf stability than if it were to rely on yeast haze.
Other Notes
There is no branding/labeling to speak of for the packaging because they are not doing that yet. However, Taylight Brewing got their name from fusing the last names of the two owners. And adding in a beer glass and a beer bottle is a nice touch as well. Also, despite their tasting room being rather small (not their own fault, city regulations), it is quite nice and the staff is extremely friendly and inviting.
This beer pours a moderate head and has great retention to it. It sticks around for as long as you can hold off drinking, which in my case was not long at all.
There is a decent bit of lacing with thick pillow-like patches of lacing here and there on the glass when the beer is gone.
The most interesting thing about this beer is that there is a lingering hop taste on your palate long after each sip. It is just enough to leave you wanting more of this extremely tasty brew.
Final Grade
This beer has zero noticeable flaws or off flavours/aromas to it. It does not have the dry bite of a beer relying on yeast haze as well. The strong pineapple and tropical melon in the aromatics and on your palate makes for a very tasty brew. Very well done rendition of the style.
Grade: 8.2/10
Want to see a beer featured in B.C. Beer Reviews? Comment below with your suggestion. You can also support B.C. Beer Reviews on Patreon to help continue the consistent reviews of the fantastic beer this province has to offer.
And if you want to see all of the photos featured in these articles, and other awesome beer pictures, you can do so by following me on Instagram: nhendy5. You can also see much more concise versions of these reviews by adding me on Untappd: RedArmyNic.
Main photo by Nic Hendrickson, Lastword Inc., all rights reserved