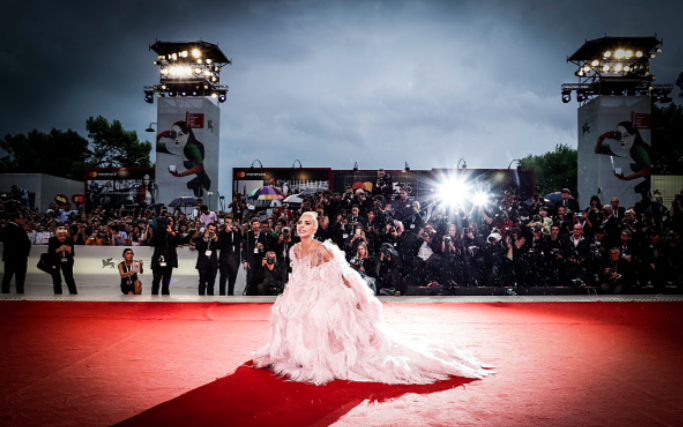 One scene remains constant throughout the A Star is Born films.
It's been a long night. There's been music and drinking and a hint of romance. It's the most excitement she's experienced in a long time—possibly her entire life. For him as well. The hour isn't so surprising for him, but the company has been nothing short of extraordinary. Still, the misty early morning haze has erected a screen over the enchantment, and it's time to call it quits. As she walks away at the conclusion of the escapade that both of these characters will fondly remember for their entire lives, he calls to her:
"Hey!" he shouts. She turns.
"I just wanted to take another look at you."
She smiles, amused and bashful, and retires to her abode. There will be many other moments like this between these two soon-to-be lovers. But this moment, little do they know, will begin their story of epic passion. Their lives together may have challenges. Their love will be abundant, seamless, unbothered.
Reborn in its Fourth Incarnation, A Star Is Born is a More Poignant Tale Than Ever Before
Mess With A Masterpiece?
Remaking a classic is always a gamble. It's been done well in romance movies (take An Affair to Remember from 1957, which is a remake of the 1939 film Love Affair), and not so well in musical films (Footloose from 1984, remade in 2011; Fame from 1980, remade in 2009). Attempting to recreate a story that has been redone twice prior, and redone well, is a whole other gamble. But when a story is so timeless that it takes on different roles in the culture in which it is created, there seems to be a reason to shoot.
A Star is Born, Bradley Cooper's directorial debut, was released on October 5th, 2018. He stars in one of two central roles in the film, opposite Lady Gaga in a role previously made famous by Janet Gaynor, Judy Garland, and Barbara Streisand. The story of two artists desperately in love during the rise of one's career and the fall of the other's debuted in 1937, and was remade in 1954 to prompt Garland's comeback to film, and again in 1976. With 42 years separating this most recent adaptation from the previous, there was ample reason for an attempt at another remake. That in mind, it's vital to look into the predecessors by which the new film was influenced and directly inspired.
Essentials of The Epic Love Story
*Spoilers abound ahead. Proceed with caution.*
The through-line of A Star is Born in all versions is the love between two artists. Norman Maine (renamed Jackson Maine in the latest edition) is an established star, worshipped and adored by fans for his talent, and an object for concern within his industry. Riddled with substance abuse issues, Maine is on his last legs, even if he doesn't know it. In a chance encounter, he meets Esther (renamed Ally for the 2018 audience) and is overwhelmed with her potential for fame and success. She has that extra something—what scholar Joseph Roach details as the "It" factor. Maine takes her under his wing and propels her into ultimate stardom. Meanwhile, his career plummets, as does his health. When he hits rock bottom, and his love is prepared to sacrifice her career to save him and their relationship, he succumbs to his pained soul and commits suicide. In doing so, Esther/Ally and her career, the last good parts of him, can carry on without burden, acting as his legacy.
For each character, we beg the question of what makes a person feel alive, and in each adaptation, that answer differs for our male lead. The constant drive for Esther/Ally is performing and fulfilling the dream she never knew she could achieve until she met Norman/Jackson. The only other constant for both characters throughout all four films is their love, which is unchallenged, though difficult due to his mental and physical state. In each film, we see several themes that carry the lovers through their very much together-but-separate life, as a star is born in one, and dies in the other.
Take One: History says Her-story
In the original A Star is Born, Esther (Gaynor) is a girl of no means from a small town, where her dreams are big and unsupported by her family. The story is very much hers, beginning and ending with her active choice to pursue her career. It features her grandmother as a supplementary support system in the times before and after Norman (Fredric March). Her grandmother gives warning as she sends her granddaughter off with her life savings, affixing her with the parable that for every dream one makes a reality, there is a price to pay.
When Esther arrives in Hollywood, there are planes and trains and automobiles, bright lights—all the clichés of the magical city that is her new home. As she walks by the legendary Grauman's Chinese Theatre, she sees the footprints of Maine (an actor she has long admired) in the pavement, accompanied with the imprint of the words "Good Luck." After meeting Norman, changing her name, learning to walk and talk like the stars, and a makeover, she is transformed into America's darling.
We watch both characters willingly sacrifice for the other until Norman walks out to sea and ends the pattern. She ends the film back at Grauman's, after the persuasion from her grandmother to continue her career, and encounters his footprints once more as she processes towards the gala being held in her honor. She has transformed once more. Esther Blodgett turned Vicki Lester ends the film once more reintroducing herself to her public, as Mrs. Norman Maine.
Take Two: Idolization—A Crime of the Heart
The following adaptation from 1954 has a more even distribution of narrative but is ultimately Norman's (James Mason) story as we watch Esther (Garland) rise through his adoring, albeit clouded, gaze. His history is far more clear than hers, though Garland carries the film with numerous landmark performances.
While her name and her character transform in much the same trajectory as Gaynor's Esther, the breadth of Garland's dreams are only realized and supported upon meeting Norman, which happens on stage at an event where she is performing and he is roaming the backstage and onstage areas drunk. Upon meeting her after the show, Norman thanks her for playing along with the antics he caused during her act and uses her lipstick to write their initials in a heart on the wall. Later in the evening, he tracks her down at a club (called Bleu Bleu—just a tidbit for later) and encourages her to leave her band and stay in town to become big-time.
Their love carries the story, as Norman supports Esther beyond simply the presentation of opportunity. Her visual transformation was alleged to be an intense one. He is so taken with who she is at the base that he will not allow it, scorning the makeup on her face multiple times through the film and encouraging her natural beauty to the studio executives as a supplement to her extraordinary talent. Many scenes are nearly verbatim from the original film, including one which depicts Norman as a has-been, waiting for his successful wife to return home, preparing dinner and taking messages on the phone from a reporter who mistakes him for her butler, and a postal worker who refers to him as Mr. Lester.
After his death, it is Esther's old bandmate and long-time friend who convinces her to carry on and become his legacy. He brings her to a benefit where she committed to sing at the theatre where they met, and after encountering and having a moment with the lipstick on the wall, enters the stage, and introduces herself as Mrs. Norman Maine. This may have been the most appropriate opportunity for another performance by Garland, but it is forgone in favor of keeping the story Norman's.
Take Three: Introducing A Feminist Heroine
In an adaptation where the story is shared equally between both parts, John Norman Howard is played by Kris Kristofferson, who is spellbound by Esther Hoffman's (Streisand) talent when he is brought to a club where she is performing. Their love is the fastest to occur yet and is propelled purely by the recognition of her talent, much like Streisand's own career. Streisand's sex appeal derives from her intoxicating voice and vibrant personality, and while early in Esther's success she is asked if she would consider a change in identity, she brushes off the suggestion without consideration, citing that it'd be more trouble to get a new driver's license and go through the motions than accept who she is.
Her uniqueness is the film's best asset, and lengthy shots are used frequently as if to prevent the viewer from blinking and missing a single moment of her majesty. In this love story, it is Esther who initiates the conversation of marriage, unlike the previous two versions. This leads John to caution her that he's no good in her life—a warning she ignores. She has become his drug, replacing alcohol and cocaine in the times she is around. He is her willing supporter and biggest fan—literally spray painting her name along the wall of his L.A. home as a tribute to his love for her. But in her absence, he becomes a menace to himself.
Similar to the earlier films, he is seen at home anxiously awaiting her and mistaken for her secretary. Each day, she returns home steadfastly and is hurt by the soulless being she finds. Whereas in previous versions Norman's death is an overt suicide, John succumbs to a different fate. As he downs his morning beer, blasting her music, he perishes in what was likely an intentional reckless driving incident. After a period of mourning, Esther returns to the stage, no encouragement necessary, and introduces herself as Esther Hoffman Howard before performing one of his anthems to a crowd of raised lighters.
This Esther is the most deeply in love, yet still the most overtly independent of those in three films that came from the 20th century. The progressiveness of second-wave feminism in the 1960s and 70s certainly influenced her character arc, making this A Star is Born important and relevant enough to justify remaking an additional time.
Take Four: A Modern Tribute
The latest version of A Star is Born, released this week, is a salute to the films that graced screens to much acclaim in the over 80 years prior. It adapts the story for a modern audience and features more strongly themes of addiction, gender, and artistry. Ally (Gaga), a waitress at a job she loathes, moonlights as a performer at a drag club called Bleu Bleu (a subtle tribute to the 1954 version), where she meets Jackson (Cooper) for the first time.
While walking from the restaurant to the club, she warms up her vocal chords on the city sidewalks with the opening verse of "Over the Rainbow," (an overt Garland homage) as the film's title appears across the screen. Moved by an exquisitely sexy and emotional performance, in which Ally dresses and is made up in the style of the actress who portrays her, Jackson persists that she pursue her career to a larger scale. A combination of his tenacity and her dreadful job convince her to drop everything to attend his show, where he pulls her on stage to perform her song: their love anthem. After they enjoy success together, Ally is lured into her own extravagant career.
This film much more realistically depicts Jackson's support of his lover, adding to the character a layer of jealousy over the adoration she receives in a way that is far less tangible in the interpretations that preceded it. This character also suffers from tinnitis, a ringing in his ears that likely is what drove him toward prescription drugs, supplementing his alcoholism.
Their love is more visibly troubled, though still effervescent. We see Ally's artistry transform from heartfelt soul to more trendy pop, and Jackson putting her down for it. Gaga employs the strength of Streisand's Esther in her Ally. Even though her sound changes and she agrees to dye her natural brown locks a funky and vivid orange hue, she retains her strident manner through the course of the film.
The creators also paid tribute to an iconic moment from the '76 film with the use of the couple's bathtub, where Ally regularly seeks refuge and most of the couple's most intimate moments occur. In this bathtub, we see a de-gendering scene similar to that which we witnessed in the previous film, in which our heroine applies makeup and false eyebrows to her partner to his amusement. These gestures distinguish both John and Jackson's willingness towards femininity, as they embrace the makeup of their partners in a way that was disparaged by the Norman of the '54 film. Both Streisand and Gaga's characters are regarded at one point in each film with masculine affiliation publicly, so it is right to explore gender constructs within these male-identified characters.
The Last Word on The Latest A Star is Born Reboot
Of course, all of this thought just barely scratches the surface of what this tale has told through the ages. The latest edition of A Star is Born comes at an important time for women, as it depicts a strong but imperfect female lead; capable of throwing a punch, loving unconditionally, and possessing the strength to sacrifice.
In the previous films, we saw a relationship between a broken and overcooked star, who falls so deeply in love with the young nobody whom he worships. The older films go so far as to visually allude that she is the sun that guides him—the kind of idolization that wouldn't fly in today's pessimistic and misogynistic culture. The new adaptation very realistically depicts a deep but imperfect relationship by making the addiction and love themes more synonymous than ever before. If the strength of the performances isn't enough to convince a person to see this film, there's the music, which is largely written with the help of Gaga and Lukas Nelson, Willie Nelson's son.
In a more immediate sense, we also see a male character empowering a woman to speak her truth. Early on in the relationship between Jackson and Ally, he advises her that "talent comes everywhere. Having something to say, and a way to say it so that people listen to it, that's a whole other bag." In a time when American women and minorities are being silenced in the ways that they have been silenced in other cultures for years, these words are crucial in modern media. While Jackson is no role model, his appreciation for this insecure woman's story and art gives us a beacon of hope for the future. "If there's one reason to be here it's to say something so that people wanna hear it," he says. "So you gotta grab it, and you don't apologize, and you don't worry about why they're listening or how long they're gonna be listening for. You just tell 'em what you wanna say."
For more on 2018's A Star is Born, check out LWOS.Life contributor Andrew Semaan's review of the film.
Main Image Credit: