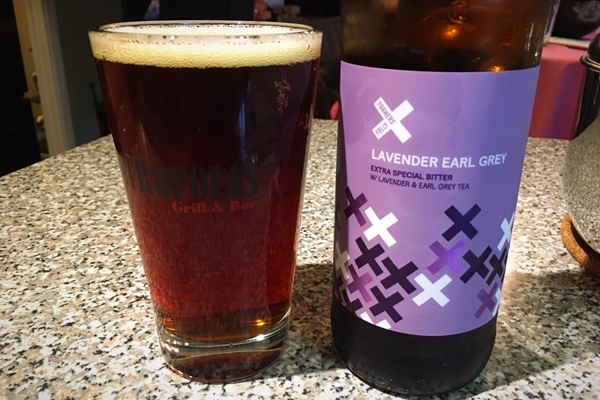 Foamers Folly is one brewery that certainly does not lack in creativity. To showcase this statement is their take on an extremely tradition style in an ESB. They have infused this style with lavender and earl grey, giving it a dimension it previously lacked and giving it an interesting twist.
B.C. Beer Reviews: Foamers Folly – Lavender Earl Grey ESB
Colour
This beer is deep brown colour, both in the pour and in the glass. When held to the light it gives off a very appealing ruby-brown colour. This matches up very nicely with the style of the beer.
Nose/Aroma
You get the lavender aromatic as soon as you crack open the bottle. It does not diminish with time either. It is very powerful, but still quite pleasant.
This brew claims to be similar to London Grey tea as well, and you can certainly get that in the aroma. There is a sweet tea-like aroma at play here. This goes well with the lavender as well.
Aside from the floral and tea-like aromas, there is a strong malty character in the aroma. You get strong notes of toffee and caramel. It matches up with the style and helps to balance the floral aromatics that dominate the beer otherwise.
Tasting Notes
Immediately upon tasting this beer, you get strong notes of earl grey tea. It hits you immediately and lingers along for the entirety of each drink.
In behind that you get a slightly bitter floral taste. It is undeniably the lavender used in this brew, and it adds a crisp bite to an otherwise malty and sweet brew.
Much like in the aromatics, you get toffee and caramel. This is perfect for the style and makes for a very malt-forward and easy drinking beer overall.
Other Notes
This brew has similar labeling to other beers from Foamers Folly. A nice lavender purple label has different colour exes on the bottom half and the name of the beer.
This beer pours a moderate head and the retention is equally moderate. Both are nothing to write home about overall.
There is a moderate to low level of carbonation to this beer. This is nice to see considering a lower level is appropriate for the style.
Rundown
The base of this beer is a very easy-drinking and malt-forward brew. You get the typical toffee and light caramel notes you expect from the style. What is different here is obviously the lavender and the tea characteristics. These add a level of complexity that the style otherwise lacks and makes for a very nice beer overall.
Want to see a beer featured in B.C. Beer Reviews? Comment below with your suggestion. And if you want to see more consistent reviews of the fantastic beer this province has to offer, you can do so by supporting B.C. Beer Reviews on Patreon.
And if you want to see all of the photos featured in these articles, and other awesome beer pictures, you can do so by following me on Instagram: nhendy5. You can also see much more concise versions of these reviews by adding me on Untappd: RedArmyNic.
Main photo by Nic Hendrickson, Lastword Inc., all rights reserved