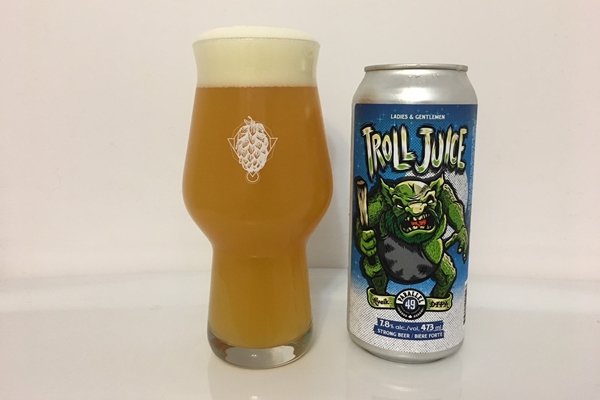 If there is one thing that Parallel 49 Brewing does, it is being adventurous. The Vancouver-based brewery continues to churn out the adventurous and Troll Juice is no exception. Using Kveik yeast (pronounced quake), it adds an interesting twist to a hazy beer.
B.C. Beer Reviews: Parallel 49 Brewing – Troll Juice
Colour
This beer pours a cloudy yellow-orange colour from the can. When in the glass, it is completely opaque and is a deep orange colour. Definitely not surprising with the hazy beers being produced nowadays.
Nose/Aroma
There is a 'juicy' aroma to this beer that is reminiscent of mango and apple. You get the juicy sweet aromatics of a perfectly ripe mango combined with a light touch of citric acid from apple. It is very pleasant, and it is up for debate on whether the citric acid apple characteristic came from the Kveik yeast.
Overall, this is a sweet and fruity smelling brew. It is extremely inviting and has a different dimension to it that other hazy beers otherwise lack, which is likely a byproduct of the yeast used.
Tasting Notes
You certainly get the apple note coming through again on your palate. This is common from Kveik yeast, so it should be stated that this is not the green apple tartness you get from the production of acetaldehyde from a 'green' beer.
The mango notes come through again here, albeit much less than in the aromatics of this beer. They are a pleasant background note to the apple and give this beer a nice fruity and tropical twist.
There is also a slightly dry finish to this beer. This is common for hazy beers, and this beer is not to the point of being unpleasant.
Other Notes
The labeling of this beer is the cartoonish style that Parallel 49 Brewing has come to be known for. There is a big green troll that is laid over a pale moon and a deep royal blue and white background.
This beer pours an initially massive head. The retention of that head is moderate, for lack of a better way of putting it.
There is a fairly significant body to this beer. It is slightly sweet, but not at all cloying.
Rundown
This beer showcases the interesting notes of a relatively new yeast in the North American Brewing scene. Strong notes of mango and apple compliment a full and sweet body. This hazy beer is sure to make all the haze craze and hop head crowd happy.
Want to see a beer featured in B.C. Beer Reviews? Comment below with your suggestion. And if you want to see more consistent reviews of the fantastic beer this province has to offer, you can do so by supporting B.C. Beer Reviews on Patreon.
And if you want to see all of the photos featured in these articles, and other awesome beer pictures, you can do so by following me on Instagram: nhendy5. You can also see much more concise versions of these reviews by adding me on Untappd: RedArmyNic.
Main photo by Nic Hendrickson, Lastword Inc., all rights reserved