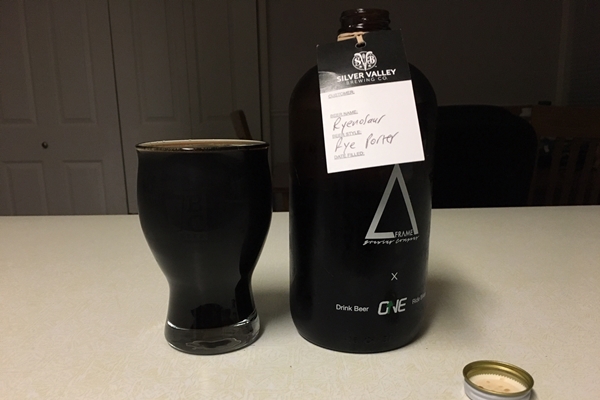 Silver Valley Brewing may not be brewing all the 'flashy' styles of beer, but that does not matter. What matters is what's in your glass, and that is certainly the case with their Ryenosaur Rye Porter. This beer is one that B.C. Beer Reviews had to try, with so few beers in B.C. making rye a note at the forefront. Let's crack this crowler open and see what we get.
B.C. Beer Reviews: Silver Valley Brewing – Ryenosaur Rye Porter
Colour
This beer is quite dark for what is recognized as a Porter now, trending towards the SRM of a stout of any style. It is a dark ruby-brown that you can see through the edges of when held to the light. When holding it to the light it shows off a dark brown colour in the centre of the glass with the edges displaying a brilliant ruby-red colour.
Nose/Aroma
Rye is undeniably a star player in the aromatics of this beer. The semi-sweet and somewhat spicy aromatics that rye can give to a beer are the first things of note here.
Other malty notes you can catch are semi-sweet chocolate, molasses and there is an extremely light touch of coffee. These are in the order of prominence of the strength of each aromatic.
There are no noticeable or pronounced hop aromatics this beer. There is a touch of lightly herbal and earthy notes that could very well be a characteristic of common hops to this style, with an educated guess trending towards East Kent Goldings or possibly UK Fuggles.
Tasting Notes
There is really no surprises on your palate from what you get in the aromatics. The semi-sweet chocolate, molasses and light coffee notes follow through nicely in this beer.
Just like in the aromatics, there is a lightly floral and earthy touch to this beer. This is undeniably a note imparted by the hops used in the brewing of this beer. It is a very nice note and makes it fall in line with being an English Porter.
Other Notes
While the branding from Silver Valley Brewing is sharp, there is no branding to speak of with this beer.
This beer pours a below average head for the style. The retention of that almost nonexistent head is equally unimpressive. This does not play a part in the quality of the beer.
Rundown
If you are looking for an English Porter with a touch of rye, look no further. This beer has the chocolate, sweet and light coffee notes you want. The light herbal earthiness is a fantastic note to round out this beer. Overall, this is a delicious beer.
Want to see a beer featured in B.C. Beer Reviews? Comment below with your suggestion.
And if you want to see all of the photos featured in these articles, and other awesome beer pictures, you can do so by following me on Instagram: nhendy5. You can also see much more concise versions of these reviews by adding me on Untappd: RedArmyNic.
Main photo by Nic Hendrickson, Lastword Inc., all rights reserved