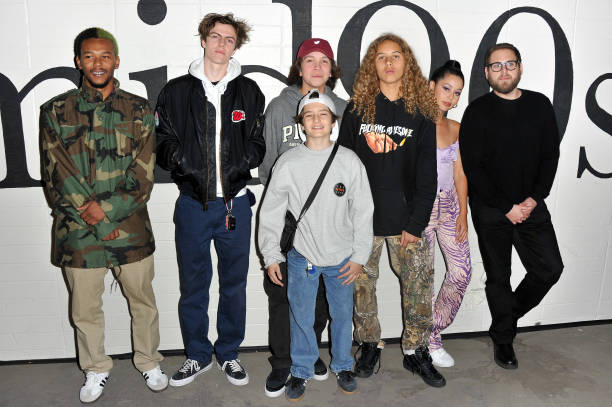 mid90s is written and directed by Jonah Hill and centers around the skateboarding culture of the 1990s. Hill first came onto the scene as a comedic actor in a number of Judd Apatow comedies before transitioning to more serious roles in films such as Moneyball and Wolf of Wall Street, for which he received Academy Award nominations. Now, he makes yet another transition, trading a role in front of the camera for a role behind it. Has the goofball from Superbad successfully transformed into a full-fledged filmmaker?
Passion Breeds Art in mid90s
Story
mid90s follows Stevie aka Sunburn (Sunny Suljic), a thirteen-year-old kid growing up in the skateboarding culture of 1990s LA. The film doesn't feature a plot in the traditional sense, opting instead to focus on a more character-driven narrative. It is told from the point of view of Stevie as he seeks to fit in with a group of skateboarders while trying to distance himself from his abusive older brother, Ian (Lucas Hedges). What ensues is a coming of age film of sorts that explores both the pitfalls and the comradery of the skating culture and plays as a slice of life in the 1990s. There are a number of life lessons baked in to the narrative and different people will likely take away different messages from this film.
The story wasn't without its flaws, however. The dynamic between Stevie and Ian was something I would have like to see explored a little more. It felt like there was more to that relationship that wasn't shown and, just when it felt like it was going somewhere, the film cut back to Stevie and his friends. There was also one scene that seemed to be a very serious, back-against-the-wall, moment for Stevie. However, it was just glossed over and never revisited. This film was a brisk 84 minutes, so I felt like there was room to explore both storylines further.
Solid Performances
Jonah Hill made the decision to cast mostly unknown actors in this film, focusing on young skaters who possessed the ability to bring these characters to life on screen. The main group of friends, played by Sunny Suljic, Na-Kel Smith, Olan Prenatt, Ryder McLaughlin, and Gio Galicia were all fantastic in this film. Their performances were so visceral and their characters so real that I truly forgot that I was watching a movie.
I don't know where Jonah Hill found Sunny Suljic but he was perfect for the part of Stevie. He brought a certain vulnerability to the role that made it so easy to connect with his character. Lucas Hedges shows off his range in a very different role for him, which is that of Stevie's abusive older brother. Usually playing the quiet, sensitive type, it was interesting to see him play a character that had more of a tough exterior with a mean attitude. Katherine Waterston was brilliant as Stevie's mother. The emotion she brought to her character was so subtle yet so powerful. While I don't think any acting nominations come out of this film, the performances were strong across the board.
Hill's Directorial Debut is a Success
We have seen some stellar directorial debuts this year, from Ari Aster's Hereditary to Bradley Cooper's A Star is Born, and Jonah Hill is no exception. Jonah Hill's ability as a filmmaker and his passion for the subject matter is quickly evident and elevates this film to the next level. Hill made the inspired decision to shoot the film in a 4:3 aspect ratio, a style that was widely used in the 1990s but is nearly defunct today. As soon as you see the squarish 4:3 frame on the screen, it will transport you back to a different era in film. Combine that with the fact that the movie was shot on Super 16mm film (the same format as films like Clerks, Slacker, and El Mariachi) and you are instantly transported back to the 1990s as soon as the first frame hits the screen.
Jonah Hill has stated in a number of different interviews that he learned quite a bit on the job while working with many notable filmmakers, including the great Martin Scorsese. Speaking of Scorsese, his influence is actually felt quite a bit in this film, notably in the way Hill decided to tell this story. As stated earlier, Hill ditches the traditional plot-driven narrative in favor of a more character-driven piece, a Scorsese hallmark. He even places a nod to Scorsese in the film, in a scene where Stevie is walking by a room where Goodfellas is playing on the TV.
The character-driven narrative is difficult enough style of storytelling to pull off, largely due to how much it demands from the actors. The fact that Jonah Hill did it as a first-time filmmaker and many of these actors did it with no prior acting experience, makes mid90s that much more impressive of an achievement.
Last Word on mid90s
If there is one word I would use to describe mid90s, it would be authentic. It is a film that transports you back in time and immerses you in the world of its characters. Director Jonah Hill's focus on recreating the look, feel, and overall atmosphere of the 1990s created a visceral experience for the viewer. The emphasis on casting actual skaters instead of proven actors made the characters feel real. The whole thing felt like it could have been a documentary from the 1990s that was locked away for 20 years until someone decided to release it in 2018.
This could have easily backfired if those performances fell flat but, instead, they knocked it out of the park. It's a testament to the ability actors involved as well as the ability of Jonah Hill as a filmmaker who can bring the best out of his actors. This film is what independent cinema is all about: creating art out of passion. That passion shines through here.
4.5/5 Stars
Main Image Credit: