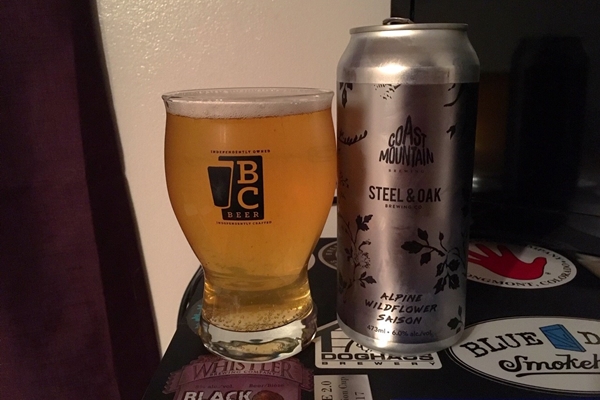 A relative newcomer to the Sea to Sky region of British Columbia has come together with a well-established brewery in the lower mainland to create an interesting Saison. Coast Mountain Brewing and Steel & Oak have collaborated to produce their Alpine Wildflower Saison. B.C. Beer Reviews is always down to try a new collaboration, and this one sounds delicious.
B.C. Beer Reviews: Coast Mountain Brewing – Alpine Wildflower Saison
Colour
This brew pours a pale golden-straw colour from the can. In the glass it remains the same colour, generally trending towards straw in colour. It is not completely opaque, but their is a definite haze to this beer.
Nose/Aroma
There is a sweet and floral aromatic to this beer. Given the character that Saison yeasts can put off and this being a wildflower Saison, that is not at all surprising. It is light enough to not be overpowering and is therefore and extremely pleasant aroma.
There is also a lightly sweet and honey-like aroma to this beer. This is very likely a product of the malt/grain bill used in this beer. It is very much in the background of the floral aromatics.
Tasting Notes
This beer presents you with a honey-like sweetness up front, but the body is quite light overall. This points to this being a Belgian Saison with the strong sweetness up front, light body and crisp finish overall.
The floral notes are lightly sweet at first and have a light lingering bitterness on the finish of this beer. They are present throughout and subtle enough to be quite pleasant overall.
Other Notes
The can is pretty straightforward overall. A silver label with black designs of flora surround the name of Coast Mountain Brewing and Steel & Oak Brewing. This label lets the beer do the talking.
There is a very crisp and rather highly carbonated finish to this beer. Seeing as there is a noticeable sweetness throughout, this helps to bring the beer back into relative balance.
Rundown
There are sweet honey notes in both the aromatics and the taste. This is complimented by a first sweet floral note and a lightly bitter floral and spicy finish. The high level of carbonation lends itself to a crisp finish that makes this a nicely balanced Saison.
Want to see a beer featured in B.C. Beer Reviews? Comment below with your suggestion.
And if you want to see all of the photos featured in these articles, and other awesome beer pictures, you can do so by following me on Instagram: nhendy5. And if you want to see much more concise versions of these reviews, you can do so by following me on Instagram: RedArmyNic.
Main photo by Nic Hendrickson, Lastword Inc., all rights reserved