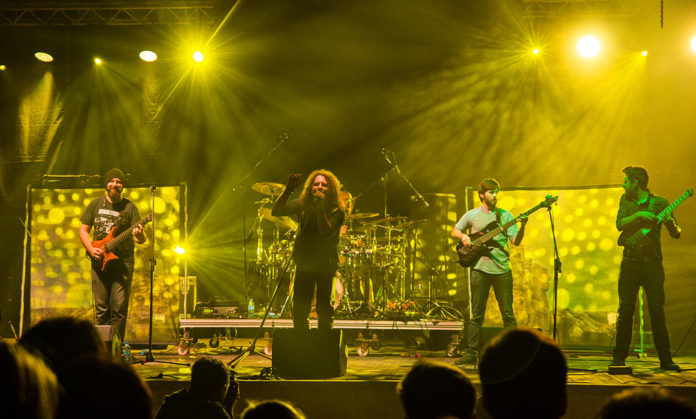 Armed with unparalleled instrumental virtuosity, rising stars Haken are quickly racing to the top of the progressive metal food chain, even nipping at the heels of genre bastions like Dream Theater. With a cultish following and a seemingly increasing demand for complex music within the metal community, it's easy to see why Haken is gaining popularity at such an unexpectedly rapid rate. On October 26, 2018, Haken released Vector, their follow-up effort to the critically-acclaimed concept album Affinity (2016).
Album Review: VECTOR by Haken (2018)
Leading up to release, the guys made it clear that they wanted to take the heavier edge from Affinity and run with it on the new album. This may prove to be a controversial decision amongst the fans, as Haken's music spans across multiple genres, and their base consists of rabid music fanatics from all over that spectrum. However, divisive as it may be, I truly cannot imagine not enjoying this stellar album.
Vector is a succinct package that demonstrates the musical attributes that make Haken special — the perfect blend of melodic beauty, powerful dynamics, and technical mastery, with the sheer instrumental virtuosity to tie it all together. 
Track-by-Track Breakdown
"Clear" (1:51) | The introduction to Haken's latest effort kicks off with an almost EDM sounding synth bass building into a haunting church organ theme. Make no mistake about it — this song's role is to serve as an established opener for the band. One could easily picture the sextet creeping onto the dark stage with this track resonating in the background before abruptly bursting into the first traditional song on the album.
"The Good Doctor" (3:56) | The immediate liveliness of "The Good Doctor" establishes the conceptual tone of the album right off the bat, from both a lyrical and instrumental standpoint. Pulling the listener into the mind of a mad doctor who plays twisted mind-games with his patients, Haken is able to set the thematic stage and complement their storyline with immensely precise instrumental virtuosity that captures the mood of the lyrics. For the sake of avoiding spoilers, I will refrain from discussing the story any further.
"Puzzle Box" (7:43) | The second true single in a row, "Puzzle Box" is likely to become an instant classic for Haken. Their ability to seamlessly transition from catchy singalong choruses to spastic glitchy instrumental passages and back again is fully showcased here. The multi-layered vocal harmonies featured in the outro to this track are truly mesmerizing and will likely go down as one of my favorite Haken moments in their entire catalog.
"Veil" (12:36) | An absolute beast of a song, "Veil" is hands down the best track on the album. I know it's become a prog cliche to pick the 12-minute track as the best on the album, but my goodness — what an incredible journey… Clocking in at a whopping 12:36, Haken is able to cram a million musical ideas into this track without anything sounding forced or out of place. They were able to accomplish this by revolving around a set of motifs that they were able to use and expand upon through their collective creative genius.The entire song is captivating, but perhaps the most impressive run of the entire album lies within the instrumental section in the middle of the song. The blistering precision and sheer talent of the instrumentalists allows each of them to shine while remaining stunningly cohesive as a group. This song is further evidence of Haken's readiness to grab the torch from prog metal titans Dream Theater and run with it. "Veil" incorporates some of Dream Theater's greatest elements and enhances them with the modern dynamics of Nolly Getgood's flawless production.
"Nil by Mouth" (6:52) | Let this be known as the song where Haken went full djent. For those unfamiliar with the term, "djent" refers to a rapidly growing subgenre of modern progressive metal that's characterized by the use of downtuned seven- or eight-string guitars, typically complemented by technical polyrhythmic drum grooves. An instrumental track, "Nil by Mouth" is probably the heaviest song on the album. Building upon the searing technicality from "Veil," this is Haken at their wackiest and most monstrous. The synths veer back into EDM territory, complementing the immensely heavy guitar riffs to perfection. The drums and bass are particularly technical on this instrumental track, and they really let loose to provide a jaw-dropping foundation for the synchronized chaos of the other instruments.
"Host" (6:46) | Opening with a mellow electric piano jazz riff, it's immediately apparent that we are finally getting a moment of relief from the psychotic pandemonium of the previous few tracks. And what is this now…? A flugelhorn solo? Leave it to Haken to weave a flugelhorn solo into their material with such elegance. "Host" serves as the ballad of the album, but it is far more than the cliche half-hearted token ballad you'll find on most rock and metal releases. This song is one of the most tastefully composed ballads that you'll find in Haken's discography, and it should remind fans that the band still possesses the melodic magic that made their breakout album The Mountain so particularly special.
"A Cell Divides" (4:57) | The album closer, I've habitually begun referring to this as "The Leprous Song." I don't mean that as a knock on Haken — it's just that this track has such palpable influence from their current tour-mates and fellow prog metal rising stars, Leprous. Rhythmically, this is Haken at their most creative, and the chorus is definitely going to be an epic singalong at the live shows. Bucking the apparent trend of recent prog metal albums ending with epic power-ballad type tracks written in a major key, Haken decides to go out with a bang. The album comes to an abrupt conclusion as the final riff stops short and leaves you craving more.

 
Last Word on Vector
Every track on Vector is amazing in its own right, and every single song has earned a place in my rotation. Featuring top-tier production from one of the best producers in the genre, this album has an infectious quality that will keep even the staunchest of audiophiles coming back for the crystal clarity and earth-shattering dynamics of this record.
My only gripe with the album is that it's too short. 45 minutes is actually quite short for a prog release, especially a concept album, and they definitely could have injected more depth into a story that would have benefited from it.
That said, the music we did get is immensely complex and experimental — the type of material that warrants dozens of listens to truly appreciate the nuance of what's happening. All in all, Vector certainly met my expectations as one of Haken's standout albums in their relatively young career. If Haken continues on this path, there will be little stopping them from vaulting themselves onto the Mount Rushmore of progressive metal icons. 
Main Image Credit: