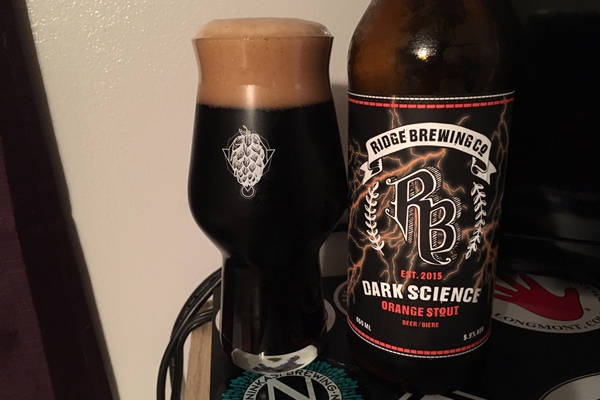 There may not be a huge craft beer scene in Maple Ridge quite yet, but it is certainly growing. Ridge Brewing is a part of that growth, and they are certainly embracing the creativity of craft beer. B.C. Beer Reviews is here today to take a look into their Dark Science Orange Stout.
B.C. Beer Reviews: Ridge Brewing – Dark Science Orange Stout
Colour
Unsurprisingly, this is a jet black beer that lets no light through. Even when held to the light it is completely opaque. This is perfectly fine for the style.
Nose/Aroma
The orange aroma is apparent from the start. It is not a sweet orange aroma that is reminiscent of the fleshy part of the fruit, but rather a slightly tart and citric taste that points to the possible use of orange zest.
There is a bittersweet dark chocolate aroma in behind the orange. It is fairly faint, and the orange aromatic definitely dominates the nose of this beer.
Tasting Notes
The tasting notes are pretty similar to the aromas this beer presents, albeit in different levels for each taste.
For instance, while the orange is still strong it is not at all dominant over the bittersweet chocolate notes at play here. This note comes out much more on your palate than it did in the nose.
The orange zest note lasts throughout and lingers well after each sip is gone.
Other Notes
The label of the bottle has the big Ridge Brewing logo front and centre on top of a black label with orange lightning bolts and a an orange border. There is definitely a lot of orange going on here.
This beer pours an initially large head. The retention is moderate, with the head dissipating with time.
There is a fair amount of lacing on the glass from this beer. It is not coated, but there is noticeable lacing throughout.
Rundown
This beer definitely doesn't beat around the bush with its orange notes. They come off more like orange zest rather than being sweet. It is dominant in the nose and a front runner in the taste. Overall, this comes off as a nice desert beer.
Want to see a beer featured in B.C. Beer Reviews? Comment below with your suggestion.
And if you want to see all of the photos featured in these articles, and other awesome beer pictures, you can do so by following me on Instagram: nhendy5. You can also see much more concise versions of these reviews by adding me on Untappd: RedArmyNic.
Main photo by Nic Hendrickson, Lastword Inc., all rights reserved