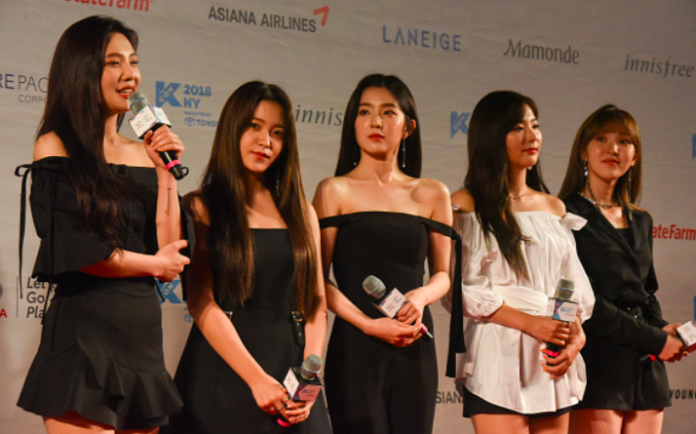 In 2006 famous singer Nelly Furtado coined the phrase "All good things come to an end." That quote properly demonstrates the transition from the jam-packed month of November releases to what looks to be a pretty docile December. And although that might be true, this week is quite the way to go out. Red Velvet, The Boyz, and Lovelyz all have their comebacks, just to name a few. The probability that a hit will come out of this week is high. Let's look at the potential that the week ahead of us holds.
A Preview of Next Week In K-Pop
11/30/18: Red Velvet – RBB (Really Bad Boy)
Red Velvet looks to ride the coattails of their early 2018 hit "Bad Boy" with their next mini-album. The group makes another foray into a dark concept, possibly showing the "Velvet" part of their concept more than "Red." The title of the mini-album, RBB (Really Bad Boy) isn't subtle at all considering its predecessor. Red Velvet's 5th mini-album will have 6 songs on it, with the final one being an English version of the titular track.
Back in January the group put out their most successful song to date, "Bad Boy." The track currently sits at 166 million views, which is 36 million more than their second most viewed song "Russian Roulette." The song was the headliner for the group's 2nd album repacked titled The Perfect Red Velvet. The success of the song made the group produce an English adaptation which was first previewed when played to the KCON NY crowd in June. A studio version of the song was officially released on August 6th as a bonus track to Red Velvet's latest mini-album Summer Magic.
| | |
| --- | --- |
| 11/8/18 | |
| 11/21/18 | |
| 11/22/18 | |
| 11/23/18 | |
| 11/24/18 | |
11/29/18: The Boyz – THE ONLY
The Boyz are scheduled to wrap up their hectic first year as a group with their third mini-album. The Only is the name of the project, which follows the trend of all of their past releases all being "The ___." With six songs, one that will get a music video accompaniment; "No Air." Promotion for the release has been quite extensive, with two photo sets put online along with two short films, among other things.
The group is easily in the running for the best male rookie group of 2018. The only competition that the group has would most likely be Stray Kids, who have been putting out music at a near even pace. It's interesting how both groups are very similar. While never reaching #1, both have hung around podium positions on the music chart. Stray Kids looks to have more support outside of Korea than The Boyz since they have much higher Youtube viewer counts. The Boyz is the only boy group to come out of their small label Cre.ker Entertainment, which is a subsidiary of Kakao M. Stray Kids is of course owned by K-Pop juggernaut JYP Entertainment.
11/13/18

11/14/18

No Air

Concept Photo Solo Sets

11/15/18

11/16/18

11/17/18

11/18/18

11/19/18

11/20/18

11/21/18

11/22/18

11/23/18

11/24/18
11/26/18: Key (SHINee) – Face
Key made his debut as a soloist earlier this month with the song "Forever Yours" featuring Soyou. This time he went all out, putting together a full-length album which will come out on the 26th. The album is titled Face with the title track called "One of Those Nights." After collaborating with Soyou on his last song he works with another high profile soloist in Crush this time around.
| | |
| --- | --- |
| 11/18/18 | |
| 11/19/18 | |
| 11/20/18 | |
| 11/21/18 | |
| 11/22/18 | |
| 11/23/18 | |
| 11/24/18 | |
11/26/18: Lovelyz – Sanctuary
Lovelyz are back for the third time this year with mini-album Sanctuary. The first time around was with their fourth mini-album Heal which included "That Day," which came with a music video. The second time around was for their summer single "Wag-zak" which was not a grand project. In June, Kei from the group was announced to be a new co-host of KBS Music Bank alongside Choi Won Myeong. Since then she has kept busy with her MC'ing duties.
The title track for Sanctuary is called "찾아가세요." In the previews, it sounds similar to their song "Destiny" but with a much more calmer demeanor. The release as a whole includes 7 tracks, with the title track coming second on the lineup. Last year the group delivered in November with "Fall In Lovelyz" a mini-album that included many R&B tracks. One might hope/expect that this album will take a similar theme.
| | |
| --- | --- |
| 11/12/18 | |
| 11/15/18 | |
| 11/16/18 | |
| 11/17/18 | |
| 11/18/18 | |
| 11/19/18 | |
| 11/20/18 | |
| 11/21/18 | |
| 11/22/18 | |
| 11/23/18 | |
11/29/18: MAMAMOO – BLUE;S
It was a busy 2018 for Mamamoo. Along with the releases of Red Moon and Yellow Flower, Wheein and Hwasa had solo songs. Hwasa worked with Loco to put out a duet titled "Don't (Above Live)." Wheein put out a track featuring solely herself titled "Easy." The next release for the group altogether is BLUE;S which is lead by the title track "Wind Flower." In the only teaser out as of right now, the whole video was shot at night. The song along with the video seems to go quickly from a somber note to an upbeat one.
| | |
| --- | --- |
| 11/7/18 | |
| 11/8/18 | |
| 11/11/18 | |
| 11/12/18 | |
| 11/13/18 | |
| 11/14/18 | |
| 11/15/18 | |
| 11/16/18 | |
| 11/18/18 | |
| 11/19/18 | |
| 11/20/18 | |
| 11/21/18 | |
| 11/22/18 | |
| 11/24/18 | |
Japanese Release
This week the only Japanese release is from Super Junior. Their song from October called "One More Time" is set to get its Japanese adaptation on the 28th.
Well, there's the week ahead of us. In general, this whole month was a near all-star lineup, but this week felt the biggest in my opinion. The holiday season is approaching, which might possibly make for a little more of a festive preview in the coming weeks.