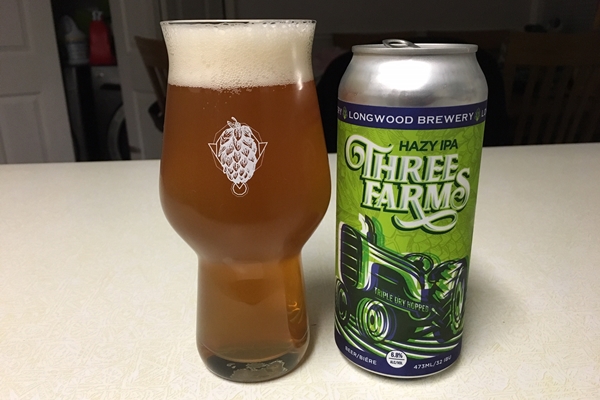 Hazy beers have been a craze for long enough now to not consider it a fad, and they do not look to be slowing down in popularity anytime soon. Longwood Brewery sees this as an advantage and has made one of their own in Three Farms, a beer that utilizes three different hops from three different farms. B.C. Beer Reviews is here to crack this one open and see how it handles the pressure of the craze.
B.C. Beer Reviews: Longwood Brewery – Three Farms
Colour
This beer pours a light copper colour from the can. In the glass it is a slightly hazy orange-copper colour. It matches up well with the hazy beers on the market.
Nose/Aroma
The first note you get is a dank and slightly vegetal hop aromatic. There is a sweet citrus fruit aroma behind it and it is complimented by a lightly sweet malt aromatic.
While the malt aromatic does not show itself immediately, it definitely lingers long after the hop aromas. There is a sweet grainy and white bread aromatic to balance out the otherwise very hop-forward beer.
Tasting Notes
This beer is much of the same in the taste. There is a strong sweet citrus fruit taste up front that lingers throughout. The nice part about this is that it does not come with any sort of bitterness on the back end.
Much like in the aromatics, there is a grainy sweetness to this beer. The white bread malty taste follows through as well. This makes for a very well-balanced and easy-drinking beer.
Other Notes
There is a big tractor in front of a chartreuse green label. On the label is hops and bines. It showcases the emphasis of this beer nicely.
There is a significant head to this beer. The retention of that head is equally as impressive.
The amount of lacing on the glass is significant as well. While it does not play a major role, it does coat the glass.
Rundown
This beer has a massive sweet citrus note in both the aromatics and the taste. It is accompanied by a grainy and white bread malt complex. This is a very well-balanced hazy IPA.
Want to see a beer featured in B.C. Beer Reviews? Comment below with your suggestion.
And if you want to see all of the photos featured in these articles, and other awesome beer pictures, you can do so by following me on Instagram: nhendy5. You can also see much more concise versions of these reviews by adding me on Untappd: RedArmyNic.
Main photo by Nic Hendrickson, Lastword Inc., all rights reserved