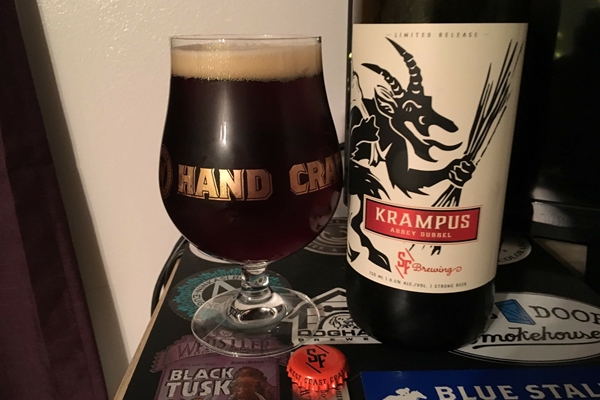 The Christmas season is approaching, and this means there is plenty of talk about Santa Claus bringing toys for all the good little boys and girls. Strange Fellows Brewing has not forgotten about the other one coming: Krampus. They have portrayed the story of Krampus through a complex and tasty style of beer, a Belgian Dubbel. B.C. Beer Reviews is here to see if they have made the naughty or nice list.
B.C. Beer Reviews: Strange Fellows Brewing – Krampus
Colour
This beer pours a deep ruby-brown from the bottle. In the glass, it is a deep brownish hue that is common for the style.  It looks opaque, but when held to the light shows off a magnificent ruby colour.
Nose/Aroma
This first thing you get from this is a popular and very taste common characteristic of a Dubbel. The note that I am speaking of is fig and dried fruits like plum. It is perfectly within style and makes for an immediately enticing beer.
Aside from the dried fruit and fig notes, there is a nice malt aromatic to this beer. You get a moderate aroma of caramel to go with a touch of bread crust. This goes along very nicely with the aforementioned aromatics.
Tasting Notes
The dried fruit and fig characteristic follows through nicely into the tasting notes. While it is at the forefront, it is certainly not the only thing you get from this beer.
There is a spicy phenolic profile to the taste of this beer. It comes off with a pleasant touch rather than overtaking anything else. This is very pleasant note that helps to balance out what is an otherwise sweet style of beer.
The yeast is definitely the main player in this beer, which is exactly how it should be with Belgian beer styles. Overall, this is a rather tasty beer and an interesting take on the style.
Other Notes
The branding is, as it always is, very distinctive to Strange Fellows Brewing. There is a black caricature of Krampus creeping along the white label carrying a sack of what likely is not very pleasant presents. It is both simplistic and creative.
This beer initially pours a moderate head for the style. Despite the initial head it pours, the retention is well below the average for the style. This is virtually the only thing this beer lacks that the style dictates.
Rundown
As Belgian beer should be, it is all about the brewer being creative and the yeast making a complex beer. This is exactly what Krampus brings you. A beer that is sweet up front and finishes dry and crisp in the finish with a nice phenolic profile. What more could you ask for?
Want to see a beer featured in B.C. Beer Reviews? Comment below with your suggestion.
And if you want to see all of the photos featured in these articles, and other awesome beer pictures, you can do so by following me on Instagram: nhendy5. You can also see much more concise versions of these reviews by adding me on Untappd: RedArmyNic.
Main photo by Nic Hendrickson, Lastword Inc., all rights reserved