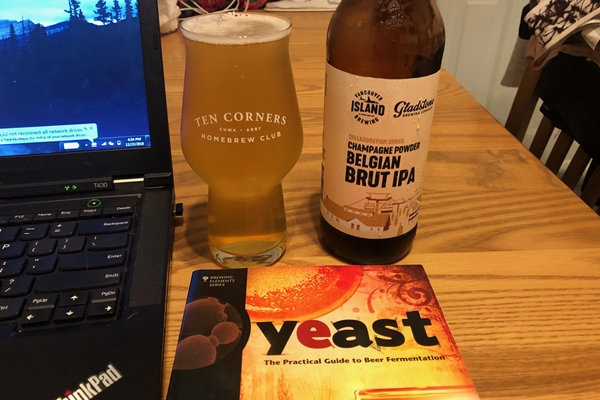 If there is one new style that no one in British Columbia has hit a home run on, it would have to be a Brut IPA. There are plenty of serviceable representations, but nothing has really driven the point home thus far. Vancouver Island Brewing and Gladstone Brewing started off their collaboration series by brewing one with a Belgian twist. B.C. Beer Reviews is here to see how they did with the fledgeling style.
B.C. Beer Reviews: Vancouver Island Brewing – Champagn Powder Brut IPA
Colour
Pale straw in colour, this beer pours a very pale and clear hue from the bottle. In the glass, it is ever so slightly hazy, but still retains much of its clarity. It is still the very pale straw colour.
Nose/Aroma
There is a very nice Belgian ester profile in the nose. A touch of pink bubblegum aroma is complimented by stone fruit, more specifically pear and a light touch of apple. This makes for a very inviting first sniff.
There is also a noticeable hop characteristic to the aroma. There is a lightly tropical fruit aromatic that is reminiscent of a touch of guava. This is a delicious aroma that goes perfectly with the ester profile of this beer.
Aside from that, there is a light touch of a grainy sweet aromatic. This is very much in the background to the other notes at play here.
Tasting Notes
The first thing that you are presented with in this one is a sweet citrus fruit taste. This is likely a combination of the fruity hops and fruity ester profile. They intertwine seamlessly and make for a very tasty beer.
There is a bit of grainy sweetness to go with the powerful yeast and hop tastes. Despite its presence, it is still very much a background note.
The one thing that this beer hit out of the park is the finish. Brut IPAs are meant to be extremely dry and crisp in their finish. This beer is a perfect example of what the style dictates.
Other Notes
The label from Vancouver Island Brewing and Gladstone Brewing is an extremely pale orange colour. There is a small picture of a ski hill, which goes nicely with the name of the beer being Champagne Powder.
As stated in the section above, this beer is extremely carbonated. It is dry and crisp in its finish.
There is a decent bit of lacing on the glass from this beer, but it certainly could not be categorized as significant.
Rundown
There is a noticeable Belgian presence throughout. This beer undeniably hits every single note of what a Brut IPA is supposed to be spot on. This is truly a fantastic representation of the style and arguably the best version in British Columbia.
Want to see a beer featured in B.C. Beer Reviews? Comment below with your suggestion.
And if you want to see all of the photos featured in these articles, and other awesome beer pictures, you can do so by following me on Instagram: nhendy5. You can also see much more concise versions of these reviews by adding me on Untappd: RedArmyNic.
Main photo by Nic Hendrickson, Lastword Inc., all rights reserved