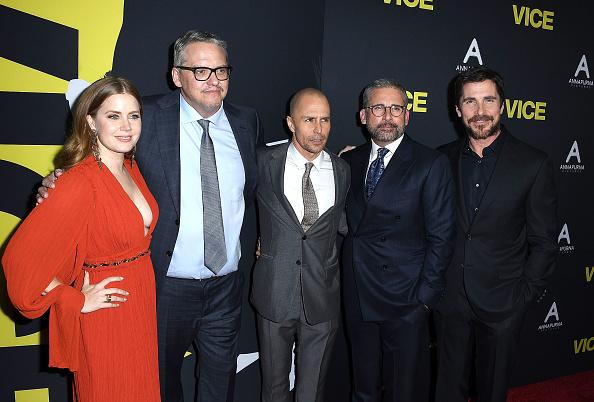 Adam McKay's latest film, Vice hits theaters nationwide this week. Vice is a comedy-drama about Former Vice President Dick Cheney. The film stars Christian Bale as Cheney and Amy Adams as his wife, Lynne, along with Steve Carrell and Sam Rockwell. While it definitely has its faults, Christian Bale shines as Cheney and makes the movie a memorable one.
Christian Bale Plays a Masterful Dick Cheney in Vice
Vice takes an in-depth look at the life and political career of Dick Cheney. It begins with his time as a congressional intern in the 1960s and ending with his post-vice presidency life helping his daughter – Liz Cheney – go on to uphold the family name in US politics. However, a bulk of Vice takes place during Cheney's time as – you guessed it – the VP. The film argues that Cheney is responsible for much of the turmoil and triumphs during the Bush years. Vice showcases VP Cheney as a reserved, yet ruthless puppetmaster, often bending the truth and manipulating others to do his bidding. While it is a fictional look at Cheney, it never strays far from the truth, which is often complicated and secretive, as the opening credits point out.
The Surprising Roles
Christian Bale is excellent as Dick Cheney, much to my surprise. When I first heard that the same guy that played Batman would be playing the middle-aged, out-of-shape former Vice President, I was shocked. However, Bale plays the role with subtlety and nuance. He goes from a scheming politician to a family man with great ease. His character rarely smiles or shows any emotion at all, except in the presence of his daughters, which seems to be the one sympathetic characteristic McKay gives Cheney.
Another great casting choice is Sam Rockwell as George W. Bush. Rockwell plays the character almost entirely for comedic relief, often relying on goofy smirks and the rich boy attitude to coast him on as an unlikeable, but an endearing puppet of Cheney's. He's the dumb, screw-up of the family, trying to outdo his brother Jeb and prove to his father his worth. He trusts Cheney as a confidant, much to the pleasure of Cheney and the downfall of his own presidential legacy.
The Truth and Nothing but The Truth (ish)
McKay does a good job of presenting the truth, but he also knows his audience will be more liberal-leaning and aims for that. He only uses the facts and the well-known cases to rub Cheney, Rumsfeld, and a few other politicians wrong, but it is definitely not without bias. However, it is not an all-out war against Republicans, but merely an in-depth look at one Republican's time in office and the savage games that are played in Washington.
Going into the movie, I thought it was going to be much more comedic than it is in actuality. The previews all hail it as a comedy, and while there were definite comedic moments, it doesn't play out as a strict comedy. It plays out as a historical drama, using real people and events to thrust the plot forward. Bush is the only truly comedic character in the film, but only because he seems the easiest target to satirize. There are other moments that branch into absurdity, including a Shakespearean style verse between Dick and Lynee. McKay often toes the line between genuine political film and an absurd farce. It's an area not easily achieved and while McKay does both styles well, I think the mixture of the two feels contrived.
The Directing
McKay mixes real footage throughout, constantly reminding the audience of the very real nature of the film. An unknown everyman, played by Jesse Plemons, narrates the film, often stopping to explain terms and concepts to the audience. If you saw The Big Short, it is similar to the on-screen explanations in that movie.
I've never cared much for McKay's directing style and this film was no exception. McKay follows his usual jump-cut and abrupt style of filmmaking, similar to his other works. I thought that the back and forth time jumps, the quick intercuts with still photos, and the wall-breaking narration made the movie jarring and disconnected. It seems like the idea is to feel more documentarian than fiction, but the end result feels like a disjointed student art film.
Last Word on Vice
Overall, I thought the story was intriguing and interesting, but the stylistic choices felt overdone and out of place. It has some laugh-out-loud moments, but mostly it is a dramatic look at what happened during the Bush/Cheney years. However, it does jump around a lot and go through seemingly unimportant history, which makes it at times feel stifling and neverending. Most of it is the dramatization of facts that are already well-known by the public, but I still found it informative and clever. I would recommend anyone, no matter how they feel about Dick Cheney to go see this movie. It may not win any awards anytime soon, but it reflects current day politics and is relevant to all of us. 
Main Image Credit:
Embed from Getty Images