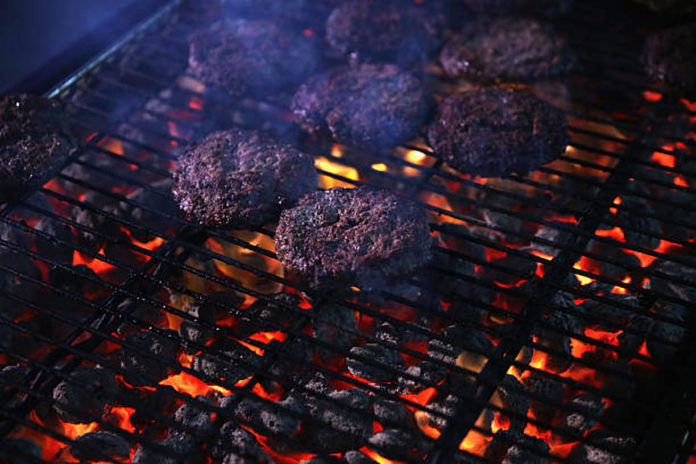 The NFL playoffs are finally here! It's certainly been a long football season. You've spent the last 17 weeks (21 counting the pre-season) bringing your tailgate guests some incredible dishes; you have wowed them with extraordinary grilling and cooking creations since the opening kickoff. It is because of your delicacies that your friends and family now defer to you when it's time to create a BBQ party menu. You're even asked for tips and pointers on grilling even basic BBQ items like burgers and brats. Other novice grill artists request your expertise on grilling ribs, chops, and the ultimate fajitas since yours are the best they've ever had.
You've had a long season of hosting, prepping your menus, shopping, and even grilling out in the snow (or heat) while your guests enjoyed the comforts of your home. It is because of this that you deserve an easy menu for the first week of the NFL playoffs. We're going with some simple favorites so you can enjoy the day with your friends and family. Hopefully your favorite team is in the playoffs too! Today we're bringing you recipes for easy burgers, Italian sausage & peppers, and our incredibly delicious baked beans. We're also going to include a vegan option for making baked beans. I was disappointed when I had to put down my bacon cheeseburger to research this "vegan" thing, but what I found sounds delicious so give it a try!
Game Day: Playoffs Easy Menu
Playoffs Burgers Made Easy
A tasty burger is simple to make and here are the ingredients needed:
3 Pounds 80/20 Ground Chuck
1 Tablespoon Granulated Garlic
2 Tablespoons Lawry's Season Salt
1 Tablespoon Black Pepper
6 Ounces Of Your Favorite Barbecue Sauce
(The seasonings 

are meant

 as a guide and 

should be

 adapted to your taste)
Combine all the ingredients in a large bowl and mix them together gently. Three pounds of ground chuck should equal about twelve 1/3 pound burgers. Press out each 1/3 pound portion into a burger patty being careful not to stretch the meat too much. Less stretching means less burger shrinkage on the grill. There's nothing worse than burger shrinkage so be gentle!  
Burger Topping Options
Ketchup, Mustard, Mayo, and BBQ Sauce
Your Favorite Sliced Cheese – Cheddar, American, Swiss, Pepper-Jack
Thinly Sliced Tomatoes, Onion, and Pickles
Bacon

Sautéed Mushrooms 

Caramelized Onions

Kaiser Rolls, Onion Rolls, Brioche Rolls, or Regular Burger Buns
Whether you're using a gas grill or charcoal, grill the burgers up and serve them next to the toppings and watch your guests enjoy building their own masterpiece.
Italian Sausage & Peppers
Ingredients
3-4 pounds Italian Sausage
6-8 large red/yellow/orange/green peppers
1 large sweet onion
1 clove of garlic chopped
Salt, pepper, Lawry's seasoning salt, granulated garlic, grated parmesan cheese
3-4 tablespoons olive oil
1 long loaf of Italian bread
Italian sausage & peppers is as simple as it sounds. You will want to buy your Italian sausage in "the rope" if possible. If you do not have access to a deli or butcher that carries fresh Italian sausage; just use the frozen Italian sausage links sold by most grocery stores. It will not be quite as delicious as it would be fresh, but your guests will still love it.
Grill your Italian sausage, making sure you get an impressive char on the outside. Your sausage should look done on the outside while still being juicy on the inside.
While the sausage is grilling, it's time to saute the peppers. Cut the peppers into one-inch wide strips from top to bottom. Do the same with the sweet onion. Drizzle the olive oil into a large skillet, and then add in the peppers, onion, chopped garlic clove, and seasonings. Be sure to save the grated parmesan cheese for the end. Gently toss the peppers & onions so that they are completely covered in the olive oil and seasonings. Saute the peppers & onions until they are cooked through but not caramelized.
Sausage & Peppers
Once your sausage is done, cut it into three-inch long pieces. Take the sausage links and grated parmesan cheese and add them to the skillet.  Be sure to gently mix everything together to blend the flavors. Serve the sausage & peppers on a large platter along with the Italian bread. Just before serving cut the bread loaf into three-inch long pieces. Your guests will love the sausage & pepper sandwiches or the sausage & peppers by themselves.
Baked Beans
You'll need several cans of your favorite baked beans, but the Bush's "Boston Recipe" work best. You also need 5-6 slices of bacon cut into small squares, a small chopped red onion, brown sugar, and honey. Take a corningware dish or sturdy foil pan and place the beans on the bottom. Sprinkle the chopped red onion across the top of the beans, then add the bacon almost covering the beans. Spread out a thin layer of brown sugar and then drizzle the honey across the top. Cover the pan with foil and bake at 275 degrees Fahrenheit for two hours. Uncover the pan and bake for an additional one hour. Right before serving give the beans a good stir to mix in all the flavors. 
Baked Beans Vegan Style
Check out this method for making baked beans from Last Word on Life's own Christina Griffin. Christina brings a healthy and delicious-sounding recipe to an old favorite. She writes:
"There's no secret these baked beans are vegan, but, boy oh boy, are they flavorful. The liquid smoke really takes the place of the bacon here, plus your friends probably won't even notice the absence!"
"The trick to these vegan baked beans is balanced flavor. It can be challenging to find the perfect ratio of smokey, sweet, and salty, but this recipe hits it on the nail."
Game Day Playoffs
There you have it: an easy game day menu to start the opening round of the NFL playoffs. Hopefully your team advances and gives you a second week tailgate party to plan for. We will be back next week to bring you some more challenging menu options. We may also bring out some menu choices related to some of the teams still alive in the playoffs. We know New Orleans will be playing next week so one of our Cajun dishes will be in play for sure. Stay tuned for the other game day menu options coming soon!
Main image credit: